When your son or daughter reaches a certain age, they start taking an interest in how their bedroom looks and feels.
They want something personal. It should be somewhere that's their own, tailored to their burgeoning personalities and interests. It's not just exciting for them either. As a parent, it can be great fun watching and helping your child make decisions and get creative with decorating.
After all, this is the room they'll remember when they grow up, so it should be special. It's the place where they'll play, investigate and learn. They'll do a large part of their growing up between those four walls. So, it's understandable that parents want to get it just right. The 10 tips below should provide you with some inspiration. But, remember, make it personal and give your child a say too.
1 – Go for Bright, Welcoming Colours
The main thing that differentiates a child's bedroom from an adult's is the possibility for bright, over the top colours. The more colourful, the better. You want it to knock you back as soon as you walk in; there is no need to hold back.
Bright colours will encourage creativity in your children, and they'll want to spend every minute of the day in there playing with friends. So, make those curtains vibrant and paint rainbows on the walls! Have fun with it, and get your child involved in the choice of colours. All children love painting
2 – Develop a Specific Theme
Basing the room around one unified theme can create some incredible results. Think about your child's interests and develop a theme from there. When I was small, a friend of mine had a space themed room. Planets painted on the walls and dangling from the ceiling, and a giant spaceship themed bed.
Your choices are endless though. You could turn the bedroom into a race track if your son or daughter loves cars and motorsports. There are plenty of more generic fun themes too. Make the bunk bed into a tree house and go for an outdoor theme, kids will love something different and quirky like this.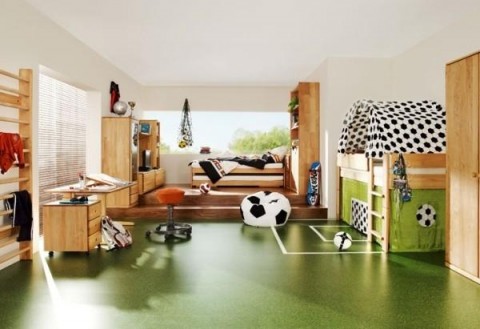 3 – Incorporate Play in Design
You should always remember that once you've decorated the room, all those toys will fill it up again. To prevent the influx of old toys and games from overpowering the newly designed room, you could try incorporating them into the design from the get-go.
A child's toys are important to them – well mine were anyway! – so they should be kept in mind. Also, they're usually colourful and vibrant so they shouldn't be too hard to incorporate. The ones they don't play with as much can hang on the way or on top of desks and wardrobes.
4 – Don't Jump Straight to Traditions and Stereotypes
In our age of opportunity and gender equality, it is becoming increasingly rare to find a boys room simply painted blue, and a girl's room painted pink. These kind of ideas are old hat nowadays, and no one likes conforming to stereotypes.
Maybe your son wants to go pink, or your daughter likes a nice shade of blue! As a parent, you might not like the idea at first but think about it – why not? The earlier you allow your child to express themselves freely the better it will be for their development
5 – Decorate the Walls With Personal Touches
Your child's room should be individual to them and not just generic. You can help the room feel like their own by adding small personal touches here and there.
This can mean letting them paint their own works of art onto the wall or adding photos. A great idea is to put photos on canvas and hang them up. They'll last longer, and canvas looks a bit more impressive than a simple framed photo.
6 – Get Creative
Shop bought decoration may be the obvious choice, but they're certainly not the cheapest. They can also seem a bit boring and generic unless they're top quality. To save money, you should get creative!
Go to second-hand shops and attend jumble sales. You might find hidden gems or furniture you could rejuvenate. Let your child get involved in decorating too. A child's imagination is better than an adult's 99% of the time.
7 – Stick to a Budget
Yes, I know it's boring but it's worth deciding upon a budget before you start. Completely redesigning a bedroom can be an expensive task. The costs can build and build before you've barely began.
If you set a budget that you won't exceed it sets parameters from the start. It's good to be organised – and to save the pennies!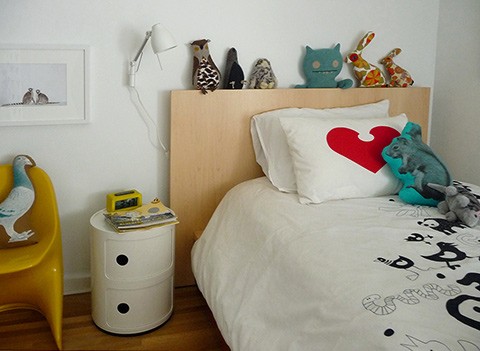 8 – Don't Forget About Storage Space
Storage units can take up a lot of space in a room so don't leave them until last. I'd recommend getting the storage in order straight away. That way you get it out of the way and can move onto the more exciting jobs.
You'll need to think outside the box when you're sorting out the storage too. Kids' toys can take up inordinate amounts of space! Try using storage nets, they save a lot of space compared to drawers cupboards.
9 – Can the Room Look and Great and Be Educational?
All parents imagine their kids will turn out to be extraordinary intelligent. To raise their chance of becoming a child genius, you can make their bedroom educational, as well as fun.
This can be as simple as adding some numbers and letters to the wall. Or you could go further and blend some educational games into the design of the room.
10 – Decorate the Ceiling
This is one thing many parents tend to neglect. How many times have you considered decorating the ceiling? I bet the answer is "none". In adult bedrooms, it doesn't normally work, but it can be a great idea for kids.
It'll give them something to look at as they lie in bed. It might even get them to sleep a bit quicker – a big plus for parents!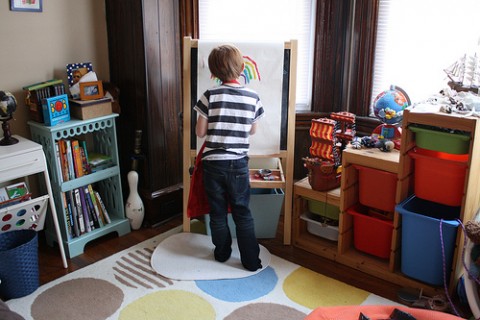 ---
We hope you have enjoyed the article! Please like and share using the buttons below.