If your bathroom is starting to look a little rough around the edges, it might be time to consider giving it a revamp.
Unlike the kitchen or living room, the bathroom isn't one of the most used rooms in your home. However, it is one of the most important. Of all the places in your home, your bathroom should be one of the most luxurious and relaxing places.
If the time has come to refresh your bathroom, make sure to follow these five steps to create a beautiful, luxury bathroom.
Step 1: Start with a focal point
To create the perfect luxury bathroom, start off with a focal point. This could be anything, from a unique sink design to a beautiful claw-footed bath – whatever takes your fancy.
Think about the hotels and guest houses you have stayed in and how they created a luxurious bathroom space. What colours did they use? What features were included? What design features were used to give the space a luxurious feel?
Step 2: Choose your colour scheme carefully
The colour scheme you choose for your bathroom will define the atmosphere of the space, so it is important that you think it through carefully. Make sure that before you choose the colours for your bathroom, that you take the colour and style of the bathroom features and focal point into consideration.
Two of the best colours for creating luxurious bathrooms are charcoal grey and navy blue, both of which can be used to create a glamorous bathroom space. For a neutral base, opt for grey walls and use tiles, features and accessories to add a sense of glamour to the space.
Step 3: Add luxuries to the space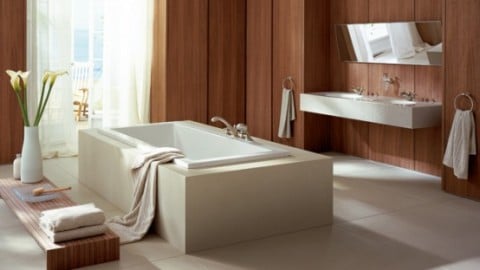 To give you bathroom a real sense of luxury, think about the items you would consider to be luxurious and incorporate them into the space.
For example, adding a chair or stall to your bathroom will give the space a relaxing, spa-like feel. As will adding a few scented candles, a vase of fresh flowers, a pile of cosy, Egyptian cotton bath towels, and a waffle robe.
Step 4: Ensure that bathroom is well heated
One of the worst things a bathroom can be is cold. There is nothing worse than getting out of a relaxing bath and having to stand in a cold bathroom.
To ensure you bathroom is as warm and cosy as possible, you can either invest in underfloor heating or a bathroom radiator or both. Choose a radiator that is suitable for use in a bathroom, ideally one that radiator fits in with the style and colour scheme of the bathroom.
Step 5: Incorporate art
An excellent way to add a sense of glamour to your bathroom can be created by adding art to the room.
There is something about art that can give a space a whole new feel – just make sure to choose a piece that fits with the colour and style of the design. It is also important to ensure that, the piece you choose is suitable for hanging in a bathroom.