Spring is just around the corner so it's time to dig those rubber gloves out of hibernation, scrub away those winter blues and detox your bathroom.
But if a simple clean isn't enough to really revive your bathroom and give it a new lease of life, these 7 easy steps will show you how:
Cleaning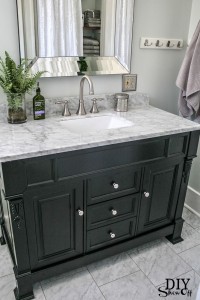 It might seem obvious that in order to make your bathroom feel clean and fresh, you have to actually clean it.
But if you feel like your bathroom needs a detox, it probably needs a really deep clean.
Bathroom grime and grot accumulates so gradually, day by day, that it's easy to overlook it.
Put some music on, grab a coffee and get stuck in.
Take everything out of your bathroom, use a good quality cleaner and some elbow grease and scrub everything; tiles, grout, fixtures and fittings, the window and even the walls.
Once your bathroom canvas is squeaky clean, then you can work out which of the following changes to make.
Light
Changing the light in a room can make a big difference to how it looks and feels.
If your bathroom doesn't benefit from much natural light, adding a large mirror will reflect light and instantly make it feel not just brighter, but bigger too.
Add a plant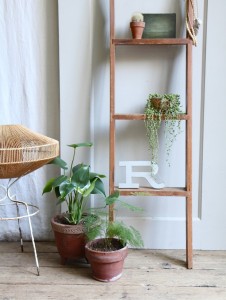 It might seem counter-intuitive to put more things into a bathroom that you're trying to de-clutter, but a plant is a simple but effective way to make a room feel really fresh.
Décor
If you want to update the look of your bathroom without the expense or inconvenience of redecorating, then a few simple changes to your accessories will transform its appearance.
Changing the blind, shower curtain, towels and bath mat is a really effective way of reinvigorating the space and making it feel inviting again.
Essentials
There are three things that no bathroom should ever be without; soap, towels and toilet paper.
But when the soap cements itself to the sink between uses, the towels are tucked haphazardly behind the radiator and the toilet roll unravels on the floor, those essentials will quickly make a bathroom appear more chaotic and dirty than it is.
Dedicate a little space to these things and add a toilet roll holder, soap dish and towel rail to instantly improve the appearance and functionality of your bathroom.
Personal Maintenance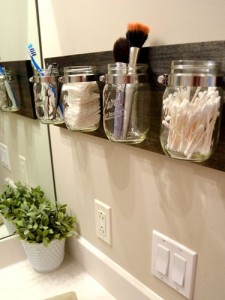 Despite the fact that everyone uses a bathroom to tackle various personal maintenance tasks, a bathroom is also a place to relax in.
When you're soaking the cares of the day away in a hot bath, the sight of denture glue, tampons, wax strips and all those other sorts of things can take the edge off your bubble-bath bliss. Put them away in a cabinet or a nice box or basket that fits in with your décor.
Storage
It starts with just a bottle of shower gel or shampoo but and before you know it, your sink, windowsill and bath-surround are cluttered with all sorts of lotions, hairbrushes, razors, make-up and other toiletries.
Bathroom shelves and cabinets are designed to hold a lot without taking up a lot of space.
Clear out anything you don't really need in there, and stow away the things you do.
These simple changes can transform a bathroom without breaking the bank.