Are you thinking of making plans for your garden before the oncoming summer arrives?
Many of us are and if we put it off any longer we may find our latest projects will be eating into our valuable relaxation time. Perhaps you are considering spending more time entertaining in the garden, or maybe you are preparing for a summer of sport. Whatever your intentions, you will find here, some handy tips on preparing, maintaining and furnishing your garden for making the most of every summer day.
Tidy
First and foremost, begin with a tidy garden. The winter winds will have blown debris and rubbish over the fence, leaves will litter the ground and plants will be overgrown.
It is time to mow the lawn, collect all grass cuttings, leaves, and other unwanted materials and put them in the rubbish bin or on the compost heap.
Do your trees need pruning? It may have been a few years since they received any attention. Employ a qualified tree surgeon to survey and maintain your valuable garden trees.
Patio
Your summer of fun will necessitate the installation of a seating area. There are many materials available for you to use on your patio.
Perhaps you prefer the look and feel of wooden decking that is suited to both modern and traditional gardens.
It can look sharp and defined or can blend in with nature. Wooden decking is a very versatile option.
There are also paving slabs available made from many types of natural stone. They will last centuries and enhance either the modern or traditional style garden.
Garden Furniture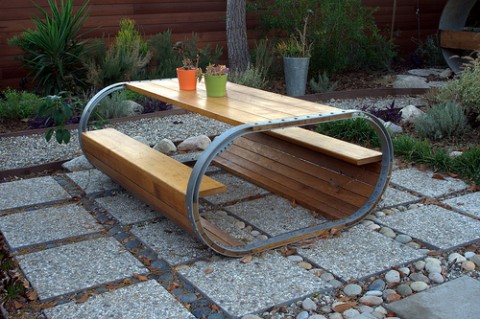 Stunning examples of garden furniture are now within everyone's reach for a fair price. As in the images, the correct furniture can be both functional and a work of art to which the eye is drawn.
Purchase the best pieces you can afford so that the furniture will last years without losing its beauty. Buying cheap is often a false economy.
Food
A mouthwatering garden is going to need a good place to prepare food. The latest space age gas barbeques offer a perfect solution for feeding your guests with  pounds of protein.
Coming complete with gas rings and rotisseries, the new barbeques are an all round solution to your entertainment requirements.
Drink
Bars are becoming increasingly popular in the english modern garden.
Drinks are an essential part of any garden party so why not impress your friends and family with your cocktail mixing skills. Bars are easy to build from wood, brick or any other material.
Water
Swimming pools are available now that are easily erected and can be packed away for the winter.
They are ideal for keeping the children happy or for a pool party.
The swimming pool is the latest garden accessory to come within the price range of the average person.
If there is no room for a swimming pool, you could put a paddling pool in for the children.
Water features can be very ornate, or simple, depending on your requirements.
A natural pond is within the budget of most people while a cutting edge koi pond for a contemporary setting will be a little expensive.
Play
Are you a golf fan? Your own putting green could be easily installed with a little lawn care and some plastic tubes to sink into the ground.
Alternatively, maybe your own crown green for bowling is attractive to you.
This would take a little landscaping work but is totally feasible.
If you have a very large garden, a tennis court could be just what you have been looking for. Keep fit while having fun.
As you can see, an attractive, useful garden, which provides a summer of fun, is within everyone's grasp.
But time cannot be wasted, now is the time to start preparing your garden so that it is ready for action when the bright summer days arrive.
So get outside and start work before it is too late and you will be glad you did.