For some, a romantic night might mean a candlelit meal for two, or grabbing your dancing shoes and painting the town red.
For those who like their romance fuelled with adrenaline, it could be climbing a mountain or hiking in the hills with their loved one. So when it comes to romantic destinations, there are as many places to visit and as many things to do as there are ways to show love.
From camping under the stars to gondola rides, from long walks across bridges to grooving to some good music – there's something in there for you, no matter what your idea of romance is. Romance and love are universal, so there's no reason why your list of romantic destinations shouldn't include some of the most romantic cities in Europe.
The list below has 10 handpicked destinations for you and your loved one. You'll find classics like Paris and unconventional ones like Bruges. That said, there's no reason why one city is more romantic than the other – they're all unique, bringing you experiences that will give you some precious memories to take back home. Different as they may be, there's no denying that each of these cities, in its own way, is nothing short of a romantic paradise.
Paris, France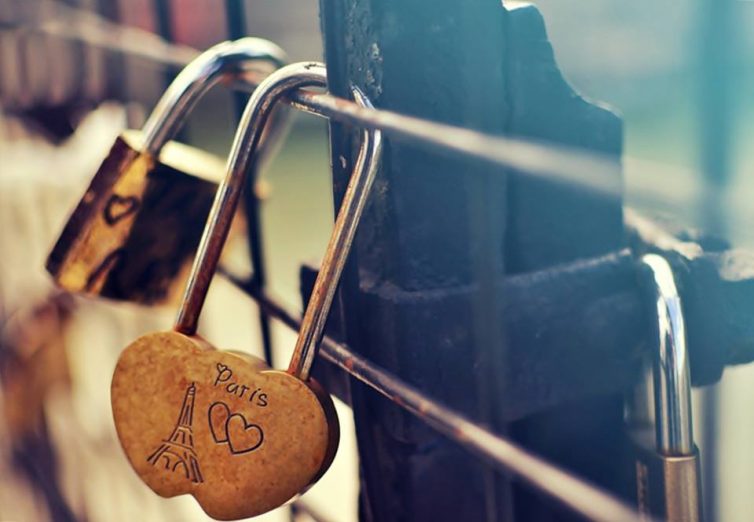 Image Source
Undeniably the most sought-after romantic destination in the world, Paris has been the backdrop for memorable films and works of literature. There's something incredibly romantic about this city, and while you've probably already dreamt of kissing at the Eiffel Tower, there's a lot more to this city's tryst with romance.
While you may not be able to add to Bridge of Locks on the Seine anymore, how about a visit to a serene, exceptionally beautiful spot, rightly called the Temple of Love, or the Temple Romantique, which sits prettily in the middle of a lake in Paris' largest public park – the Bois de Vincennes. Spend the day walking through the city's cobbled streets, get a glass of wine and a meal at one of the many cafes dotting these alleys, and end your day as you tango with your loved one under the moonlight, at the mini amphitheaters on the banks of the Seine.
Venice, Italy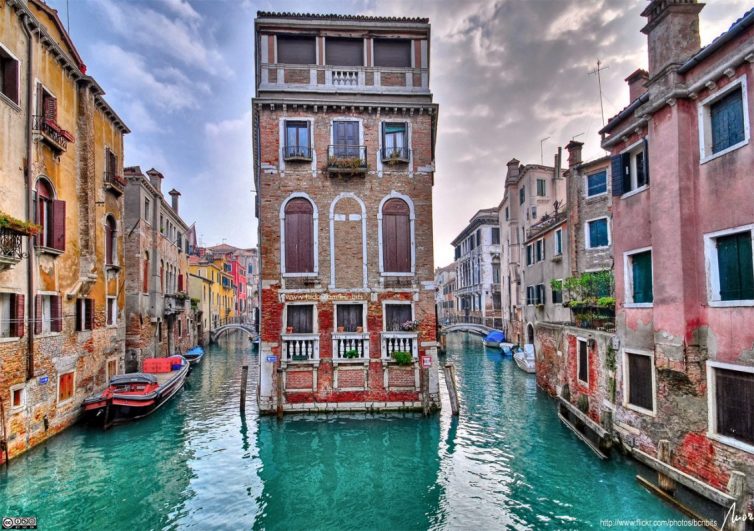 Image Source
If classic romance is your thing, then Venice is the city for you. Take a fairytale ride through the city's fascinating network of canals perched leisurely on a flower-bedecked gondola, with live music serenading you two as you float away.
Take a walk around St. Mark's Square, feed the pigeons, enjoy a glass of wine as you listen to live music, and share a moment of quiet solitude as you find yourselves struck by the beauty of St. Mark's Basilica. After you've been overwhelmed by the frescoes on the ceiling, walk up to the rooftop and take in the sight of the sparkling waters, the many monuments that dot them, and find a quick moment to steal a kiss or two. If history is your thing, don't miss out on the Doge's Palace, another iconic monument, only a water boat ride away from the square.
What's classic romance unless you've watched some opera at the Teatro la Fenice, finally unwinding with an evening walk on the Rialto bridge, watching the beautiful city come to life with twinkling lights.
Edinburgh, Scotland
With a myriad of picturesque attractions, wonderful hotels and experiences ranging from the peaceful to the spine-tingling, Edinburgh is the perfect destination for a romantic break. Begin with a romantic walk with your loved one at the idyllic St. Bernard's Well in Stockbridge, and if you're planning to turn this romantic getaway into a proposal this is one of the most popular places for people to pop the question.
Explore the cobbled streets of the Royal Mile, or take a look at the splendid views of the city from the Camera Obscura (dark room) where moving images of Edinburgh's panorama are projected onto the walls by the giant periscope. Soak in some history and mystery at the legendary Rosslyn Chapel, or if your ideal date night back home is a scary movie, take one of the many ghost tours this city offers. Wash down the chills in your spine with some delectable wine, and if you still wake up a little shaken the next day, indulge in a champagne afternoon tea in the Palace of Holyrood house!
Amsterdam, Netherlands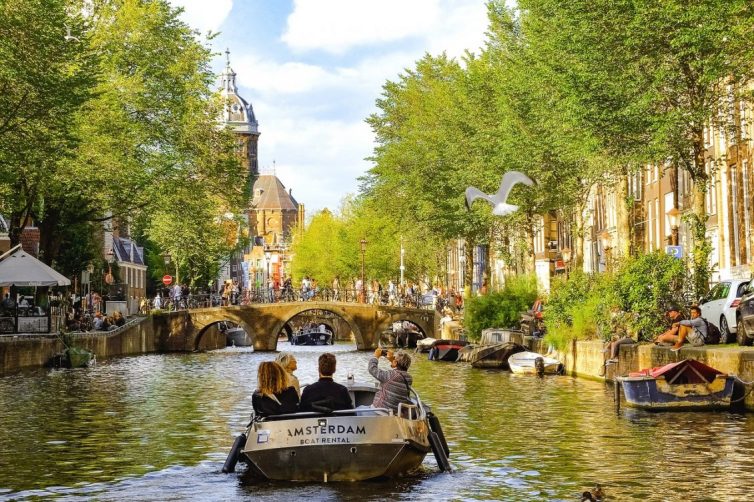 If there were a city where the many shades of love came together, it would be Amsterdam. From its winding narrow streets, perfect to steal a kiss, to flower shops dotting the city, Amsterdam breathes romance. Take a late night stroll on the bridges by the canals, known as the grachtengordel, or canal belt, or lose yourself to this city's throbbing nightlife. Surprise your beloved with a bouquet of flowers put together just for them, as you walk hand-in-hand at the Bloemenmarkt (flower market) which bursts with a riot of colors and fragrance, with its rows and rows of colorful bunches of seasonal flowers.
Seville, Spain
There's just something incredibly romantic about Spain, and one simply can't get enough of its cities. Seville is one of the most happening romantic destinations, one that will have your heart dancing to the flamenco with the experience it has to offer.
Dotted with winding streets and picturesque views, Seville is also a food lover's paradise. There's something extremely sensual about the culture of this city, be it the way the food and wine seduce your palate, or the dramatic moves of a flamenco performance. If you're inspired by the old-world charm of the city, explore it with a horse-drawn carriage tour, and lose your heart in the city's Jewish Quarter, in the narrow streets of El Barrio Santa Cruz.
Florence, Italy
Italy is romance personified, be it the language, the love of food, or of fine wine. A list of romantic places in the world is incomplete without Florence – the grand dame of Italian romance. Walk up the steps of the Piazzale del Michelangelo, and take in the long, winding skyline of the city, and challenge your loved one to see who spots the three most important towers in the city first.
On your way back, watch the Ponte Vecchio light up with a hundred lights, much like your heart, as you indulge in a scoop of gelato from the many gelaterias down the road. Spend an afternoon getting mesmerized by the works of Italian legends like Botticelli and Da Vinci at the Galleria Academia or The Uffizi, and end your day with a glass of wine and aperitivo – almost an Italian tapas of sorts, at one of the many cafes dotting the squares. Romance is an art, and Florence is like an accomplished artist that's been doing it right for years.
Barcelona, Spain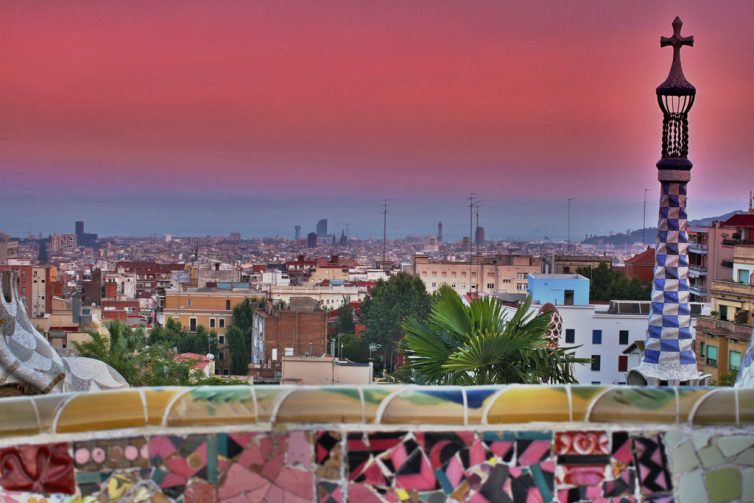 Image Source
Hands down one of the most romantic cities in Europe, Barcelona has romance blooming in every nook and corner. In the old-world charm of its winding streets in the Gothic quarter is a gem that's a tribute to romance –  a beautiful romantic mosaic called the 'El Mundo Nace en Cada Beso' (The World Begins with Every Kiss).
Spend some time, hands entwined, taking in this beauty, or sigh at the gorgeous views to the ocean from the hills of Catalonia, as you take a tour of one of its many wineries, unwinding with a glass of Catalan sparkling wine, Cava. Walk around the fountain of Montjuic with its iconic backdrop of the Palau Nacional, and find yourself transported to a fairy tale with the magical light and music show. Barcelona is winding streets full of tapas restaurants and bars, some with splendid rooftop views – a perfect way to soak in the romantic vibe of the city.
Bruges, Belgium
Bruges is literally a city made for love and lovers – with a landscape painted like a postcard, and swans floating about daintily in the Lake of Love. Start with a walk on Minnewater Bridge, which is a tribute to the star-crossed lovers Mina and Stromberg. From the chill of the city, warm yourself with a mug of classic Belgian hot chocolate at the Old Chocolate House, famous for its chocolate 'high tea'.
Don't forget to feed the swans in the Lake of Love, as you sit and soak up the silence around. After lazy walks, delectable meals in the narrow lanes, climb up the Belfry of Bruges – a tower that dates back to the 11th century overlooking the city of Bruges, Belgium, and let a kiss 270 feet in the air get you both wobbly in your knees.
London, United Kingdom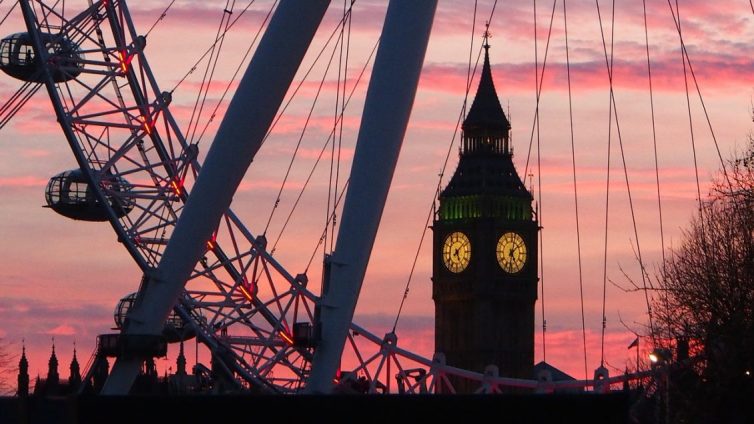 If you are surprised to see London on a list of romantic cities, you're going to see the city in a whole new light after reading this. There's something distinctly romantic about this city, and while you may not see it in the usual hustle and bustle of city life, you'll be surprised at the way the city's landscape has numerous opportunities for romance.
Take the London Eye, for example – did you know you could indulge in a super-romantic champagne experience at this iconic landmark, where you can raise a toast to romance with your special someone. Whisk them away to Buckingham Palace – a great way of telling them they're no less special than royalty, or take in the grand entrances to Hyde Park. Apart from this, London obviously boasts of some world-class hotels, and fantastic food experiences, be it quaint cafes or Michelin-star restaurants. If urban romance were to be packed into a single destination, it would be none else than this beautiful city.
Brecon Beacons, Wales
What could be any more romantic than a country that as its very own patron Saint of lovers?
For those of you who love the great outdoors, the Brecon Beacons is one of the most stunning locations for romantic walks, leisurely canal journeys or a romantic evening gazing at the stars. Brecon Beacons National Park is only the fifth destination in the world to be granted international dark sky reserve status.  For the more adventurous, The Llangattock escarpment offers the opportunity to explore one of Europe's largest cave networks. Why not combine a trip to Cardiff and sample some of the vibrant nightlife the city has to offer?
If this list sparked off some serious wanderlust in you, what are you waiting for? Pack your bags, surprise your beloved with an adventure they will cherish for life, and lose yourselves and your hearts, to each other, and the charm of these beautiful destinations.
Main Image Source