While we may intend to head off on holiday for a week or two filled with rest and relaxation, organising the trip can be a stressful process.
With e111 and passport information to confirm as well as accommodation and flights, it can all get very stressful and for that reason, choosing the most relaxing destination for your holiday is a must.
Here, we're looking at some top picks for a tranquil getaway in Europe.
Lugano, Switzerland
If you are looking for a getaway filled with unmissable opportunities for relaxation, then Lugano is the place for you. With the flat, calm water of Lake Ceresio as well as an abundance of picturesque mountains and quintessentially European towns, this is the perfect place to lose yourself in your surroundings and truly relax and unwind.
In addition to the peaceful water's edge, there is also the option to have a look around the local shops. With all kinds of traditional foods as well as an abundance of quaint corner shops, you can relax and unwind whilst discovering the very best of what Switzerland has to offer.
Santorini, Greece
Whether you decide to take a dip in the crystal blue waters or lie out on the hot sand, there are plenty of ways that you can relax and unwind on the beautiful island of Santorini. If you'd prefer something to do on your trip, there are also plenty of other activities for you to partake in. Why not take the time to venture on a boat to watch the sunset over the Grecian sea, or maybe explore the local shops in the town for some gifts for your friends and family? Either way, you can soak up the sun rays and enjoy your time of rest and recuperation amongst stunning surroundings.
Camogli, Italy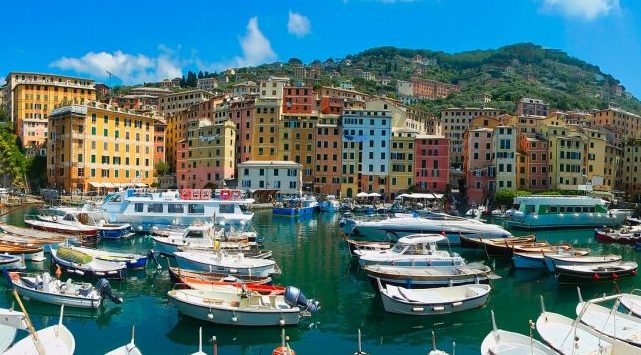 With its rustic-looking buildings and welcoming locals, there are plenty of reasons to travel here for a relaxing holiday. Whether you decide to visit the harbour on the water's edge and enjoy a walk along the beach or you venture up into the town and look at what all the local shops have to offer, there is plenty for you to do when visiting here whether you are travelling alone or with friends and family.
In addition to exploring Camogli, there is also the option to take a ride out to the isle of Punta Chiappa. This is an amazing location that allows you to have a quiet sunbathing experience without the disturbance of passing boats and other tourists, allowing you to fully relax amongst the gentle lap of every passing wave.
The Loire Valley, France
In the heart of Chateaux country, The Loire Valley is one of the best places to visit for breathtaking architecture, and the opportunity to sample the very height of French decadence. With multiple different Chateaus for you to marvel along the way, it is very easy to lose yourself in the amazing landscape that you will find yourself in. With beautifully landscaped gardens of luscious green, as well as colourful flora as far as the eye can see, this uniquely tranquil area of France is a must visit when travelling to Europe.
With so many amazing places for you to relax and unwind in Europe, it is no surprise that it is a popular destination for so many who are on the hunt for an extremely relaxing summer getaway. The only thing left to do is ask yourself this: where will you go?