When it comes to indoor Christmas lights, there seems to be more choice than ever before.
Whether you need some new lights to trim your tree or deck the halls this year, we have you covered.
We have listed ten wow-worthy choices below:
1. Holly Micro Fairy Lights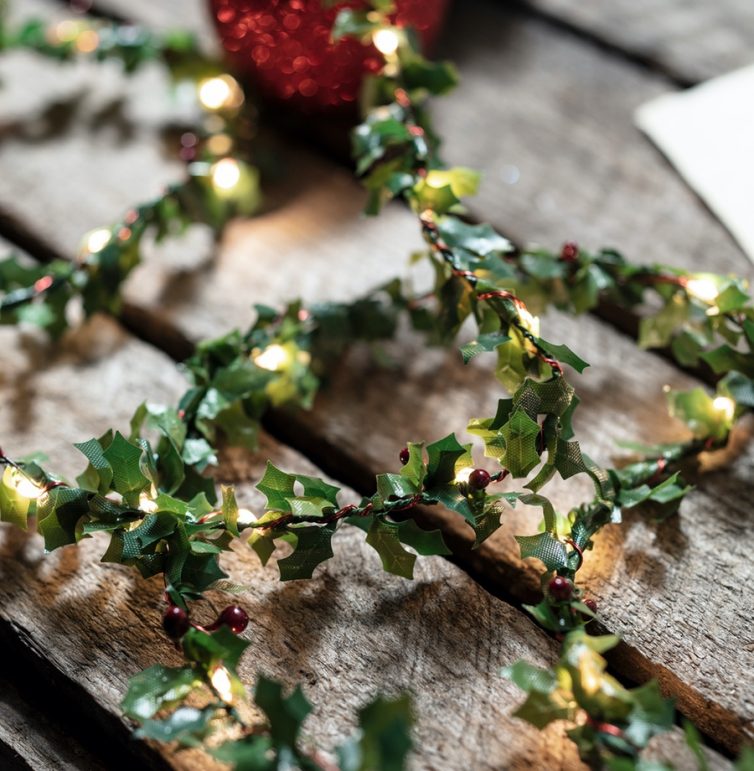 Fully embrace the botanical trend this Christmas and bring a little bit of the outside in.  Simply decorate your home with this garland of faux holly leaves and berries.  Warm white bulbs peep out from behind the foliage.  Weave the lights around picture frames, mirrors and ornaments in your home for that perfect festive finishing touch.
Available from:  Lights4Fun, £9.99 for 2m of lights and 50cm of lead.
2. Whitewashed Star Garland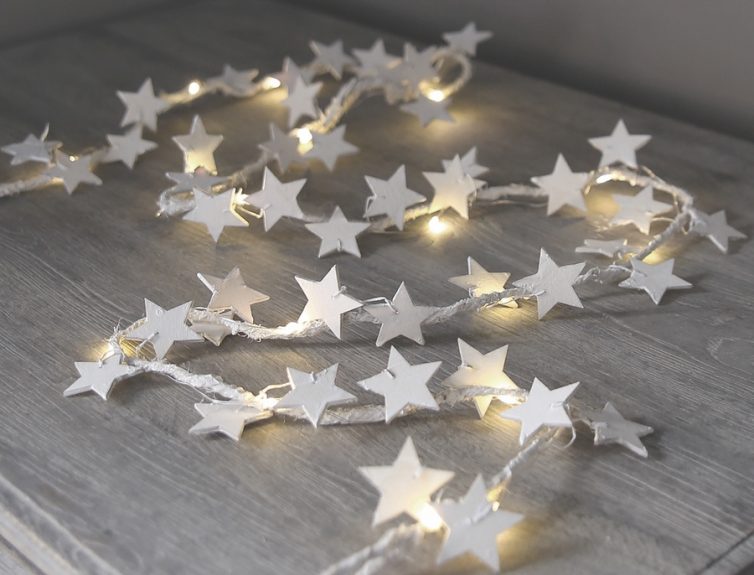 If your Christmas decorating theme is white, crisp and minimal this year, your home will need this stunning star garland from Red Lilly.   It'd look fantastic placed on your windowsill, twinkling away all night long.
Available from:  Red Lilly, £17.95 for 2.1m.
3. Wooden Heart Lights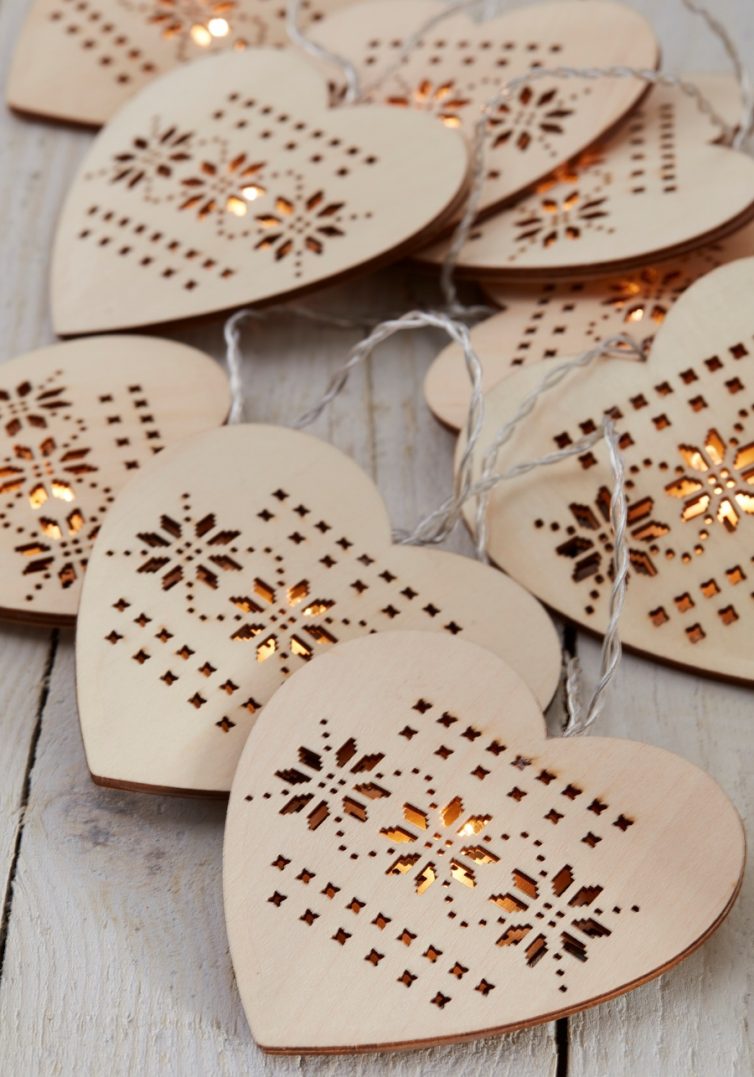 This set of wooden heart lights will be a welcomed addition any home decorated in the traditional Scandi style this Christmas.  A Nordic knit motif has been laser cut into each heart.  
Available from:  The Contemporary Home, £25 for 1.38m.
4. Whistler Forest Bottle Fairy Lights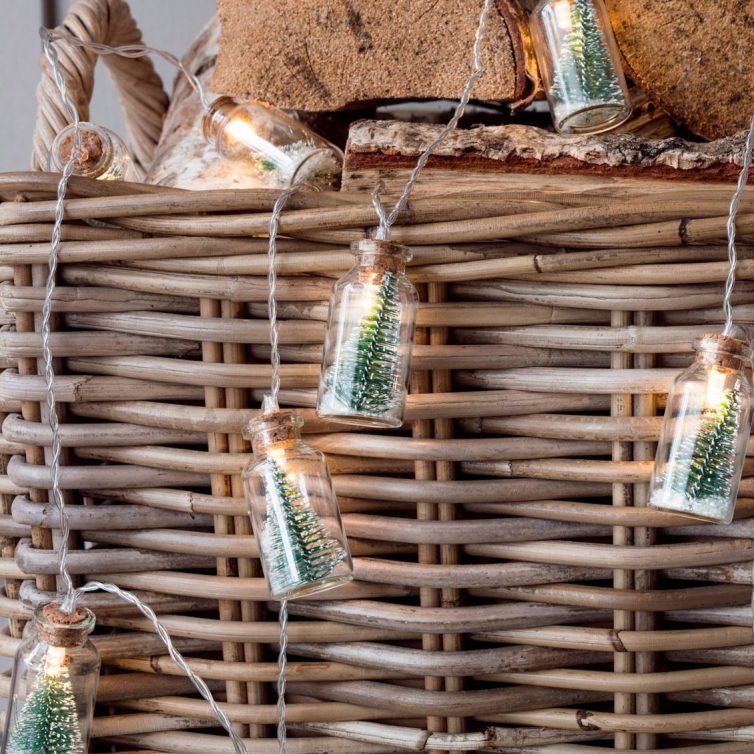 We love this unique decoration and think it'll impress visiting friends and family over the holiday season.   The glass bottles contain snow-dusted trees, each lit up with a warm white bulb.
Available from:  Lights4Fun, £9.99 for 1.35m of lights and 50cm of lead.
5. Paper Star Lights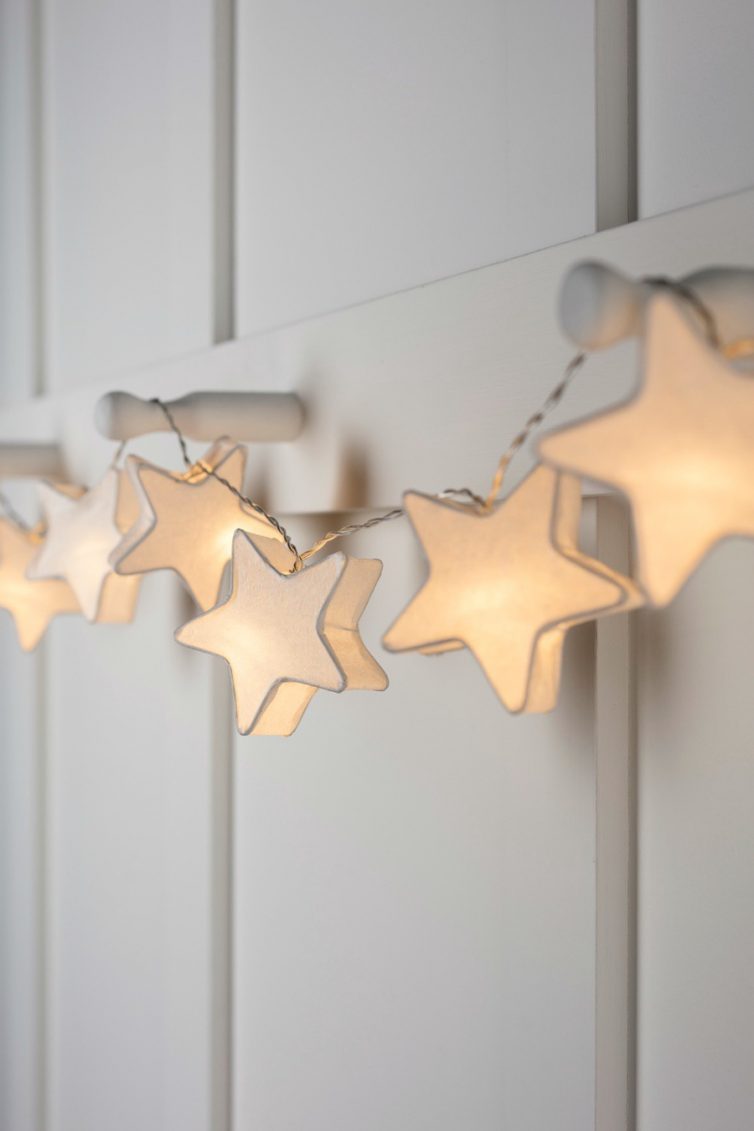 This string of lights features ten paper stars hanging from a clear cable.   The paper casing covers the LED bulbs to create a beautiful soft glow.  Use the inbuilt timer to programme the lights to shine for 6 hours at the same time each day.  Clever!
Available from:  Lights4Fun, £12.99 for 1.35m of lights and 50cm of lead.
6. Cascading Wire Tree Lights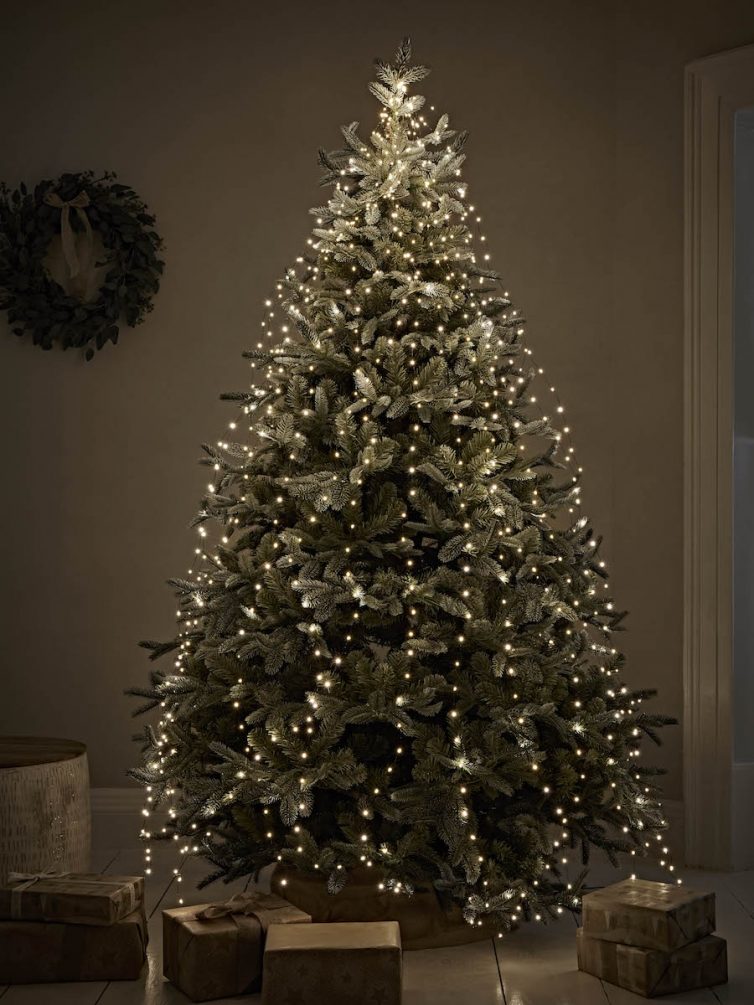 The lazy way to light your Christmas tree!  Simply place the ring at the top and let the light strands hang down.  Genius.
The set contains sixteen strands of warm white lights, perfect for creating that magical Christmas ambience.
Available from:  Cox & Cox, £40.00 for 16 strings of 42 lights.  Suitable for a 2.1m / 7ft Christmas tree.
7. White House String Lights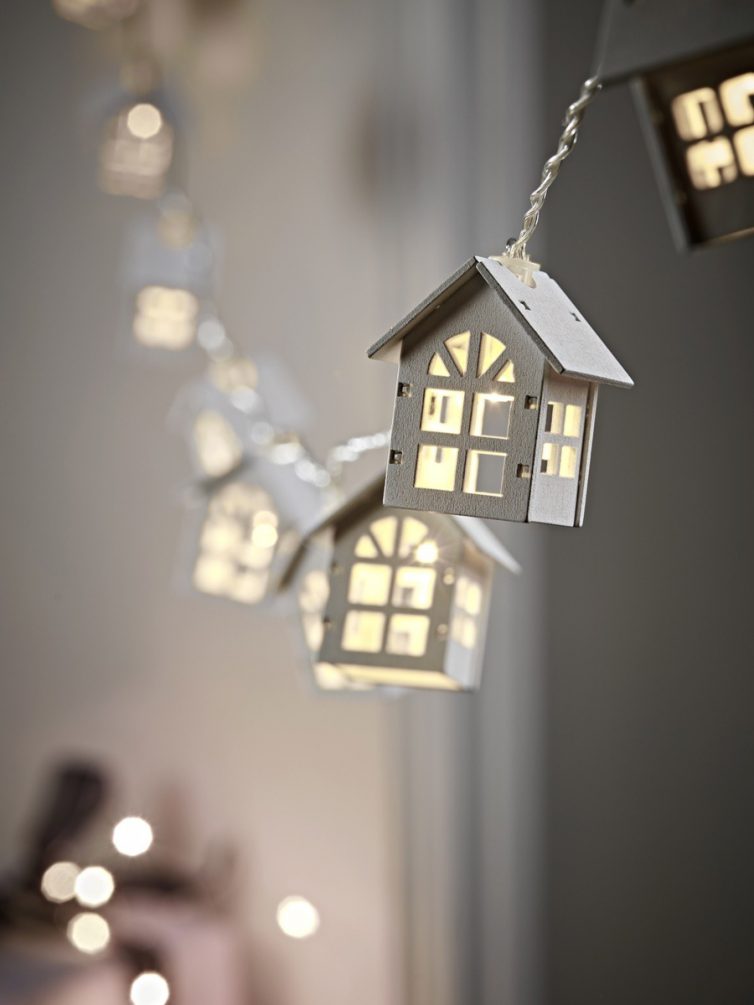 Add a smidgeon of Scandinavian charm to your home this December with this string of lights from Cox & Cox.  It features ten cosy wooden houses lit up from the inside.
Available from:  Cox & Cox, £14.50 for 1.65m of lights and 30cm of lead.
8. Heart Fairy Lights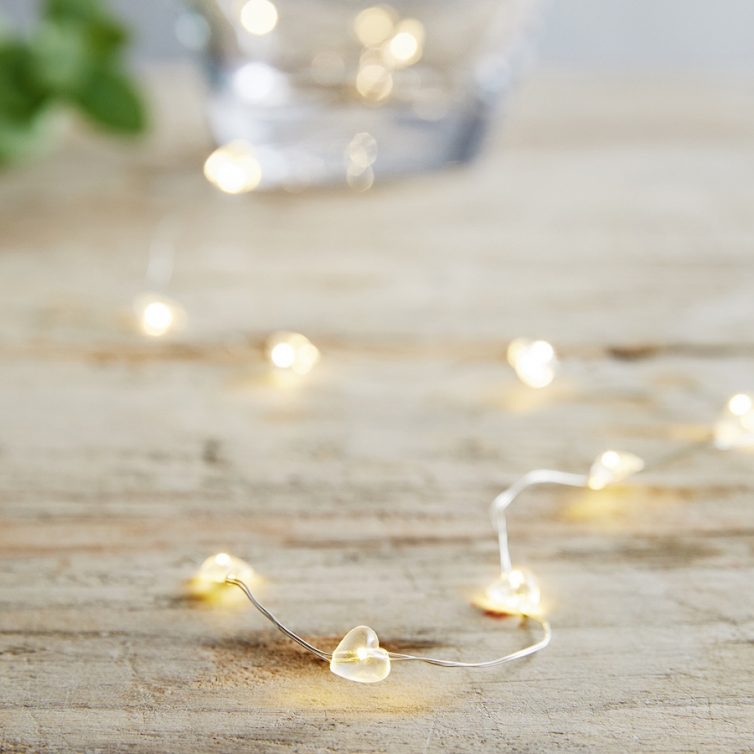 This delicate string of lights features 40 tiny heart-shaped bulbs.  Why not pop them in a hurricane lantern to create the perfect festive centrepiece for your Christmas table?
Available from:  The White Company, £12 for 1.7m  of lights and a 30cm lead.
9. Lit Paper Star String Lights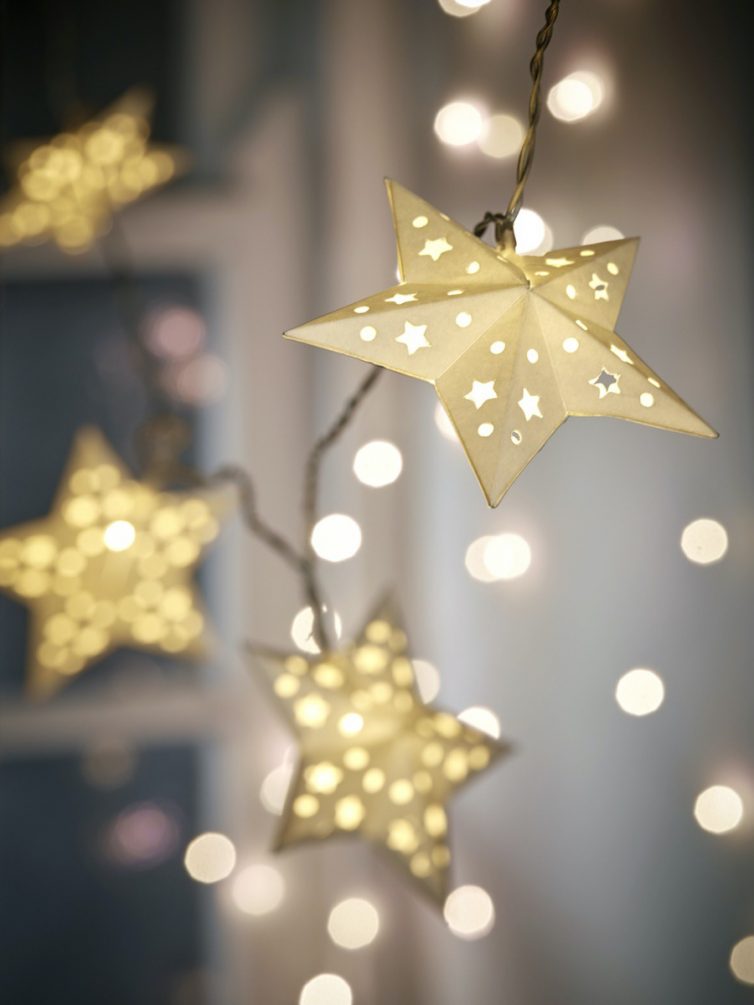 Looking for indoor lights that will twinkle all winter long?  We love this set from Cox & Cox.  It contains eight paper lights that have been cut with a dot and star pattern.  They'll look beautiful strung across a window or hung over the mantelpiece.
Available from:  Cox & Cox, £15.50 for 2.1m of lights and 30cm of lead.
10. Gold Leaf Line Lights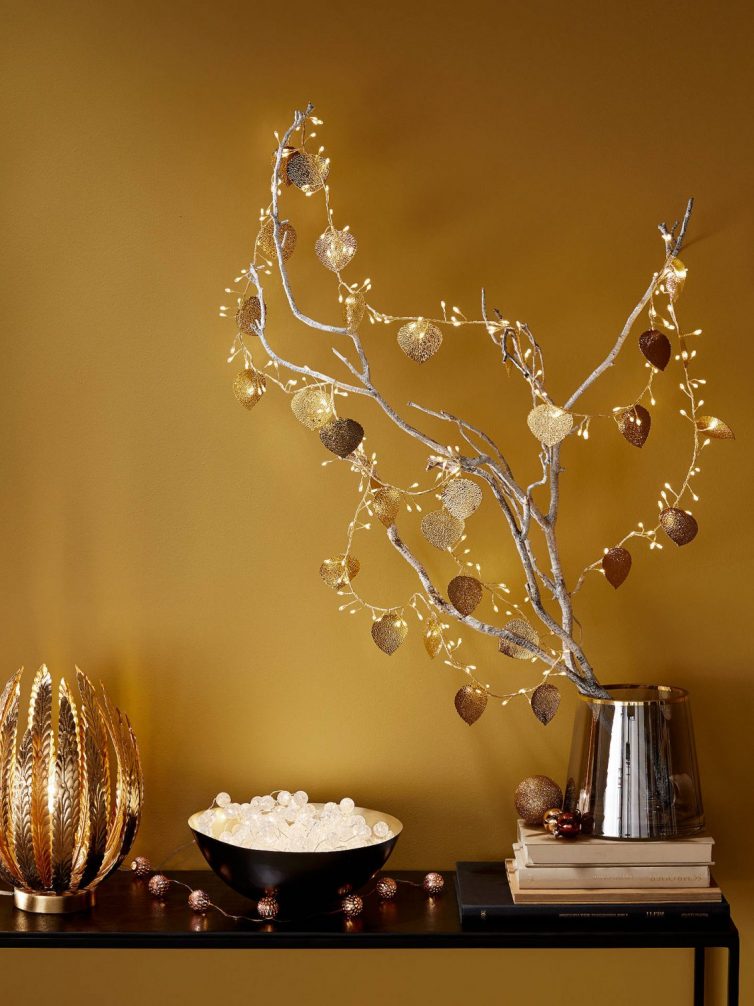 This striking string of lights features glittering gold leaves and bulbs that gently flicker to mimic a candle flame.  Why not gently arrange the lights over twigs in a vase to create a unique decoration for your entrance hallway?
Available from:  John Lewis, £45 for 8m total.