Get ready to invite 2018's hottest interior decorating trend into your bedroom: beautiful botanicals.
If you've decided to take the plunge and renovate your room with this trend, the first step is to decide the type of floral theme you plan on using… are you feeling the tropical vibe? Or are moody blooms more your thing? Check out our post below for five inspiring ideas, plus we'll offer you some valuable decorating tips at the end:
Modern Tropical:
To achieve the modern tropical vibe in your room, look for items decorated with exotic flowers and lush rainforest foliage. It's super trendy to mix deep dark greens with shades of "millennial pink". You can also add fun flamingo and pineapple motifs to turn your room into the perfect paradise.
Some of our favourite pieces to achieve this look: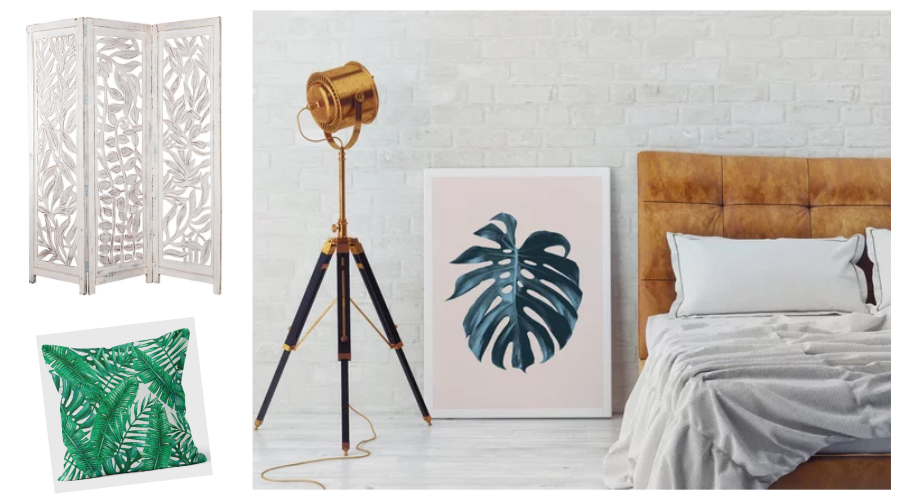 Tropical hand-carved wooden screen from Ian Snow // Tropical print pillows from Hurn & Hurn //
Monstera Leaf Print from ETSY
Moody Blooms:
This style features moody floral blooms bursting on a deep, dark background – think dusky and romantic with a hint of gothic glamour. Mix your moody blooms with metallics for a touch of luxe. Extract tones from your chosen florals and carry them throughout the room on soft furnishings for a cohesive look.
Some of our favourite pieces to achieve this look: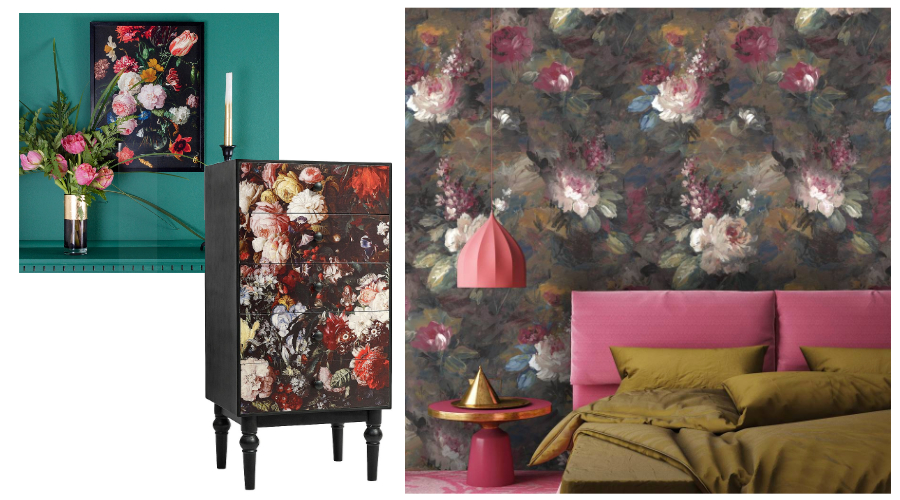 Ava Marika wallpaper by Woodchip & Magnolia // Floral still life framed print from Audenza // Floral Romance five drawer cabinet from Audenza
English Country Garden:
The English Country Garden style is classic – perfect if you're looking for something that's a little more traditional. Choose items printed with ditsy flowers usually found in British gardens, such as roses and lavender. While this theme could work with any colour, when shopping, you'll discover heaps of soft furnishings in soft pinks, pretty peaches and lilac purples.
Some of our favourite pieces to achieve this look: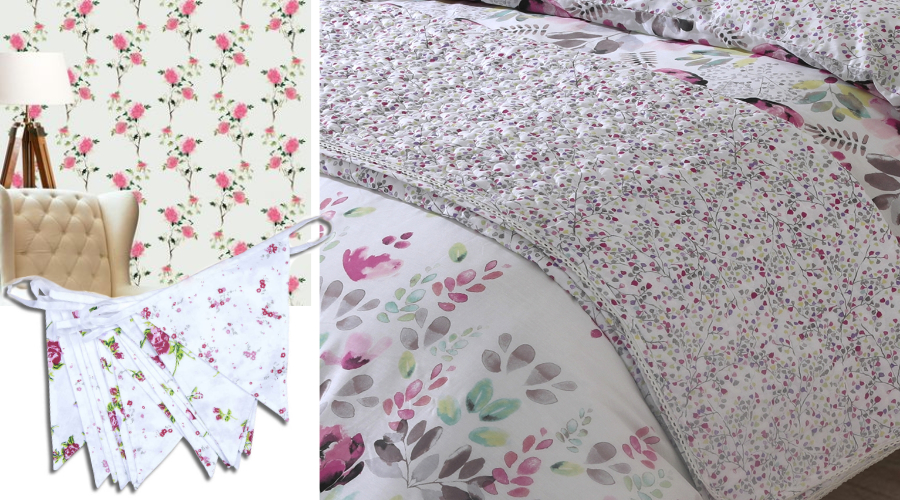 Belle Bedspread from Sue Ryder (now half price) // Floral cotton bunting from The Cotton Bunting Company// Tree rose pink wallpaper by Snuugle
Gorgeous greenery:
As you may recall, Pantone chose 'greenery' as their colour of the Year in 2017, which sparked a huge shift in home decorating. Before, greenery was an afterthought, merely a filler in a bouquet. But after Pantone's announcement, lush foliage came to the fore. The company called the shade "nature's neutral". Greenery has continued to flourish in 2018 and we predict it will do for several years to come.
Some of our favourite pieces to achieve this look: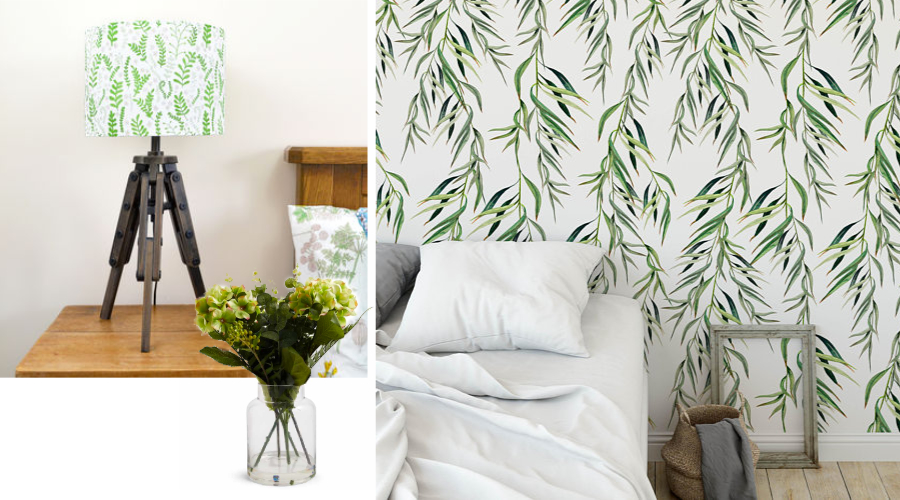 Ferns Lampshade by Ceridwen Hazelchild Design // Eucalyptus Foliage removable wallpaper from Koko Art Shop // Large Green Stem Arrangement from Marks & Spencer
Soft & Dreamy:
The perfect style for any bedroom! Redecorate your space with soft greys, creams and elegant shades of pink. This colour scheme works best with billowing white curtains, fluffy throw cushions and ornate, lace detailing.
Some of our favourite pieces to achieve this look: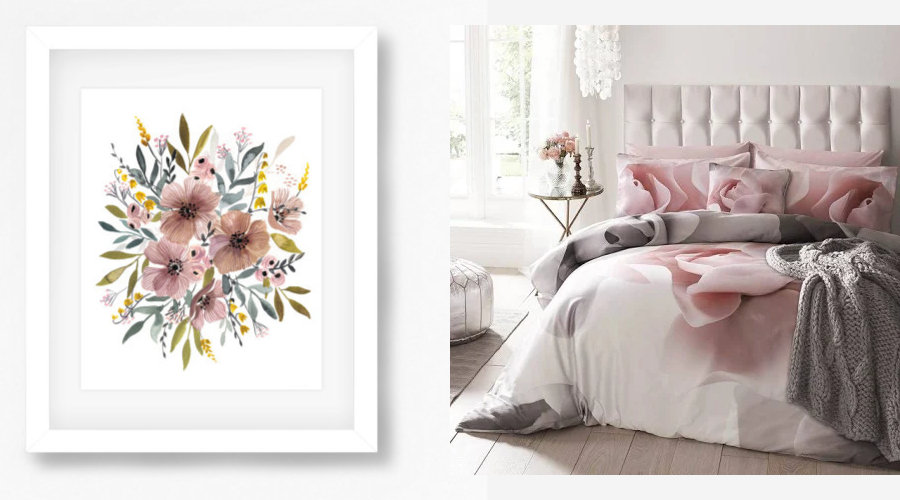 Dreamy Floral Print by the Dandelion Paper Company // Ted Baker porcelain rose double cover from Amara
Our top tips for using botanicals in the bedroom:
Interior decorating novices, choose one floral focal piece for your room. Either wallpaper, bedding or artwork. Use tones from the florals across the room (e.g. in paint colour choices and soft furnishings).
Matching pieces of neutral-coloured furniture in simple styles will help your florals take centre stage.
Can't commit? A simple floral bedspread is a non-permanent way to add a splash of colour to your bedroom.
Wall art and removable decals are two other simple methods for incorporating the trend into your bedroom.