After a rather dreary spring, we're aching for a spot of sunshine.
So, today, we're planning ahead for our first summer soiree of 2017. We're welcoming everybody round to ours for a BBQ on the first hot and sunny Saturday of the year.
Are you dreaming of summer sun and festive fun too?  Perhaps you're looking for a little inspiration?  If so, you've come to the right place. Below, we've listed ten must-haves that'll add a touch of festive ambience to any outdoor party.
1) Colourful partyware
Over the last few years, we've noticed paper napkins, disposable plates and plastic cutlery hit the high street in an variety of bright colours, decorative prints and pretty patterns.   Nowadays, no outdoor party is complete without them!  Pictured below, our current favourite set, in purple, which features an array of mix and match prints.  All available from Neviti.com.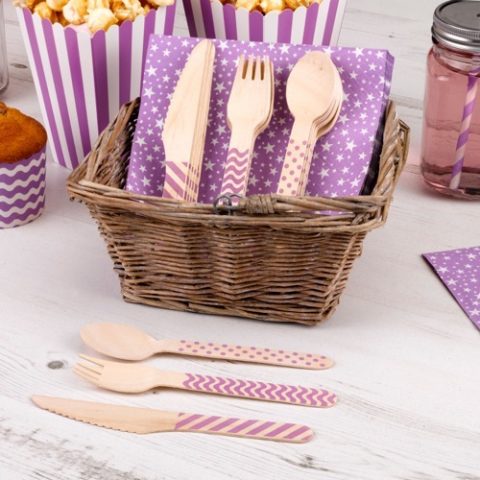 2) Multicoloured LED cubes
These coloured cubes are perfect for lighting up your patio on a summer evening, plus, they double up as seats and tables – very handy.  You can use the included remote control to programme a sequence with your favourite colours and customise the brightness levels.  The cubes can cycle through the entire RGB spectrum, they have a semi gloss finish and they're UV resistant.  They cost £240 each from Limelace.co.uk.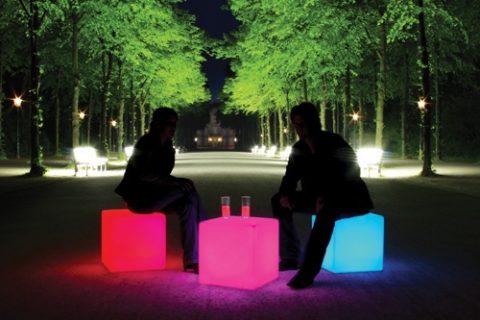 3) Ice lolly lights
These mouth watering ice lolly lights will add a fun touch to any summer party.  We just love the bright, cheery colours.  They're £18.99 from oakroomshop.co.uk.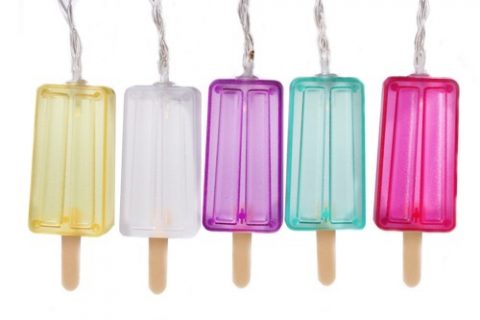 4) Lawn games
In an age where digital gadgets rein supreme, sometimes it's nice to offer guests traditional games as a refreshing change.  We think these vintage lawn games will be a welcomed addition to any celebration.  They're perfect for all the family and will guarantee plenty of laughs!  Pictured below:  Hoopla and Boules from annabeljames.co.uk.  Prices start at £8.85.
5) Hang out in a hammock
Let your party guests soak up the sun by installing this cheery coral coloured hammock by Lagoon.  It's the perfect place for a siesta during a fiesta!  The hammock is made of weatherproof fabric, so it can be left outside all summer.  Available for £129 at vivalagoon.com.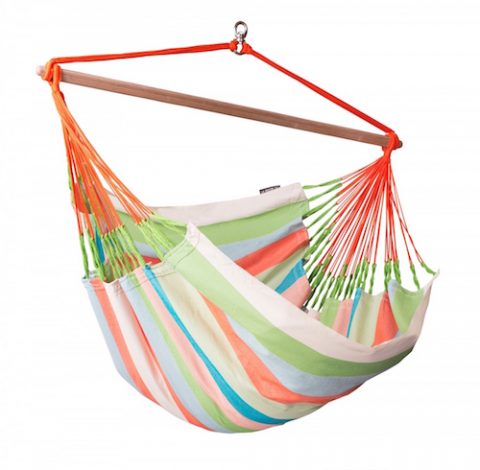 6) Fancy flower pots
Add a touch of summer fun to your garden by planting up colourful flowerpots.  We love these bold designs from hum-partnership.com.  They're made from fade-resistant plastic, which keeps the pots looking great all year round.  Prices start at £8.
7) Outdoor rug
An outdoor rug is the perfect way to spruce up a space before a garden party.  You can find an array of colours and designs online., but love this monochrome rug (pictured below) from MiaFleur.com.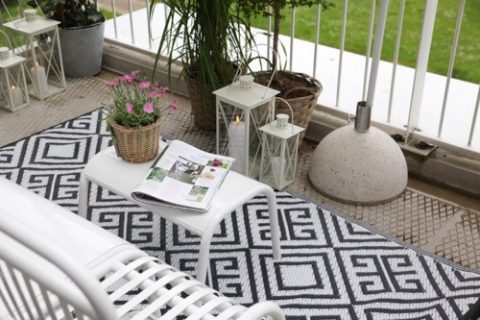 8) Pool inflatables
If you're lucky enough to have a swimming pool in your garden, check out totally-funky.co.uk's giant inflatables!  What a fun way to brighten up your pool party!  There are a number of different designs available, including watermelons, mermaid tails and doughnuts. Plus,  look out for the beverage boats (the small inflatable flamingo holding the cup of beer below) – they're genius!
9) Retro style pizza oven
Serve up perfect party fodder with this stylish pizza oven from SueRyder.org (£125.99).  The manufacturer of these outdoor ovens promise authentic, unbeatable taste each and every time.  Perfect for al fresco dining.  Yummy!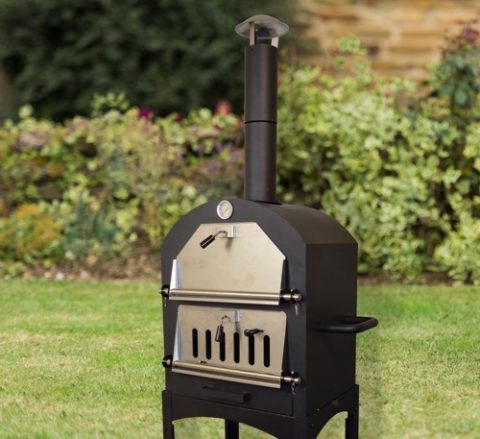 10) Party Bunting
Add rows of colourful bunting to your garden to create a party-perfect ambience in no time at all.   You'll find a huge array of designs available online and on the high street today,  but we're particularly fond of this modern and vibrant set from poundland.co.uk!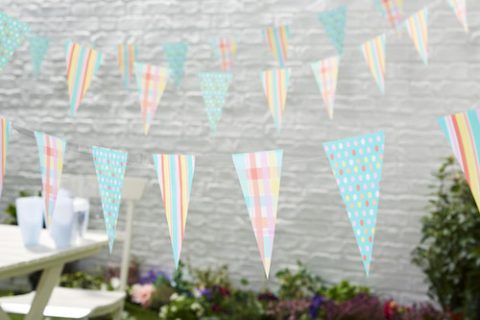 With so much to choose from to decorate your garden you can't go wrong. If you have a favourite item you feel must be added to a garden party, let us know in the comments below, as we love to find our about new ideas that would help us celebrate summer.
Main Image Source