Kids change your life from the roots up, don't they?
When we're talking about home, they influence your choices for home furnishings, as well as the patio furnishings. Your garden also has to allow for some fun toys.
However, your garden can be both a fun zone and a place where they explore the world through observation, engagement and personal investment. In other words, through gardening.
If you would like your children to grow green fingers, we have put together the steps that will help you turn them into passionate little gardeners.
Not only is there a trove of benefits for the kids, but there's a nugget for you too: a peace of mind knowing that your little ones will appreciate your plants more (and watch their step round your flower beds).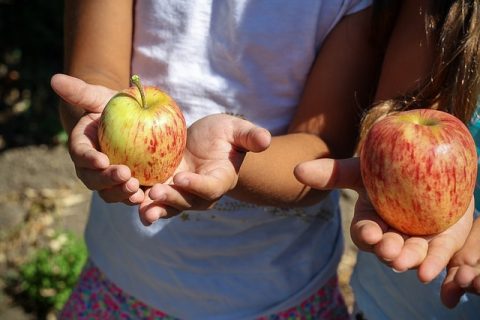 Before you and your kids get your hands dirty, it's noteworthy to have a look at all the positive aspects of gardening with kids:
It promotes healthy eating. Kids will be much more ready to eat something they have grown because they feel proud and invested.
It improves fine motor skills. The variety of manual work involved in gardening can actually translate into enhanced writing skills.
It welcomes the kids to science. Watching a plant grow from a seed and the impact that sun, water and compost have on its growth is a real introduction to biology, botany and chemistry.
It teaches responsibility and patience. No need to elaborate on the significance of these two lessons, right?
It nurtures environmental stewardship. Gardening can really bring home the complexity of nature and our connection with it.
Most importantly, gardening allows you to spend quality time with your kids in fresh air. Many family traditions stem from gardening and vast majority of kids who do gardening at a young age continue this hobby into adulthood.
But, what's the nitty gritty here?
Step one – Pique their interest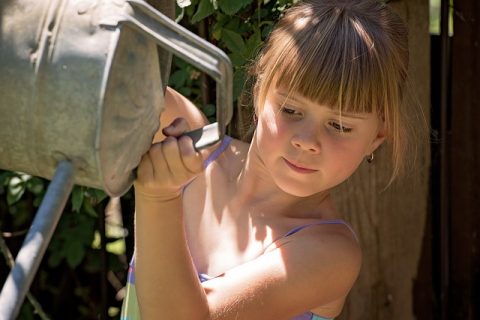 Just a straightforward exclamation: "Let's do some gardening!" is highly unlikely to spark any motivation in your children. It is wiser to take the indirect approach like asking them to help you with pot decoration.
It could also be intriguing to take them with you to a garden centre to pick their own plants and seeds. Ask them to help with watering the plants – give them their own watering cans or bottles with pierced lids.
You can even have a water fight in summer! The point is, work with any glimpses of interest they show in plants or garden and try to include them by drawing on their talents or preferences.
Step two – Select the plants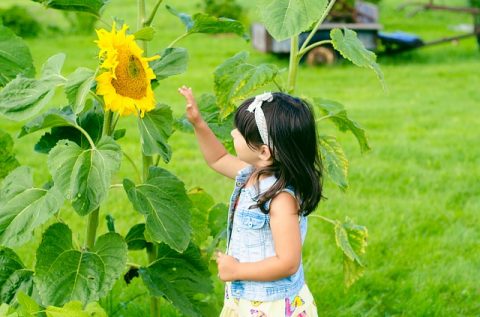 This could be a powerful magnet. Allow your kids to choose the flowers and veggies they'll grow, but steer them to consider some of these foolproof options:
Sunflowers, marigolds and poppies – easy to grow and have loud, attractive colours
Lamb's ear – very forgiving to grow and cuddly to touch
Daylily and nasturtium – edible
Lemon balm and mint – nice-smelling and ready for tea and salads
Swiss chard – edible, lush and curiously coloured
Carrots, potatoes, radishes, spring onions, peas, lettuce, tomatoes, sugar peas, chive, spinach – all (except potatoes) can be eaten straight in the garden
Corn – kids will be impressed when the corn grows over their head
You are really spoilt for choice when it comes to the plant selection. It's probably a good idea to start with one plant and when the kids see the fruit of their labour, hopefully they'll get hooked and ask for more.
Step three – Prompt them into action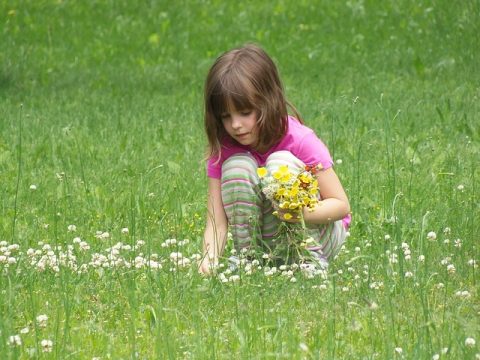 Kids love being active and engaging all the senses, and there's no shortage of things they can do while gardening. Here are some to get your imagination started:
Watering and water fights
Weeding and deadheading
Planting seeds and harvesting veggies or seeds (from sunflowers)
Making mud pies
Hunting for worms and other insects
Drying flowers or herbs
Picking flowers
Landscaping
Decorating the garden with handmade or store-bought decorations
If you like the general idea but are hesitant about risking the garden you cherish with your children's miniature attention spans and brimming energy, remember that you can simply give them pots and a patch as a starter kit – with a promise to give them more territory if they prove themselves as budding gardeners.