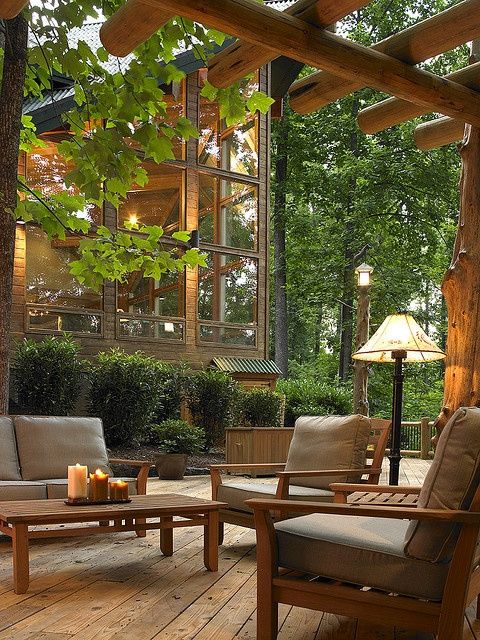 As we move into the last couple of months of winter, our gardens are getting ready for the big spring push.
Before you know it the lawn will be growing vigorously, and buds will begin to appear on the trees.
Some tough plants have already begun to show signs of life.
Our gardens are looking messy and need a good tidy up.
Have you considered spending more time in your garden this year? I don't mean working; that's all many people do.
The only time a lot of people spend in the garden is for maintenance, never just going out there to appreciate it.
We will take a look here at some easy projects you can undertake in your garden.
The aim is to make it a more inviting and comfortable place to spend your time.
Decking
It would be wonderful if we could all afford a setup like the one in the image.
However, anyone can have their own area of decking for a reasonable price.
Your local DIY centre will sell all of the materials needed.
Be sure to use proper decking timber though as it has been pressure treated and is guaranteed to last a set amount of time before rotting.
Add a pergola over the decking and great seating area appears.
Compliment this area with a set of Alexander Rose luxury garden furniture, or any high quality products available on the internet.
Places to Rest
Along with the main seating and entertaining area, consider placing benches or seats at locations around your garden.
You will be able to stroll around, or read a book, and appreciate the beauty of your garden from different viewpoints.
Water Feature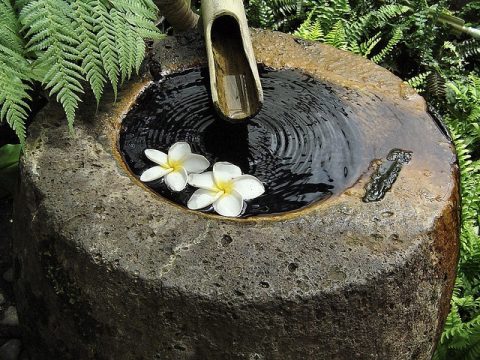 Spend as little or as much as you like on a water feature.
There are some fantastic designs on the market today.
Would you opt for a traditional garden pond, koi pond , or an ornamental feature?
Perhaps you would even consider building your own.
Simple kits can be bought from your garden center that can be adapted and customised to give you a feature to be proud of.
They run from a plug in low voltage transformer so are perfectly safe to use in the garden where children play.
The sight and sounds of running water are very relaxing.
Plants
Consider buying some tall plants that will rustle in the breeze, such as baboo.
There are plants that give off wonderful odours also.
Visit your local garden centre and ask an expert for the best smelling varieties.
Plant these densely around your seating area for maximum effect.
Lighting
Now is a good time to think about lighting in your garden, to be ready for those long balmy nights.
We too often go inside and close the doors when darkness falls. Being able to stay outside in the warm when the day has ended and see our garden in a whole new light is very satisfying.
Lighting creates highlights and shadows that we don't usually see. Lighting kits are easy to install, and it is a good idea to get the cables buried before the main growing spurt begins.
Food
Building a barbeque in your garden will encourage your family and friends to spend more time relaxing out there.
A bar is a simple thing to buy or build too. A summer of partying is just over the horizon.
I hope that these tips have given you the urge to get out in the garden early so it will be ready for action when the summer arrives.
You may need warm clothing and a good pair of wellies out there, but it will all be worth it as you sit under your pergola, drink in hand, on a warm day, watching your neighbour scratching his head and wondering where to start.
I wish you green fingers.