The British have enjoyed jazz for nearly 100 years and jazz venues in London, like Ronnie Scott's and more recently Boisdale, have gained a worldwide reputation for inviting the finest musicians to play the best in live jazz for their knowledgeable and discerning patrons.
Originating at the beginning of the 20th century, or even earlier, jazz has its roots in the music of African Americans. It has always adopted elements from contemporary popular music and has many distinctive regional styles, ranging from New Orleans jazz (in the 1910s), Kansas City jazz and Gypsy jazz (of the 1930s and 1940s), bepop (mid 1940s onwards) and more recent forms like jazz funk and jazz ethno jazz.
The story of jazz in Britain begins in the early 20th century. Ragtime had already been established in Britain, but it wasn't until 1919 with the arrival of the Original Dixieland Jazz Band form New Orleans that British audiences had the opportunity to hear live jazz. The "new" music attracted a faithful following but until World War II live jazz music was, for the most part, limited to performances just before closing time in a few London restaurants.
In the 1920s, British musicians recognised the distinctly foreign origins of jazz and sought to create a jazz of their own. At the forefront was an eclectic mix of musicians (Bert Firman, Fred Elizade, Philip Lewis, Spike Hughes) who formed bands that often included visiting US musicians and which produced hundreds of recordings that gave British musicians the opportunity to develop and perform their own versions of jazz. The period effectively saw the genesis of British jazz. Their efforts saw jazz accepted as a musical genre in its own right and the establishment of a number of small jazz clubs around London.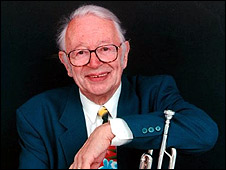 Following World War II, British jazz divided into two main camps. Musicians like Humphrey Lyttelton moved towards revivalism and traditional jazz while others like John Dankworth and Ronnie Scott tended towards modern jazz or 'bepop', The division was clear in the 1950s when the new jazz clubs in London were either traditional or "trad", favoured by younger fans who preferred its more upbeat tempo to which they could dance, or modern, the choice of older fans who preferred more relaxing music. Ne'er the twain would meet.
Initially both camps emulated developments in the United States rather than create a British style, but both eventually evolved into jazz with British characteristics.
Traditional jazz performed by figures like Acker Bilk, Lyttleton and Chris barber formed backbone of this "British" jazz while Lyttleton and Barber were also instrumental in bringing black American jazz and blues musicians to Britain in the 50s and 60s influencing Britain's emerging blues scene.
Modernists like Dankworth and Scott, however, created their form by imitating and building on new concepts in American jazz. Many travelled to the US on transatlantic liners to hear the latest trends. The opening of Ronnie Scott's club in 1959 defined this scene as it featured visiting US musicians with local bands playing second fiddle. The emergence of a British modern jazz identity was also strongly influenced by immigration to Britain that saw an influx of multicultural influences and the experimental and free jazz scene.
British jazz now has an identity of its own and there is no longer friction between traditional and modern jazz. Today, London's jazz venues like Boisdale regularly feature live jazz music that is the envy of the world.