With Christmas quickly approaching we thought our readers could do with a helping hand, as there are so many things to think about this time of year.
That's why we have put together this guide to planning the perfect Christmas party with the help of our friend Mike James, an experienced writer working with UK-based venue-sourcing specialists Best Venues London.
Set the Date, time and Party theme
And where? People tend to be extremely busy around Christmas time, rushing about taking last minute holidays, buying and wrapping all the gifts, preparing what they are going to buy and cook for their Christmas meals. Obviously you want it to be around Christmas but when?
It is important to plan the date and time for your Christmas party perhaps even several months ahead in order to make sure that everyone can attend and that you have everything in order for a first class Christmas party. Last minute extravagant parties can go disastrously wrong, so unless you are a professional party planner, you'll want to plan far in advance.
Of course the main theme is going to be Christmassy. However, would you like a casual Christmas party? A crazy party? Christmas encompasses a wide range of themes, from Santa's grotto to formal attire to the traditional nativity. Choose wisely!
Guest List and Invitations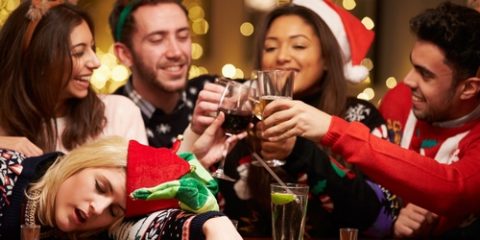 Once you've sorted out the date and the time for your party, you want to set about planning your guest list. Decide whether or not you want a big or a small party and take into account whether or not children are also invited. Some guests may need to bring small children, so taking into account kids can be helpful to new parents but can also be quite taxing when it comes to keeping them entertained, so it is up to you.
Send your invitations ASAP! Make sure to let them know that they need to definitely RSVP to confirm they are coming, as this gives you a rough estimate of expected numbers and you can plan your food and other supplies accordingly.
Dress Code
This ties in very nicely with the theme of your party. At Christmas time people tend to pull all the stops out, whether it is getting fully dressed up in a Santa costume complete with jolly red nose and beard, or it is getting out your finest ball gown to attend a formal dinner. Give your guests some sort of dress code to follow, or give them a funny checklist that they have to complete to mix it up a little!
Accommodation
Christmas is a time for celebration and sometimes this celebration can get a little merry. In order to make sure your guests are well looked after, you'll want to scout out the local area around the venue beforehand to check whether or not there is sufficient accommodation. This only applies if your guests are not local, but sometimes spending the night in a hotel at Christmas is the better alternative so it is always good to double check.
Travel
Likewise with accommodation, some guests may be travelling from afar so you want to make sure that they can get back safely once the party is done. Scout out the local area to see whether or not there are any nearby bus or train stations, or if there are taxis available to help your guests if they get stuck.
Catering and Catering Staff
What style of party do you want to throw? Buffet? Nibbles? Formal dinner? Depending on what style of party you are going for, you want to take into account the amount of preparation needed for catering. Venues will not often allow you to bring your own food, so organising a catered event with the venue staff is essential. Buffet tables are a great way of keeping the guests mingling while also providing a wide range of food but there can be a lot of food waste at the end of the evening. Formal dinners bring everyone together but you are limited in terms of space and menu choices. It all depends.
Dietary Requirements
It is important for your guests to let you know whether or not they have any special dietary requirements or allergies, particularly if you are serving them food. As the host you are responsible if anything bad should happen to a guest, so try to attach a note to the invitations so that when they RSVP your guests can also make mention of any special dietary requirements they happen to have.
Taking Inventory
Once you have sorted out your guest list, you'll need to make sure that you have all the necessary supplies to accommodate that guest list. Nothing is more awkward than having to make do by pouring wine into a mug if you don't have enough glasses to go around. Double check the amount on your RSVP list and then make sure you have enough supplies plus a few spares in case of any accidents. You can never be too prepared!
Safety Measures
Make sure you know your venue's safety procedures before hosting your event. Check all fire exits and perhaps even run a practice drill with your guests if you are worried about getting everyone out on time. It is also a good idea to keep an eye out for fire extinguishers and to make a note of fire blanket locations, in case of an emergency.
Appointed First Aider
You cannot always be held accountable for all your guests, so having an appointed first aider takes a load off your own shoulders. You will able to turn to them for assistance if there are any issues and there is less pressure for you as the host. Appointed first aiders are a good idea as you can't always have your eyes everywhere, so try to look through your guests to see who is qualified and perhaps ask them to keep an eye out if you are planning on leaving the room or taking a break.
Entertainment
Christmas Entertainment options can be endless for any party. Of course you want all the traditional songs and games as well as Christmas crackers and perhaps even a performing Santa, but depending on the theme of your party you might want to try something a little different. How about a Christmas quiz? Or a costume competition for the best Santa/ elf? Take suggestions from your guests if you are unsure, or look online for inspiration as everybody celebrates Christmas their own way.
Music
No top notch party is complete without themed music and as it is Christmas, you'll certainly want to grab all the classics. Christmas CD's are always available and can be picked up at any time of the year for cheap at charity shops. As Christmas parties can be a little cheesier than parties the rest of the year round, it is unlikely that you'll need a DJ. Your own system should be more than enough.
Christmas Letterbox
Often done in clubs or local societies, a Christmas letterbox is essentially a box in which you put Christmas cards to your friends and family whom you might not otherwise see at Christmas. Obviously you can always just post the cards, but organising the letters and arranging them at the end to give out to each individual or family is always a welcome break to the partying atmosphere and serves as a gentle reminder as to the meaning of Christmas.
Charity Drive
One part about Christmas is all about gift giving and receiving. A great way of giving to those less fortunate than yourselves is to set up a small charity drive at your event so that guests can donate their spare change to a good cause. It is not much, but every little helps and people often feel far more generous at Christmas.
Decorations and Finishing Touches
Part of Christmas is all about the flashy decorations. The beautiful tree, the sparkling fairy lights, the funny home-made snowflake lanterns, all this adds up to a great Christmas party. Put that little bit of extra effort in and your guests will really notice and appreciate it. You can even add little reindeer place-holders or buy some special Christmas napkins for the buffet. The possibilities are endless.
Greeting Your Guests
Any good host knows that although setting the scene is crucial, it is also critical to be there for your guests when they arrive. Try to leave about a quarter of an hour free before the start time of the party so that you are ready to greet your first few guests. It sets the tone for a great party and really shows your organisation skills!
Another good reason for being at the door to greet your guests is to give them a small sample of what is in store. Picture two scenarios; a couple of guests wander into an open hall decorated with Christmas gifts and jolly music, in comparison to a couple of guests greeted at the door by a smiling elf who shows them into the beautifully decorated hall. They are small touches but they really add up to a great party.
Having Fun!
You've busted your back trying to get this party to run smoothly, but it is important to rest your feet for a little while. This party is for you to enjoy as well so try not to worry about every little thing! Unfortunately we cannot be prepared for every situation to happen, otherwise we would constantly be on edge, so make sure to have a little fun yourself, after all it is Christmas!