Blinds have long been thought in interior design as a background detail to go along with the tones or style of the rest of the room, simply offering functionality.
However, as more flexible blind solutions appear on the market, coming in bespoke designs or with exciting new technology integrated into their systems, blinds are becoming the latest way to focus your decor.
We've collaborated with blinds experts Barlow Blinds to find out the latest trends in 2017, so that you can stay ahead of the curve and – if you are looking to redesign your home – give you some exciting inspiration!
Technology and Blinds
As technology improves in all industries, blinds are no exception. From remote control blinds in the past few years to now – blinds you can programme from your phone or tablet – you can now set the times you want your blinds to open and close, so you never have to touch them again!
Powerview blinds, the latest blinds craze, can be set up to be completely automated, so that even when you're out or on holiday, the blinds will still open and close. This adds an extra security bonus too as they look as though they are being manually managed.
As you can imagine the benefits of these are numerous. From allowing the light to be your alarm clock each morning as the blinds roll up to let in the day, to the time saved, to the simple thrill of feeling like we're living in a futuristic age where the ingenuity of technology inspires and excites!
That's why powerview popularity has skyrocketed (and will likely continue to do so) as more invest in these practical but pretty motorised blinds.
Go Grey or Go Home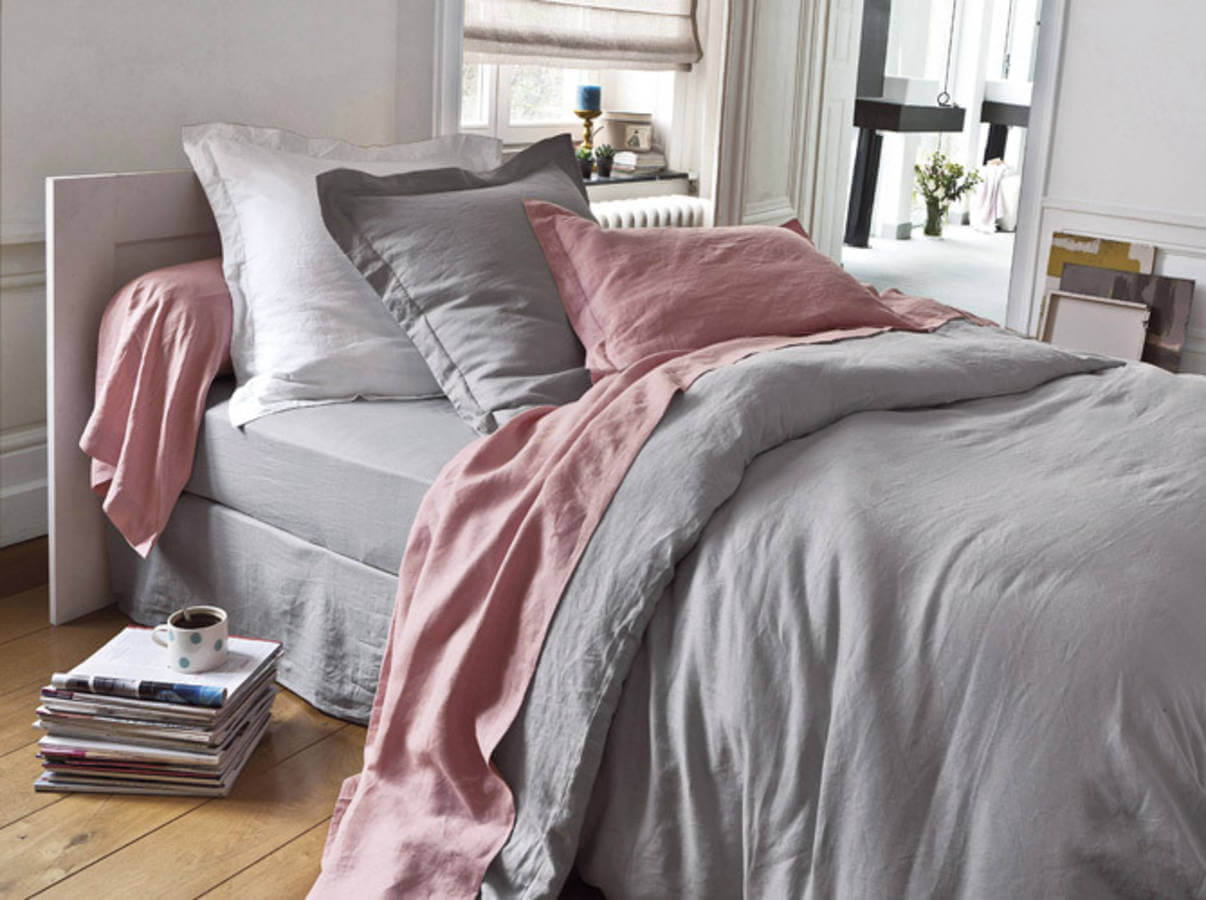 Image Source
Grey is huge at the moment – and has been since the end of last year – as interior design moves away from whites and creams and towards more neutral tones.
Following that trend, grey blinds are all the rage to complement the muted shades that are becoming the hot topic of 2017. With its timeless appeal and such a wide range of tones and shade, there is a grey for every style and mood.
For blind design, adding a new shade into a grey ensemble can add impact, or used alongside dusty pinks and creams can give a light and contemporary feel. Alternatively, used with some deep purples and reds creates a warmth and depth to make for a cosy home.
Blinds Taking Centre Stage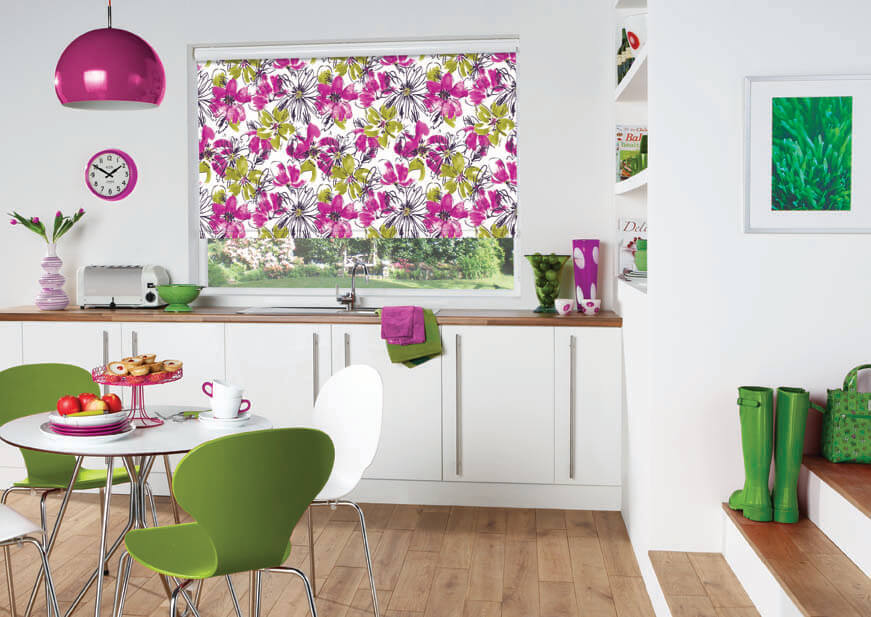 Whilst features walls used to be the big thing in interior design – and still will be around to some degree – feature blinds are becoming the latest in design. With more quirky and fun blinds becoming available, and bespoke blinds making nearly anything possible, blinds are starting to stand out rather than blend in.
These sorts of interesting blind designs have been increasingly popular as homeowners and businessowners realise the potential of utilising this standard room feature to inspire and bring something new to the table.
Take this bright kitchen design in the image above with lime greens and striking pinks to pack a punch, with the flowered blinds bringing the whole ensemble together. Blinds are becoming the centrepiece of a room, and as there is pretty much no limit as to what you can do.
Different panels to create different effects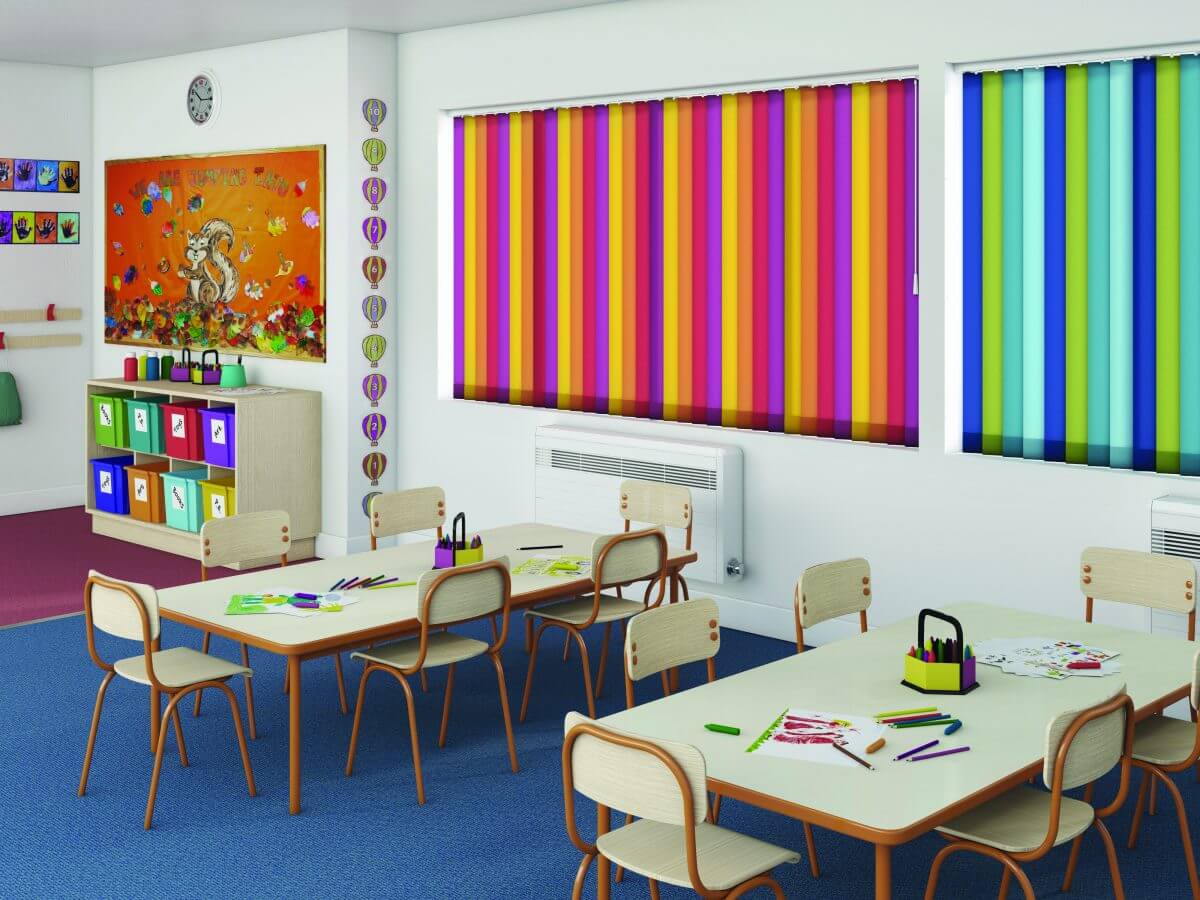 The final of our interesting and upcoming blinds trends for 2017 is the use of different coloured and designed slats to create fun and quirky effects.
One recent instance Barlow Blinds saw was a homeowner who wanted a full set of grey vertical blinds, but with the final two panels on each end replaced with lime green vertical blinds to go with her colour scheme (such as lime green pillows).
Using different blind panels in this way can help your bold colours to pop and bring more cohesion to your rooms. They also add something to the room which usually you wouldn't see, as this is still a relatively new technique so is still very striking and adds an element of surprise.
Different blind panels can also be used in schools to create a fun atmopshere for the kids, just as they create an unusual atmosphere in our homes. These carnival or circus style colour combinations bring the classroom to life, casting bright and colourful shades light across the room.
The great thing about blinds is that there is already so much choice out there, but now with bespoke blinds and digital printed blinds available, you can print any design you like and fit any window to create a genuinely unique look.
As Phil Coleman says, the Managing Director of Barlow Blinds, 'There is literally no limit with your blinds. Imagination is the only thing that can stop you now!'