This autumn, ditch the bold, bright colours and sweet pastel tones that trended in the summer.  Instead, welcome soft neutrals and muted colours into your home.  The result is a warm, gentle and sophisticated colour palette.
If you're redecorating your home this autumn and need a little inspiration, look no further!  Below we list plenty of tips to help you nail the trend: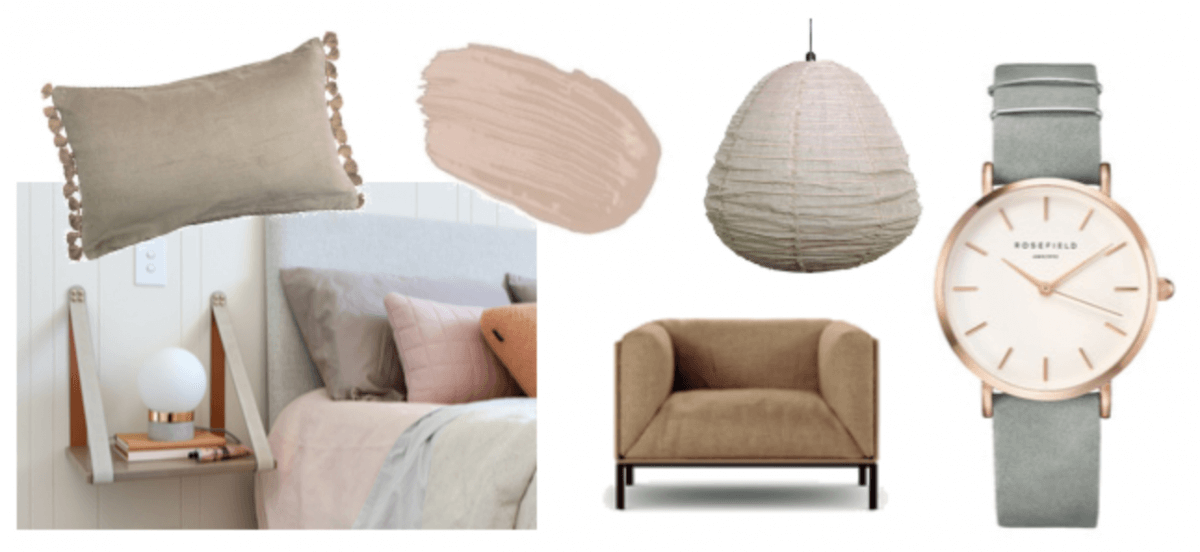 Colours to use
It doesn't matter if you're a decorating novice or a want-to-be interior designer! Anybody can incorporate the muted colour scheme into their home.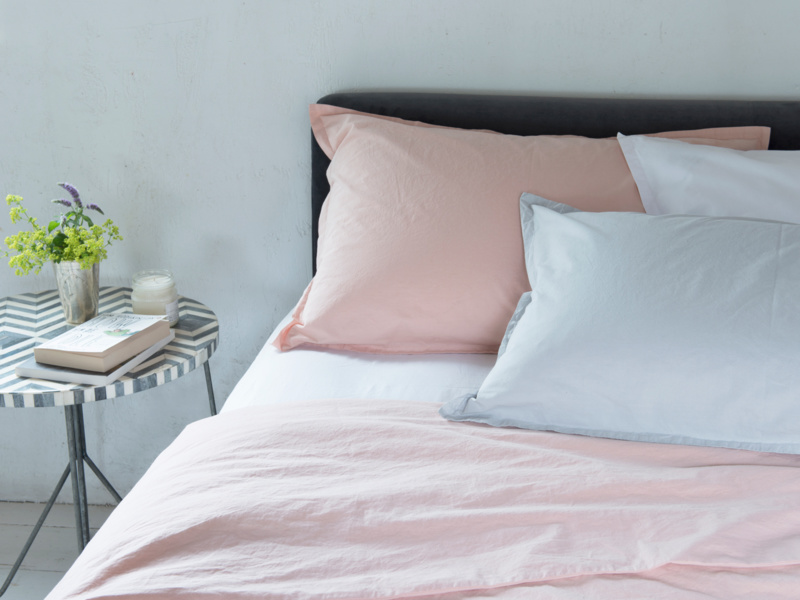 Simplest method:  Start with a neutral colour scheme and pair it with just one muted shade from the list below:
Warm, pale shades of grey
Blush and dusky pinks
Dusty pale greens
Light, gentle shades of camel
Smoky shades of peach
Light, earthy shades of brown
Toned down shades of lavender and purple
Advanced method: Mixing and match two or more complementary shades from the list above throughout your room.  All of the muted colours listed above will work together to create a calm and cohesive space.
(Image above right:  soft grey, dusky pink and peach are paired together in the bedroom.  Via Loaf.com)
Where to use muted tones?
Muted tones work perfectly in any room. What about trying one of the following colour combinations in your home?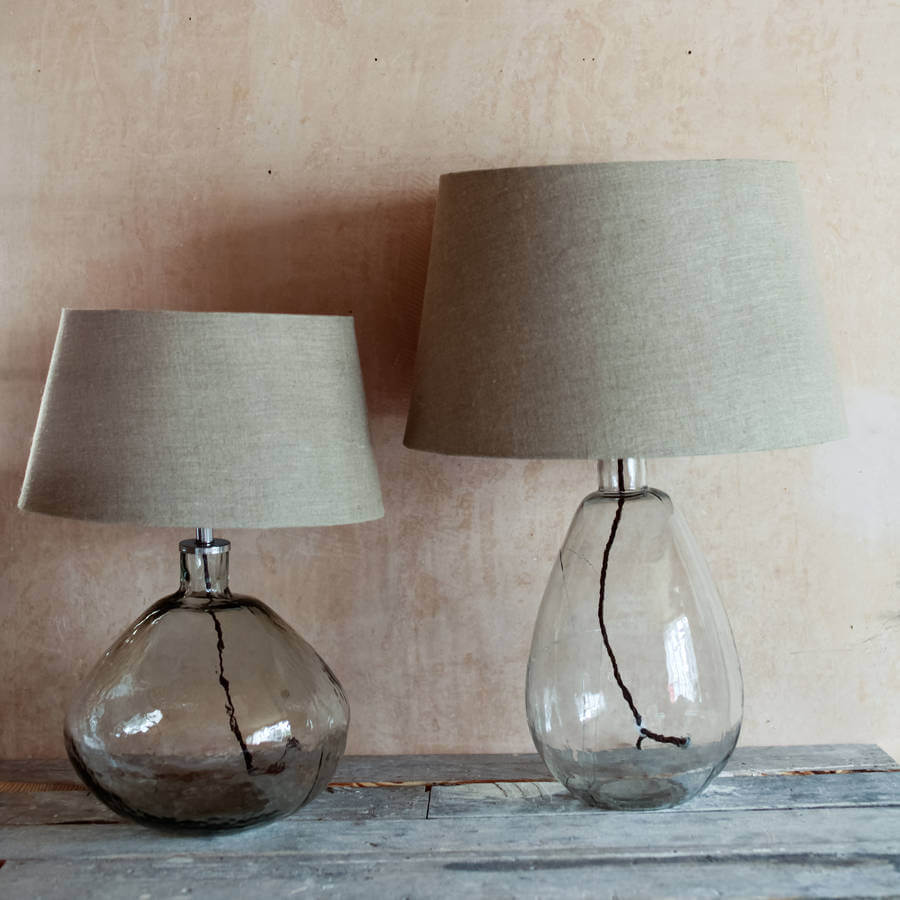 Conservatory:  Invite the outside in by pairing light earthy brown tones with a splash of pale sage green.  Accentuate the colour scheme by adding several of your favourite plants.
Dining room:  Why not mix smoky shades of peach with grey tones for a thoroughly modern look?
Living room:  Consider neutral walls, a grey sofa and dusky pink accessories.
Kitchen:  Opt for a country-kitchen vibe by pairing warm and welcoming shades of muted brown, orange and red together.
Bedroom:  The beautifully-scented lavender herb is commonly known for its healing and relaxing properties.  It's regularly used to calm anxiety and provide natural stress relief.  Why not extend this into the bedroom to create a super sumptuous sanctuary, perfect for unwinding after a hard day at work?  Mix muted lavender shades with soft dove grey – but remember to keep the room warm and friendly by avoiding shades with cool undertones.
Bathroom:  Take inspiration from nature and think about your summers spent beside the sea.  Opt for warm shades of sandy brown, seashell grey, wispy blue and muted seafoam green.
(Image above above:  The two glass lamps sit on a wooden table.  The muted green shades look fantastic against the warm brown wall.  Via notonthehighstreet.com).
Pair with lighter timbers
When it comes to choosing furniture, opt for blonde timbers, such as pine, beech or maple.  The golden timbers will add a touch of warmth to your room, plus they work well with muted colours.  Darker woods (like mahogany) will feel too heavy and overwhelm the space.
Layer up with luxurious fabrics
Battle those cold autumnal evenings with chunky knit blankets, a squishy, soft rug, beautifully plump pillows and thick velvety fabrics in coordinating muted shades.  Layer together to create a laid-back space, perfect for relaxing on an evening.
Add natural textured accessories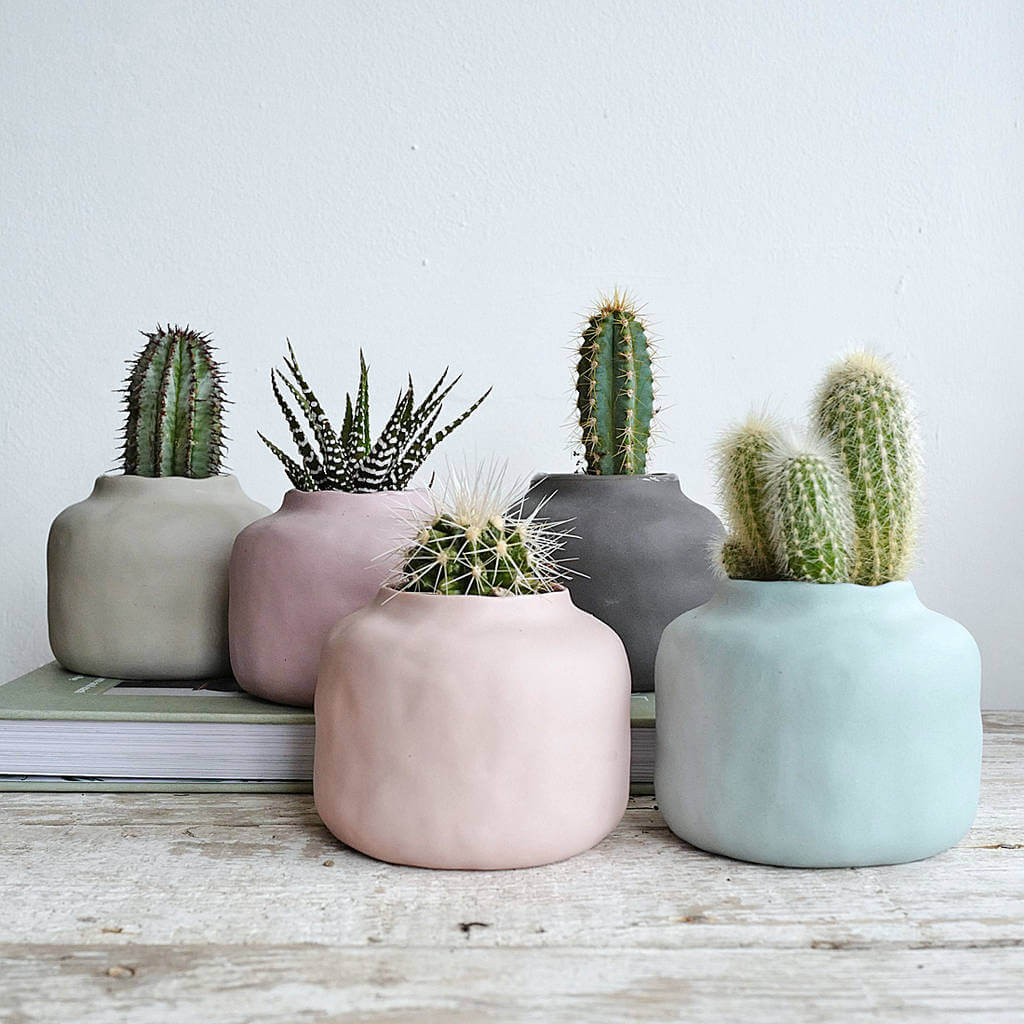 Natural textured elements work wonderfully with a muted palette.  Think ceramic jugs, stoneware vases, willow baskets, twisted rope mirrors and linen drum lamp shades.
(Image above:  The ceramic pots will add a touch of colour to any corner of your room.  Via notonthehighstreet.com).