According to James Henry Leigh Hunt, "Colours are the smiles of nature".
This ethos can certainly be applied to many aspects of life, while adopting it for interior design is guaranteed to bring cheer to your home.
With skirting boards, however, the preferred shade is usually white, so it may come as a surprise to know that coloured skirting boards are the next big thing. They no longer have to blend in and be ignored; now you can make skirting boards a design feature and point of interest in their own right.
Here we show you how coloured skirting boards can add something extra to your rooms, whatever your taste or style of home.
Embrace Scandi Pop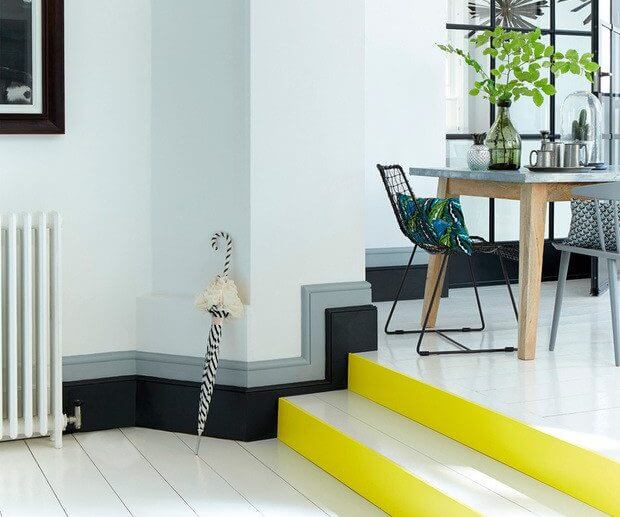 Image Source
Scandinavian style has been hard to ignore in recent years. Its unmistakeably chic and minimalist aesthetic is loved the world over for its understated cool. It is also easy to implement into home furnishings, design and accessories.
Neutral tones are a common theme in Scandi style, but there is a new, bolder take on the trend which is breaking through. Scandi Pop takes the unfussiness of Scandinavian design and gives it a brighter but trendy addition of a standout colour in well-chosen areas. This is so easy to emulate, it doesn't matter whether your home is a modest apartment or a generous house, nor where you live in the world.
This is often achieved via small touches such as putting a bright sofa against a cream wall, a bright lamp on a hardwood table or coloured vases on a neutral shelf. So why not skirting boards too?
Make your skirting boards stand out against your walls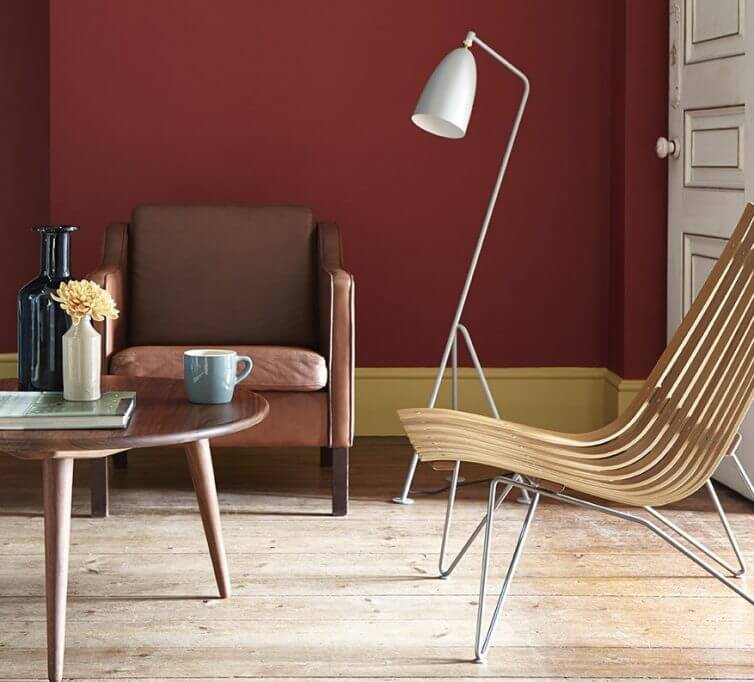 If you like the idea of using colour to make your rooms really stand out but aren't keen on setting them against plainer backdrops, then you can go one step further. How about using colour contrast to really take your decor to the next level?
You could take on this braver trend in various ways, with results which are just as striking as Scandi Pop – if not more so. It doesn't have to look tacky either – just choose your shades carefully. You can opt for interesting colour clashes, varying shades of the same palette, or even a colour gradient.
I especially love colour blocking, which has been so prevalent in fashion during recent years – simply take opposite colours on the spectrum, such as blue and green or red and yellow, for a surprisingly smart effect.
If you have a smaller home, then you can maximise the potential of your rooms with the illusion of more space by going for a darker-coloured skirting board set against a light-coloured wall.
Georgian style doesn't have to be expensive – simply match skirting boards and walls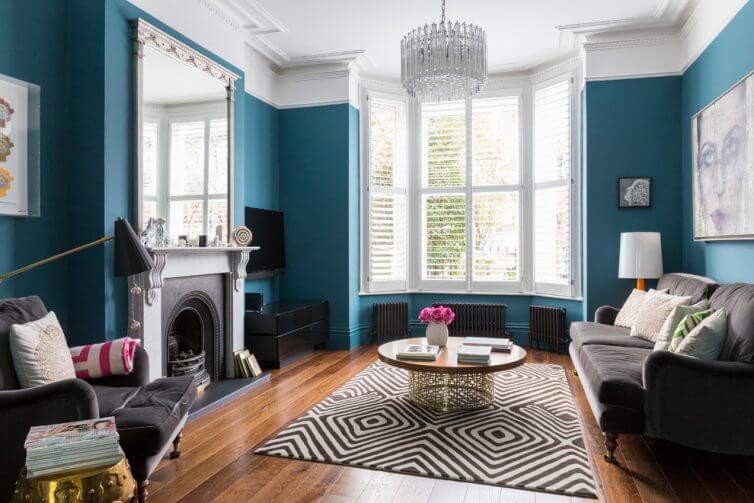 Image Source
In Georgian architecture, elegance is key, with the most prevalent Neo-classical styles inspired by Roman and Greek architecture. Colours were often sumptuous pastel shades of pea-green, pink and mauve. The refined style didn't shy away from applying these palettes to matching areas of the room, such as skirting boards and walls.
This is so effortless to adopt yourself, no matter how your home is otherwise furnished – simply take your preferred colour of skirting board and paint the adjoining wall in the same shade. This is not only another way of achieving a pleasingly clean look without the need for neutrals, but it eliminates the harsher, space-diminishing effect of an obvious divide between skirting board and wall.
The Georgian trend isn't dissimilar to Scandinavian chic in some ways, in that it favours an uncluttered aesthetic, along with the calming effect provided by the use of symmetry. It may seem audacious to opt not only for a coloured wall but a matching coloured skirting board too; however, this design trend has been in fashion since the 1700s. Hardly a passing trend, but rather a long-favoured feature of enduring style.
Main Image Source