There's nothing quite like the luxury and relaxation that can be found in a boutique hotel bathroom.
From the sleek furnishings to the big, fluffy towels, it's a look that most people would love to recreate in their own homes.
There's no reason why you can't. With some clever decoration and a few well thought out accessories, you could get that boutique feel every day.
Decide How Much You Want to Change
There are some small changes you could make to your existing bathroom to achieve this look or you could start from the beginning.
If you want to completely overhaul your bathroom then opt for a white bathroom suite. This will give the impression of space as well as looking clean and inviting. Having twin sinks is very hotel-chic and doesn't have to cost the earth. Adding some stylish taps – this waterfall tap from John Louis is a great example – will give your bathroom a super modern feel.
Choose a feature wall and decorate it with tiles. You could create a splash-back behind the sinks or bath to create style as well as function. The eye will immediately be drawn to this part of the room so make a feature out of it. Using natural stone tiles is really glamorous and will stand the test of time. However, adding a few metallic hints to your bathroom décor will create a sense of opulence and will bounce light around the room to give the illusion of space.

Small Fixes, Big Wins
A wall mounted towel rail is the ultimate in boutique hotel bathroom style. Think of those winter nights when you're climbing out of a hot bath or shower and wrap a cosy, warm towel around yourself. Total indulgence, but really practical and they don't take up much space. Opt for white or chrome to keep it on trend and in-fitting with the rest of the bathroom décor.
Mirrors will add light to your bathroom. You should choose wisely where you want to hang them. A large, square mirror placed behind the sink will be practical, but will also create space and add light. However, a lot of boutique hotels are now opting for the shabby chic style of vintage-inspired or distressed look accessories – this Pinterest photo sums the look up perfectly. Whichever look you decide to go for, make sure you get your placing right and remember that less is more.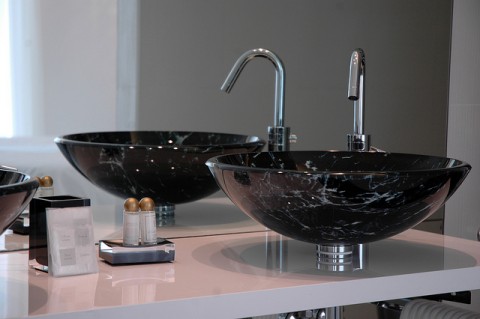 Slate flooring is fairly inexpensive and looks really stylish. Easy to clean and natural-looking, it is used a lot in modern interior design because it is hard wearing as well as chic. Match with dark painted furniture or oak woodwork to really off-set this look.
Finishing Touches
The key to a boutique hotel bathroom is to steer clear of clutter – a good place to start is our guide to detoxing your bathroom. Clever storage will hide away all of your lotions and potions and give your bathroom a sleek, relaxed feel that will encourage you to want to spend more time in there.
Finishing touches like big, fluffy towels, a crisp shower curtain and maybe a few scented candles will complete the look. You will forget all about that wonderful hotel you stayed in on your last holiday as you will be indulging yourself in a boutique-style bathroom every day.