Sheds are highly versatile structures. Most people use them to store garden furniture over winter, tools, lawnmowers, and old tins of paint.
However, this is not the only thing you can do with a shed. If you build a larger structure, a shed can easily double as a playhouse for the kids, a cosy office space, and even a space for outdoor entertaining during warm summer evenings.
Shed building is a great DIY project you can easily tackle over the course of a weekend. You don't need a great deal of specialist knowledge to be able to build a shed, and there are lots of useful resources online if you need shed plans or design tips.
A Plan of Action
Whilst building a shed is nowhere near as complex as building a house, you do still need a plan to follow. A plan is your guide to sizing and layout. Without a detailed shed plan to refer to you are very likely to end up with an oddly shaped shed and an awful lot of timber off-cuts.
Shed plans are available online. Plenty of websites have free shed plans available for download (find them here and here). You can choose from a wide selection of different plans, depending on the size and style of shed you want for your garden. Simple sheds won't take more than a day to construct if you have the skills and materials to hand, but if you are inexperienced or you have your heart set on a super deluxe shed, make sure you allot a few days to get the job done.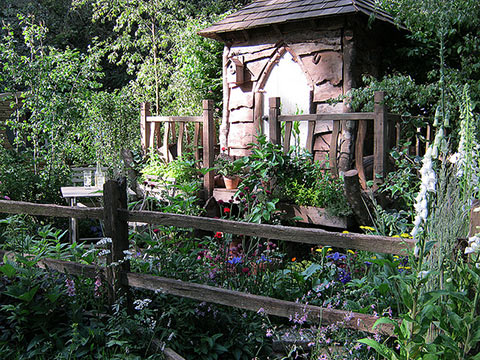 Photo by Rictor Norton & David Allen @ Flickr
Preparation is the Key
To avoid running into problems further down the line, make sure you are 100% certain you know what you are doing. Have the right equipment to hand, check your plan to ascertain what materials you need, and prepare the area where you intend on building your new shed.
A Suitable Foundation
Sheds can't just sit on the grass. A wooden structure needs to be seated on to a solid footing. It also needs to be well ventilated at the base. Wood rots when exposed to damp and if you don't build a suitable foundation for your shed it won't last for more than a couple of years. Concrete is perfect, but if you don't have the time or the energy to excavate and pour in concrete, use concrete blocks, heavy-duty paving stones or gravel as a solid base for the shed.
The Devil is in the Detail
Sheds don't need to be plain and boring. With a bit of imagination you can create an amazing shed with all kinds of lovely decorative details. Instead of standard black roof felting, use pretty coloured shingles to make the roof waterproof. Cover your shed with decorative cladding or paint it in pastel shade of paint. You might even wish to plant some climbers around the perimeter of the shed so that the lines of the garden and building become pleasantly blurred as time passes.
Take your time and enjoy the experience of building a shed from scratch. You never know, this could be the first project of many!