Summer is in full affect for many of our readers at the moment, so we thought we'd take a look at how the Australians make the most of their sunny days with the use of a patio
Here in the UK when we mention the word patio we imagine an area of paved flooring placed in our back gardens, and surrounding the back of our homes.
When the sun finally decides to appear we rush outside to the patio to relax on a comfy reclining chair or gather around an outdoors dining table to eat al fresco.
Did you know that halfway around the world in Australia patios resemble conservatories minus the sides? So patios consist of a fixed structure often attached to the house with a solid roof and permanent base – the base could even consist of a paved floor!
According to Wikipedia:
In Australia the term is expanded to include roofed structures similar to a pergola, which provides protection from sun and rain
Conservatories are very similar and extremely popular in the UK, but have you ever considered a patio (Australian version) instead?
Patios take up less space than a conservatory and help the transition from a solid closed structure such as a house to open up into the surrounding garden without fully intruding into your garden, which conservatories can often be accused of.
The weather can be quite unpredictable here in the UK, so they're also a great way to protect you and your food from the element, whilst still feeling like you're outside and not cooped up indoors on a glorious sunny day.
If your conservatory's looking like it's seen better days, and you're looking to have more of an open space between your home and garden, you could always look at reworking your current conservatory into a stylish new patio.
Even better, look at fitting a brand new patio. There are so many different designs available, there's sure to be one that suit your home and needs.
Here's a look at the beautiful designs used in Australia
Gable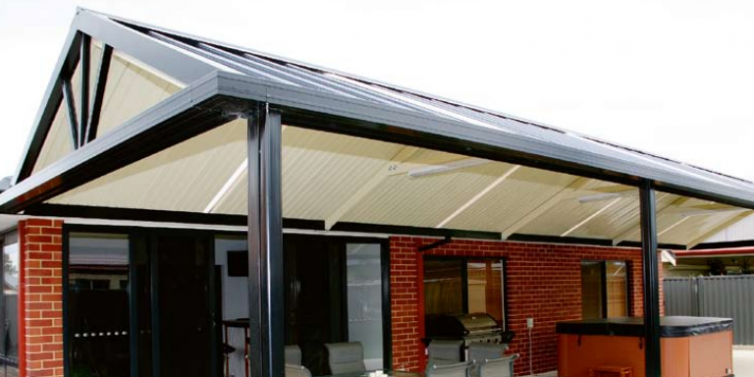 Double-hipped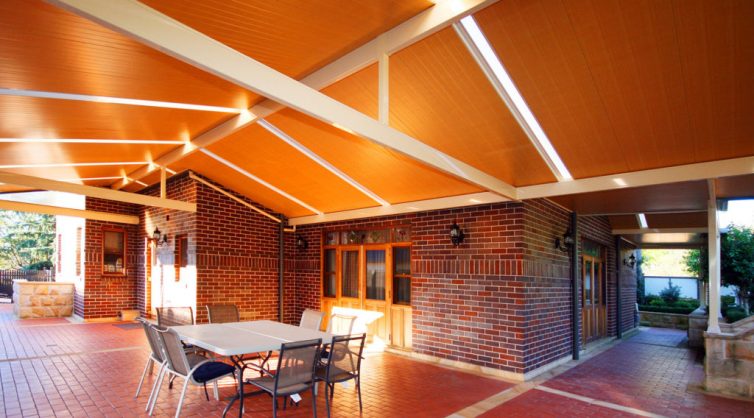 Flat patios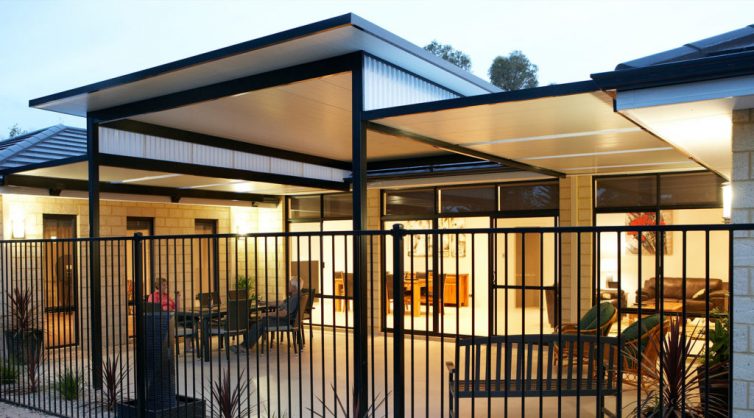 Enclosed patios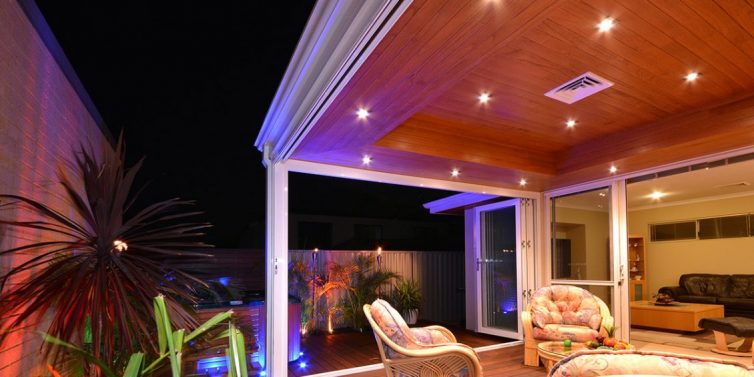 Wanting the correct patio for your home goes without says, so we've also added a few tips on how to decided which designs are right for your home.
There is no universal "right" patio design for everyone! All homes and needs are different, so it would be a good idea to work with a patio builder that can provide you with just what you need for your particular property.
Some of the choices that you will find when looking at our images from the top patio builders in Perth include insulated patios, which can keep it cooler in the summer and warmer in the winter, gable, double-hipped, and flat patios, and enclosed patios as seen above.
When making your choice, you will want to consider these three areas first:
How much space you have available in your garden and where you want to put the patio.

What is the main purpose of the patio – shelter, extra room, eating area!

Do you have a pool, and how close to the pool would you like the patio to be?

Of course, you also need to think about your overall budget.
Work With a Good Builder
Trying to build a patio on your own is difficult and time-consuming, as there's so many great designers out there that can work to your specifications, reach out to them and see what services are available.
A good way to see if what they're able to build is similar to what you're looking for is to ask to see images of their previous work.
In the UK that might be a little trickier, but a builder who can design and fit a conservatory to a high standard will not have any problem accommodating an Australian styled patio
Last but not least learn as much as possible about the company your intending to choose before you hire them. Recommendations from friends and acquaintances is always a great place to start.