Modern business is about much more than annual profits. The look of a business is all-important, too.
Other than your website, only your office design says more about your company culture. So, if you're looking for a little inspiration, here are 10 modern offices that will make you think about your business design.
Etsy, Brooklyn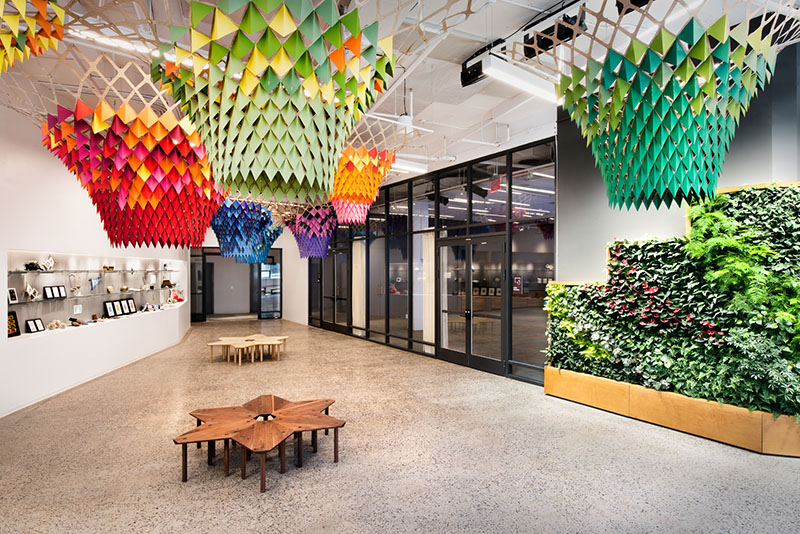 Source: ETSY
I could start off with Google, but that's too predictable. Instead, let's take a look at Etsy – the eCommerce website that centres on handmade/vintage goods. Etsy said:
"We envision a world where everyone — including the 850+ people who make up our workforce — has access to economically, socially and environmentally lasting and fulfilling work."
With all that creativity, you expect a popular business like this to have a special office. And, it does. With its headquarters in the excellently named Dumbo area of Brooklyn, it features big open spaces, lots of greenery, a rooftop terrace, and much more.
BrightHR, Manchester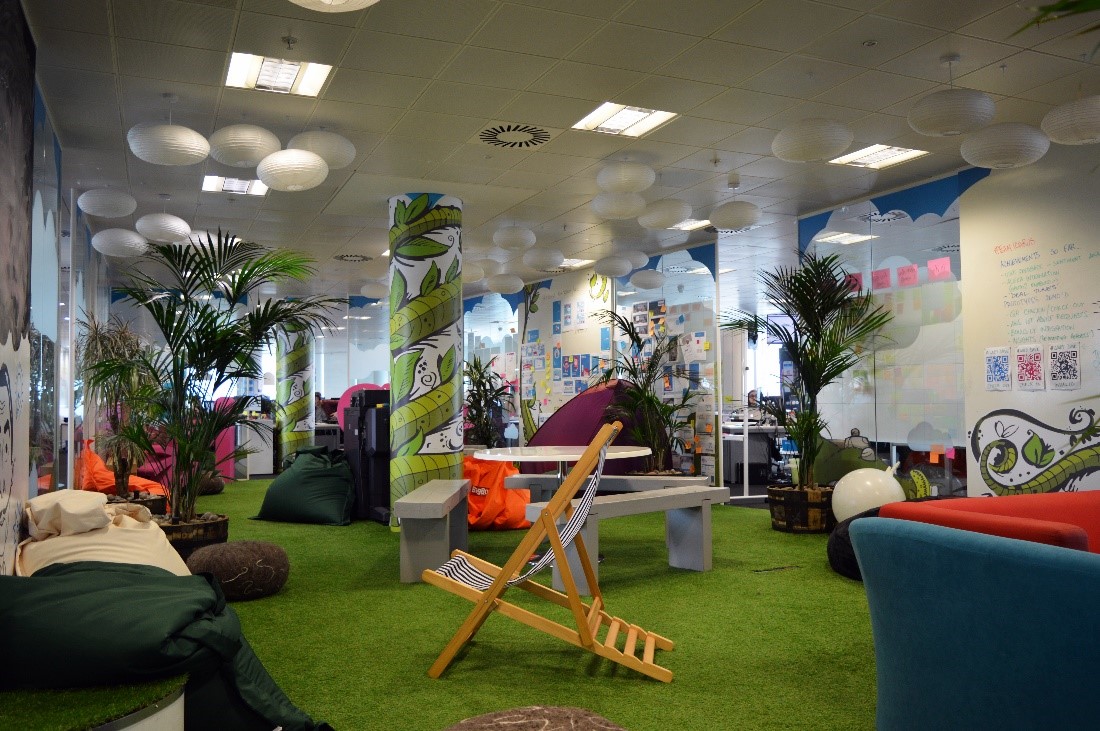 Source: BrightHR
Manchester-based HR Software company BrightHR boasts an impressive view of the city centre. It's taken on a fun approach to HR to ensure staff members stay suitably inspired throughout any given working day.
For meetings, or some alone working time, employees can lounge around on a comfy sofa, beanbag, or in a beach deckchair.
Nintendo, Tokyo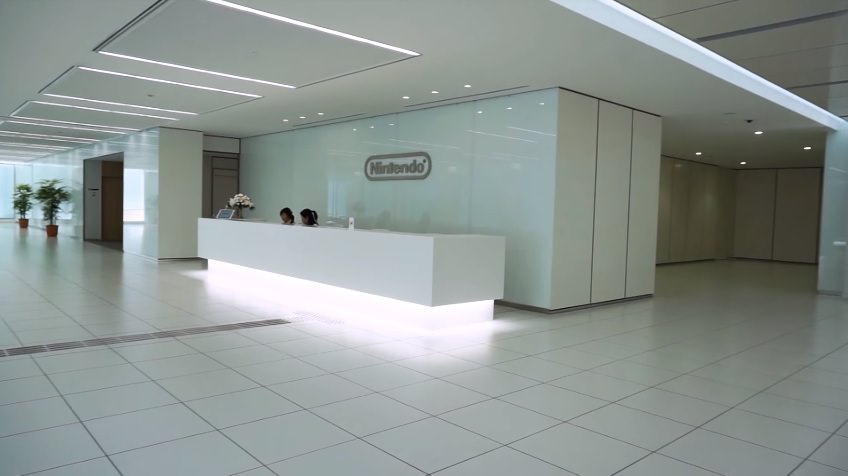 Source: Nintendo Everything
The famous gaming giant has headquarters in Tokyo. Despite its fun loving and vibrant image across the world, the business prefers a clean and clinical design. From the outside, the building is a generic grey and housed in formidable looking square shape.
Inside, it's just as clinical. It looks more like a hotel than a company behind the likes of Super Mario Kart. But Nintendo was once a hotel chain, prior to the 1970s when it switched to electronic entertainment products.
Airbnb, Dublin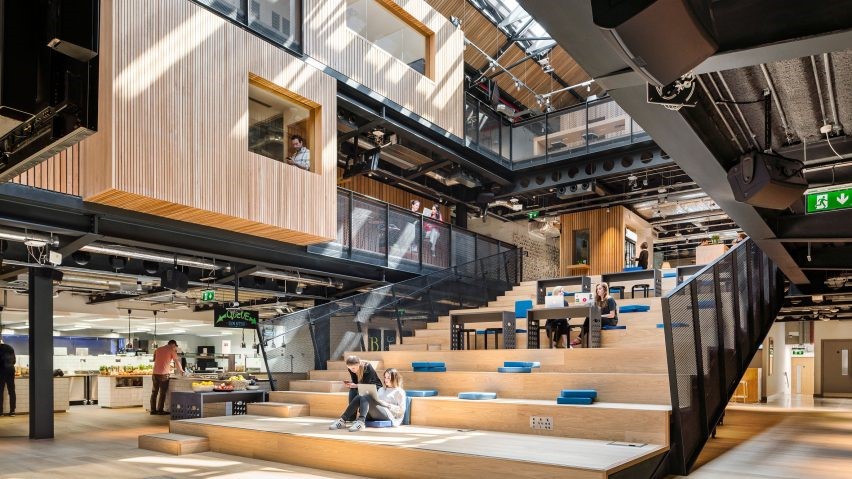 Source: Deezen 
The company shaking up accommodation too over a disused warehouse in Dublin back in 2016.
The unique office layout is reminiscent of a university lecture theatre, mixed in with some eye-catching design ideas. Airbnb called it The Warehouse.
The idea was to break up the office and make it easier for teams to find each other—this is why there's a primary and secondary working area.
Amazon, Seattle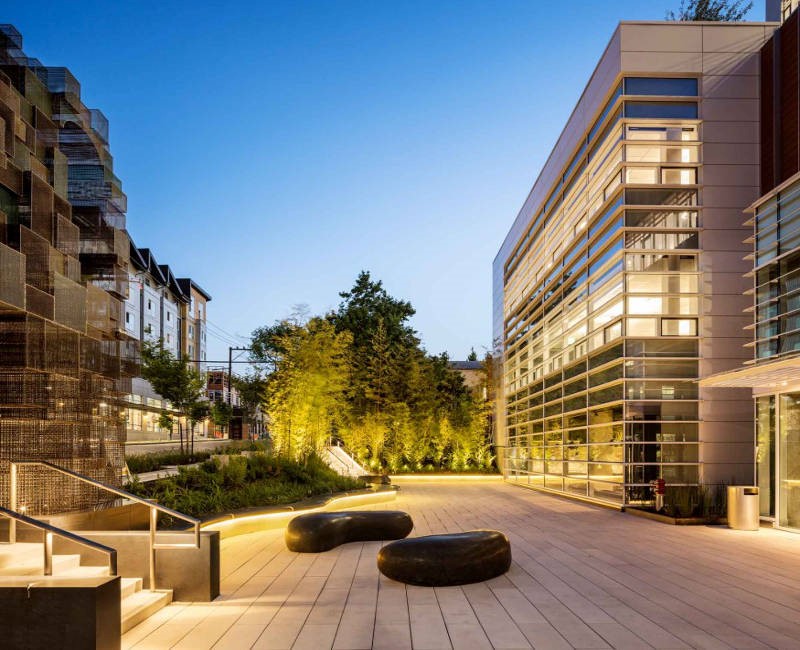 Source: Fresh Home
Looking more like a holiday destination than an office. A renovation shifted focus towards big open areas that encourage employees to interact.
Plus, it looks very impressive as well—the use of shadows is particularly notable. Arguably, the influencer here was Japanese author Jun'ichirō Tanizaki.
His 1933 essay In Praise of Shadows champions the use of natural lighting and well-placed objects to emphasise mood based on changes in the day. As the famous quote from the essay goes:
"If light is scarce then light is scarce; we will immerse ourselves in the darkness and there discover its own particular beauty."
YouTube, Los Angeles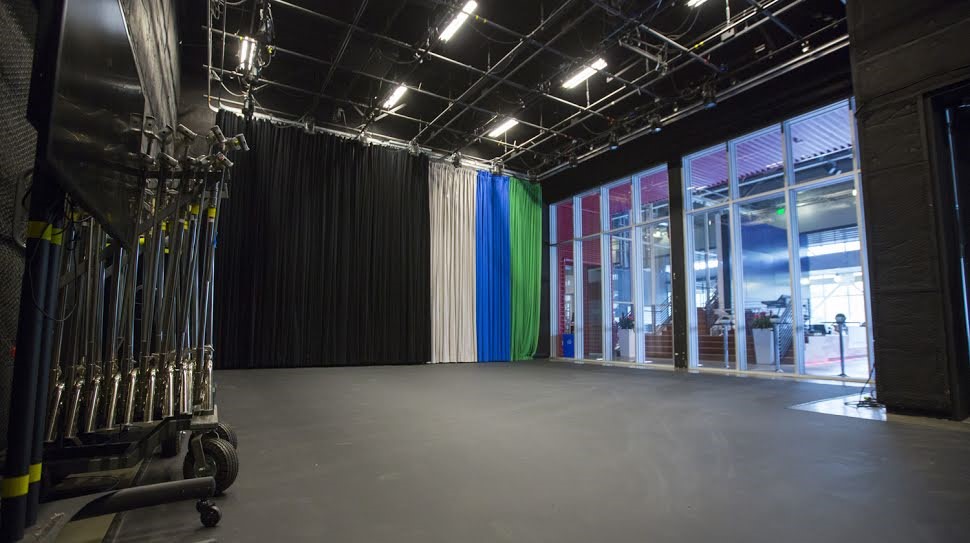 Source: YouTube 
The video sharing giant (now owned by Google) has a unique approach to business—if you have 10,000 followers on your channel, you're allowed to turn up and take advantage of the on-site technology. Free of charge
The office is some 41,000 square. And we're not talking about laptops, plug sockets, and free electricity here. There are:
Production stages.
Green screens.
Cameras, lighting, and sound gear.
Electrical and grip equipment.
There's even a small cinema where you can watch the end result. All you need now is to wrack up those 10,000 followers. And then move to LA. But, still, a fine offer from the streaming giant.
LinkedIn, San Francisco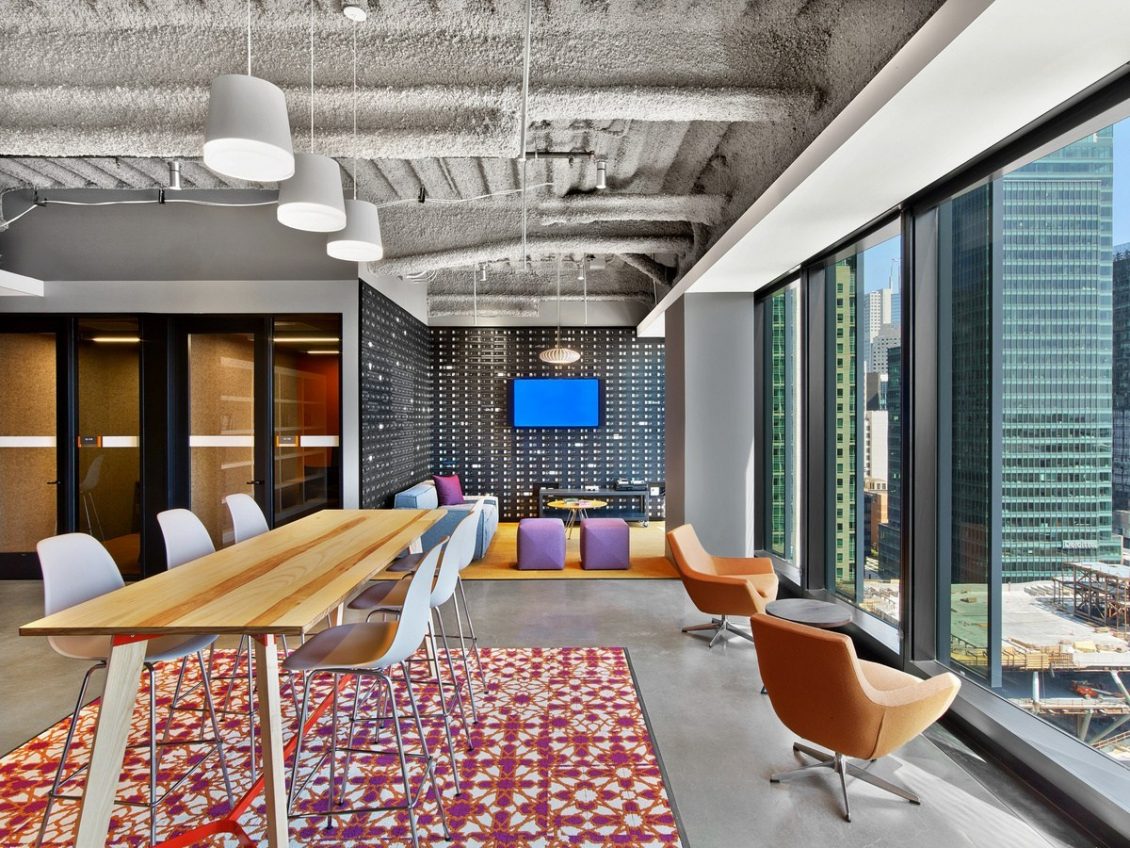 Source: Office Snapshots
Interior Architects designed LinkedIn's San Francisco space. The result is a 440,000 square feet masterclass in modern professional architecture.
They took inspiration from the city's history and aligned this with LinkedIn's message. The result? A "community of new experiences to bring employees closer".
If you're planning to work there, you'll get access to a roof deck lounge, cafes and juice bars, Eataly range of Italian restaurants, and a fitness centre.
Microsoft's Building 83, Washington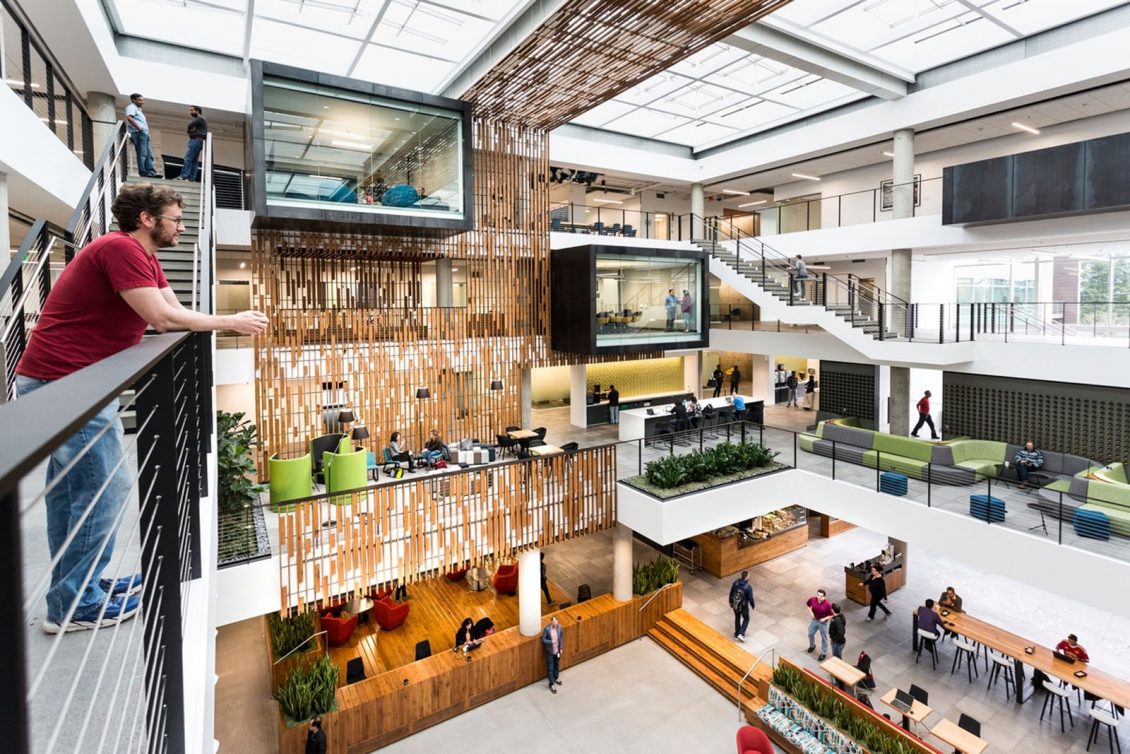 Source: Bora
Microsoft's stylish Building 83 features a distinctive colour scheme and a social selection of open spaces.
Built in 2015, there are four storeys and some 313,790 square feet to work in. This includes many glass conference rooms for business meetings, balconies, and cafeterias when a coffee is in order.
It looks more like a library than anything else, replete with an acoustic art centerpiece that blasts out mood music (determined by the weather outside).
Coca-Cola, London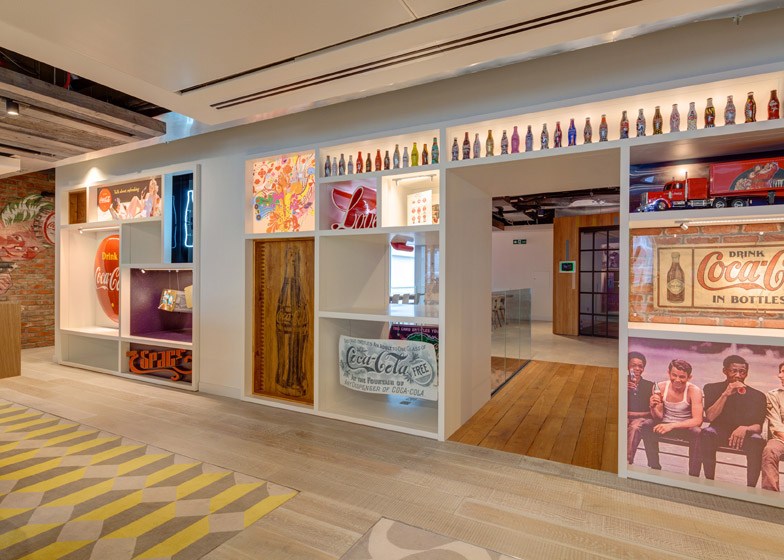 Source: Coca Cola 
London is a hotbed of big business with an international presence. Fizzy drink specialist Coca-Cola, naturally, has a presence in the Marylebone area (popular amongst Monopoly fans – £200 for landing on that one).
The office is a unique mix of sustainability (chairs use recycled coke bottles as their design), and cutting-edge technology. Some of the rooms are almost quaint in their design, with retro/vintage memorabilia throwing back to the golden age of Coke's history.
But Coca-Cola is currently in an image shift and pushing for a new era of sustainability and well-being. As the company explains:
"We support and promote active healthy lifestyles around the world, and at Wimpole Street we provide lots of opportunities for our colleagues to keep in shape, from an on-site gym to free yoga classes."
CodigoDelSure, Montevideo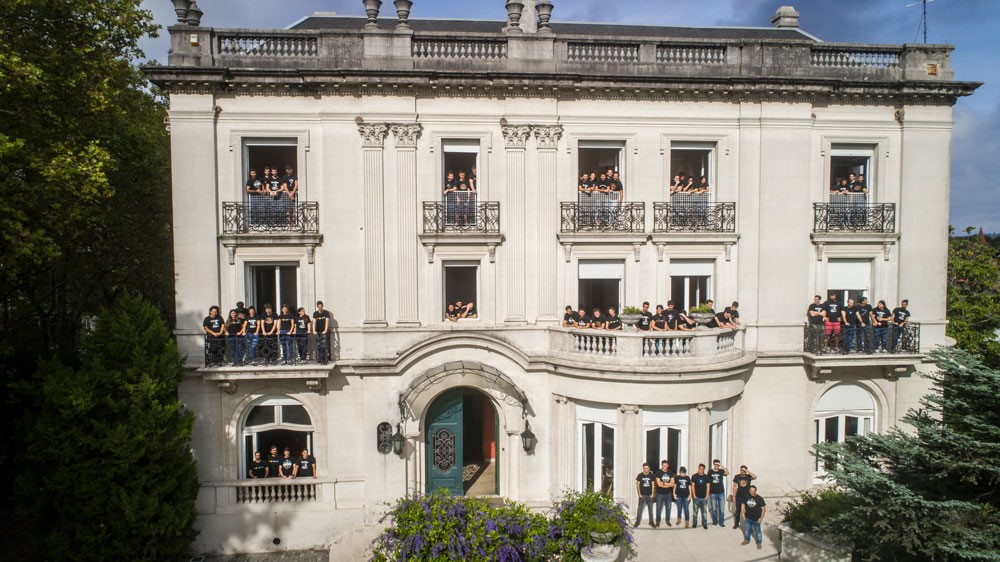 Source: CadigoDeSlur 
Finally, an obscure gem. CodigoDelSur is an app developer from Montevideo in Uruguay. To complete its projects, the business has taken ownership (on its 10th anniversary) of a historic mansion.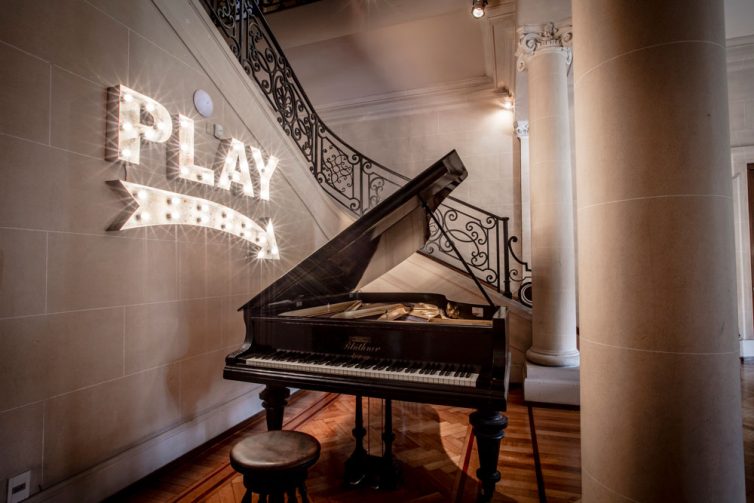 Inside has a vintage look, with a games room,  grand-piano, an acoustic guitar, and plenty of space for working as a team, alone, or with a piano as your desk.
It's quirky, for sure, but also an inspiring location. In all the rush to modernise in the new era of business, here's proof the old can meet the new in impressive fashion.
For more great content and galleries of office interiors visit our office interior design section here.