London has its fair share of beautifully designed interiors, with some of the most visually arresting and experimental designs found in the hotels and restaurants of the UK's capital city. For many visitors to London, the aesthetics of a hotel are as important as the service, so here's a selection of what we regard as the top 5 best designed hotels in London.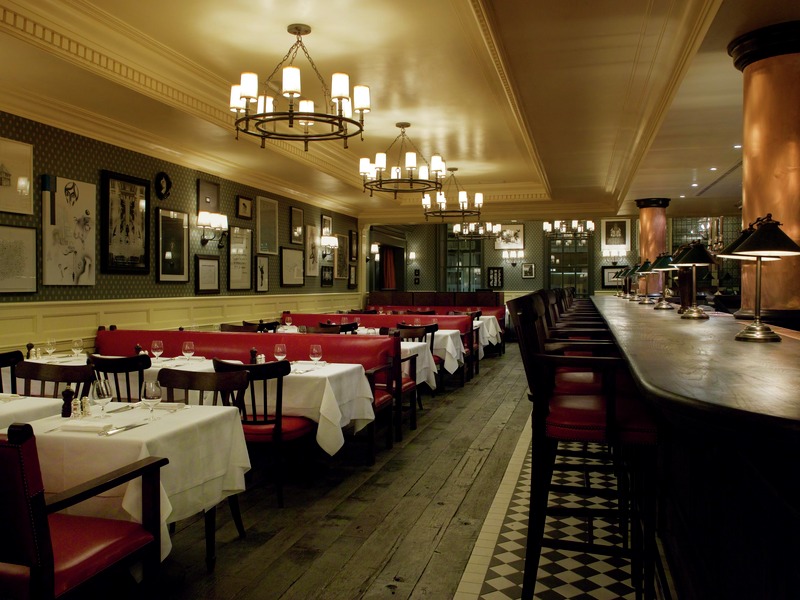 Dean Street Townhouse, Soho
Martin Brudnizki's hotel designs are always visually arresting, and none more so than his collaboration with Nick Jones for the Dean Street Townhouse's dining room. Paying tribute to the beauty of the original Georgian townhouse whilst playfully intertwining custom design features such as the rustic chandeliers and traditional red leather dining chairs, reclaimed oak wood flooring and sumptuously decadent armchairs and sofas re-upholstered in velvet add an authentically British feel to the room. The hotel itself features rooms with stunning Georgian wallpaper (hand-painted for a unique feel) and authentic antique bath tubs in larger rooms. You'll feel as if you've stepped back in time to an era of glamour and sophistication.
---
The Gore, South Kensington
Set in two 19th Century mansions near Hyde Park, The Gore is known by many as the most photographed hotel in the city, with a romantic ambience bar none. Its 50 unique regency style rooms, each featuring hand-picked furniture and period art, include the 'Tudor Room' with an ornate feature four-poster bed swathed in luxurious fabric. Many rooms boast Gothic style chandeliers and opulent feature beds – you'll even find Judy Garland's bed here!
---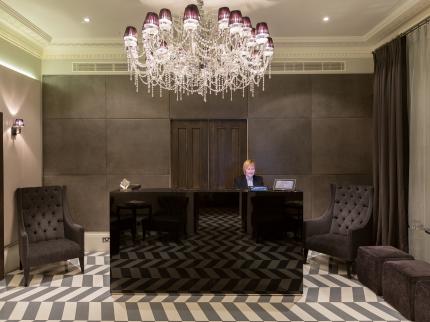 Eccleston Square Hotel, Belgravia
This Georgian hotel boasts an interior that is decidedly high-tech; it's a gadget lover's dream! The crisp, modern rooms decorated in minimalistic, neutral shades are complemented with every piece of futuristic technology you could ever need. Drift off to sleep in a Hastens Massage Bed and enjoy the programmable 'Wake up and Sleep' experience provided by the hotel.
If that doesn't get you going in the morning, then the waterfall shower with its high pressure head will have you ready to face the day in no time. An in-room iPad 2 controls the lighting, heating and even lets you order room service, whilst entertainment comes in the form of a 46-inch Panasonic 3D TV and complementary Blu-ray film collection, so kicking off your shoes and relaxing is a piece of cake!
---
Knightsbridge Hotel
Kit Kemp's classically British interior features neutral décor complemented with bold, style statement pieces such as the funky cowhide pouffe in the drawing room and quirky designer cushions. The overall feel is of a modern British hunting lodge with African accents adding an adventurous feel. From the moment you enter the hotel and see the Carol Sinclair sculpture rising from the lobby floor, you realise this place is something special. Bedrooms, whilst traditionally designed are studded with bold geometric and floral prints in stark contrast with each other – you won't know where to look first.
---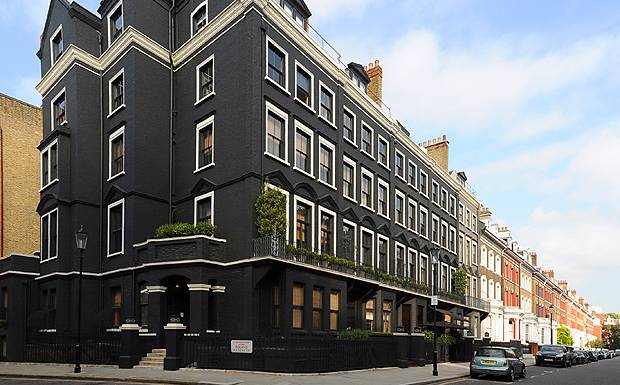 Blakes, South Kensington
The striking black façade of this Victorian hotel gives way to an east-meets-west inspired interior, designed by former Bond Girl turned interior designer Anouska Hempel. With each of its 47 rooms inspired by far-flung, exotic destinations, it's easy to feel like you're not in London anymore as soon as you step within the doors of the hotel. The Empress Josephine Suite features a magnificent tented bed, draped in sumptuous gold and ebony fabric to ensure you sleep like a princess. But before bedtime head for the subterranean bar and restaurant, where the mysterious amber lighting casts a glow on vintage Louis Vuitton suitcases that double as tables and antique mirrors reflect the faces of some of the world's most famous designers and actors who frequent the hotel.
---
Author Bio
Simon Wilson blogs about design and architecture, with a passion for the distinct and varied styles of London from boutique hotels to the contemporary art of the East End.  When he's not online Simon is a keen cyclist and enjoys nothing more than taking to the road on his racer.