Interior design is one of the most challenging, exciting and important tasks for any homeowner.
It's one of the best and most creative ways to separate ones home from the rest of the pack, as it allows for personal taste and style.
Trends in interior design are constantly shifting and progressing, from futuristic inspirations to taking cues from styles of previous eras. Things are always changing, so it's important to stay up to speed on design trends if you want to remain current. And, many of the current trends might surprise you, which is definitely the case this year.
Whether you're looking at a total overhaul of your home or you'd like to change a few aspects of a room, it's important to know what's 'on-trend' and what isn't.
One of this year's must-have elements in interior design is concrete, a material that you might usually associate with driveways, patios and building foundations. However, for 2018, concrete is making its way into home accessories, lighting and even furniture, truly showcasing the many benefits of concrete.
Concrete's grey hues make it perfect for providing neutral flashes across a room, whether you want kitchen surfaces, a new sink or even flooring. It's tough and versatile flooring option that is getting increased recognition for its effortless beauty.
The faux-industrial look is a popular style, and using concrete lends itself perfectly to this particular trend. The neutrality of the material means that it works well with both modern and more traditional kitchen designs. Concrete can really work almost anywhere at any point in 2018.
Illumination Inspiration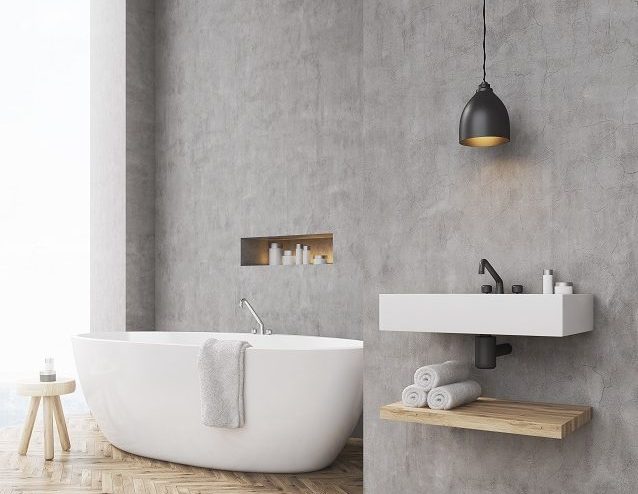 The words 'concrete' and 'lighting' might not seem to go hand-in-hand, but actually they can work very well together. Pendant lighting (ceiling lighting), in particular, is a brilliant combination of concrete and lights.
Using slim, minimalist concrete structures, these lights can hang from your ceiling or your walls, offering excellent ambience and illumination without dominating the space. This tends to work exceptionally well in bathrooms, but can be implemented throughout the home.
Wonderful Walls
Having concrete walls means that any other features of the room can stand out more. You can combine the grey walls with similarly neutral furniture and accessories for a sense of uniformity, or you can pair it with brighter elements, for a splash of colour.
Concrete needn't mean a cold, abrasive look for your room – it can serve as a canvas for other elements of your property, helping to generate a warm, welcoming atmosphere. It no longer has to bring to mind parking garages or worse, prison cell blocks.
Flawless Flooring
In terms of flooring, concrete is often used as a base layer before a more decorative finish is added on top. However, screed can actually be used as the main flooring finish itself. Even better, concrete floors are often incredibly easy to maintain, especially when compared to other popular flooring options.
The grey, smooth appearance of concrete screed works in conjunction with its resilience and heat-retaining properties to make for an attractive, effective and cost-efficient flooring material.
Concrete is also surprisingly eco-friendly, due mostly to durability and the way it can retain heat while keeping out moisture. Due to its flexibility of design, it can pair well with different decorations, or simply be a building block for whatever design will go on top.
Bathroom Brilliance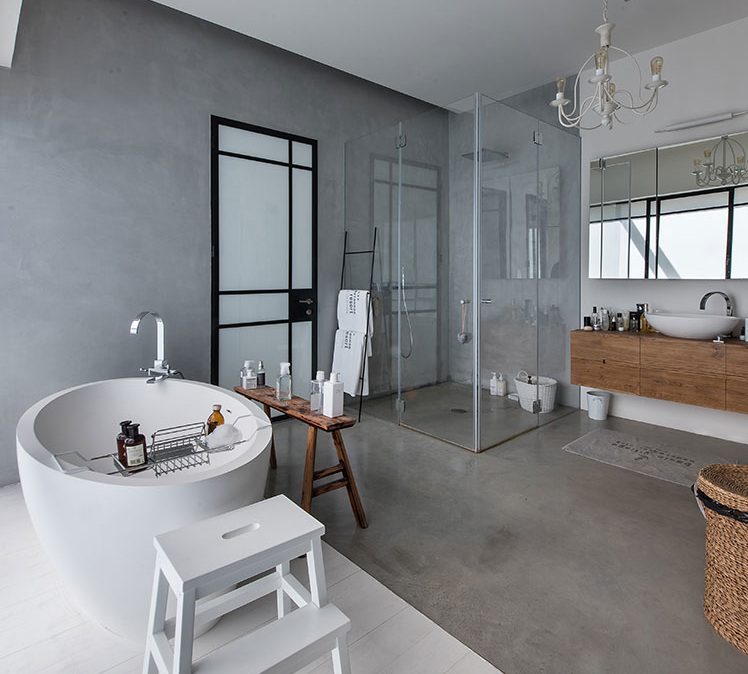 Image Source
While the bathroom is rarely seen by guests, being able to start your morning routine or relax after a hard day in a beautiful bathroom is one of life's luxuries. Concrete works brilliantly in these spaces, whether you use it for a worktop, a sink or flooring.
For those looking for a little extravagance in their bathroom, installing a wet room can be a fantastic addition. Wet rooms are similar to shower cubicles, but there is no raised tray to stand on – it is fitted flush with the floor and the water drains away through a grate.
Wet rooms can be standalone rooms in a home, or they can be fitted in your existing bathroom – although it's recommended that you have shower screens installed in the latter option, to avoid the rest of your bathroom getting wet.
Concrete is a versatile material that works just as well within our homes as it does in our driveways and gardens. Do not overlook it during your next home renovation project, especially if you like to keep your home on trend. It's tough yet pleasing on the eye when used correctly, and it can truly transform your interior.
Main Image Source nh-arch.com