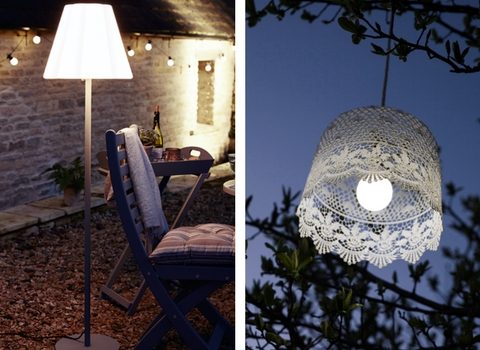 Create a beautiful outdoor space where you can relax and enjoy balmy summer evenings, host fun packed family BBQs and admire the stars.
The perfect outdoor space needs the perfect outdoor lighting in order to be just right. Take a look at our ideas below to illuminate your space to make it the tranquil outdoor sanctuary you always dreamed of, and make the most of it:
---
Romantic Fairy Lights
To create a romantic outdoor space, there's nothing better than some well-placed string lights, like the ones available from Cox and Cox, to create a fairy-tale whimsical feel in the garden.
Whether you want to hang these from a tree or on the inside of a wooden seating area, string lights instantly add a magical charm to your garden perfect for creating ambience on a summer evening.
---
Wall Lights
If you're wanting to create a subtler outdoor lighting look, there's a huge variety of different types of wall hung outdoor lighting available.
From vintage style Victorian lamps to modern chrome designs, wall lighting is simple and chic and the perfect way to light up your garden all year around.
Try to choose a style which complements the style of your garden furniture for a classy matching look.
---
Solar Lighting
If you're conscious about looking after the environment when it comes to garden lighting, there are plenty of solar powered garden lighting options around to give your garden a glow.
Solar lamps positioned in plant pots are a great idea as they absorb the sun all day whilst outside in the garden and are ready to use by night when you need them.
---
Unconventional Ideas
There's a number of outdoor lighting ideas which are really popular at the moment which you can make at home to add a personal homemade feel to your garden.
Tin can lights are a new trend where people have made their own tea light holders out of old tin cans skewered with small holes to let the light out. These look cute when placed on a table whilst enjoying drinks or eating dinner.
If you want some quirky lighting in the trees or plants, why not try placing tea lights inside old jam jars and suspending them from the trees with ribbons or wire, depending on your desired look.
The different types of string lights available make being creative in the garden so much easier. Therefore many people find that creating the perfect outdoor lighting is a lot more straightforward than you think.  With so many different styles and types available why not have a go at revamping your garden lighting today?
---