This year, National Wildflower Week takes place between the 3rd and 9th of May. To mark this wonderful week, we've created an edit of all things floral—find colourful delicate blooms and ditsy prints to inspire you below.
1. Hang pretty prints
Decorate your walls with some of Britain's most-loved wildflowers, including snake's-head fritillary, cowslip, pyramidal orchid, devils-bit scabious, cornflower and chamomile. Mix and match two or three of the prints, or use all six to create your very own gallery wall. Plus, your purchase will help wild plant conservation! Creature Candy will donate 10% of your purchase to the charity Plantlife. Shop the prints for £15 each at creaturecandy.co.uk.
---
2. Wallpaper with wildflowers
Statement wallpaper is one of the biggest trends in home decorating right now. Paper your walls with wildflowers to wow guests visiting your home. They'll look great in any space—create a relaxing haven in your bedroom or a showstopping feature wall in your dining room!
Below, we share two of our favourite designs: Aquafleur by Mind The Gap via Ionian Interiors (3 rolls for £175) and Nostalgia Botanical by Woodchip and Magnolia (£75 a roll).
---
3. Blooms for your bed
We've fallen in love with this stunning bedspread from French Bedroom Company. The Wildflower Quilted Bedspread is made from pure cotton and features charming florals in yellow, orange, green and pink shades. It is decorated with a flurry of tulips, primroses and lily of the valley. Find it at frenchbedroomcompany.co.uk for £150.
---
4. Lovely lamp shades
This sweet lampshade is adorned with a scattering of wildflowers digitally printed onto 100% pure linen. It's lined with a contrasting metallic gold fabric for a touch of luxe. The odourless latex ink used to print the shade complies with Nordic Swan Environmental Standards, making this lampshade an eco-conscious choice. The 25cm x 35cm shade will suit a floor or table lamp. Shop it at mintandmay.co.uk for £155.
---
5. Decorate Your Door
Welcome family and friends to your home this summer by hanging this lovely lavender and spring foliage wreath on your front door. This pretty wreath is suitable for outdoor use in the warmer months. Plus, it is entwined with microlights for a romantic twinkle in the evening! Get the 55cm size for £44.99 from lights4fun.co.uk.
---
6. Display dried wildflowers
Place bunches of dried wildflowers in posy jars around your home for an effective display. Perfect for decorating dinner tables, shelving units and windowsills. These long-life flowers will look beautiful all year round.
Pictured: Dried Flowers Posy Party from bloomandwild.com (£45) and Small Dried Wildflower Bunch from sundayliving.co.uk (available in three different colour options, £20).
---
7. 'Rewild' a patch of your garden
Since 1930, we've lost 97% of wildflower meadows in Great Britain. The WWF describes our country as one of the most "nature depleted" in the world. Along with other wildlife organisations, the WWF want homeowners to "rewild" a section of their garden and grow meadow flowers. We couldn't think of a better way to celebrate National Wildflower Week this year! Simply grab your gardening gloves and sow some seeds. There's a guide to growing and looking after wildflowers in your garden on the WWF website here.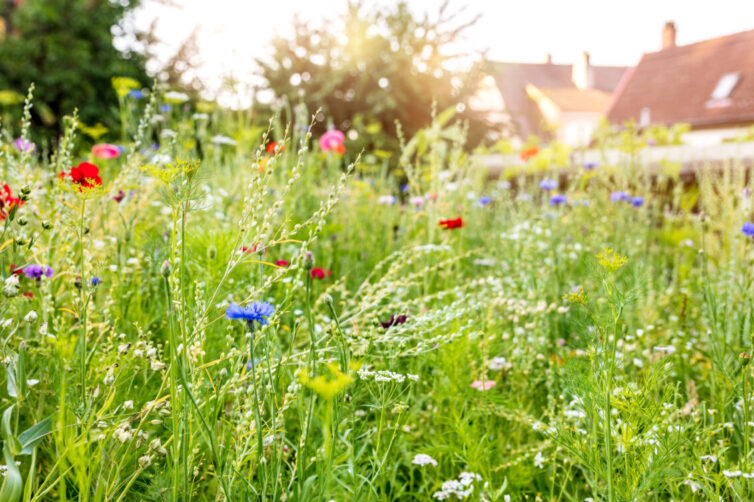 You might like: Trend To Try: Botanical Bathroom