The study is one of the most overlooked rooms in the house.
People generally don't want to spend their time and effort on crafting a workspace, often neglecting the room. Unless you work from home there is the mentality that work should be kept at work and time and money should be put into areas of leisure.
However, if you really want to be productive, the same amount of care must be placed into decorating and designing the study as one would place in curating their living room.
Neutrals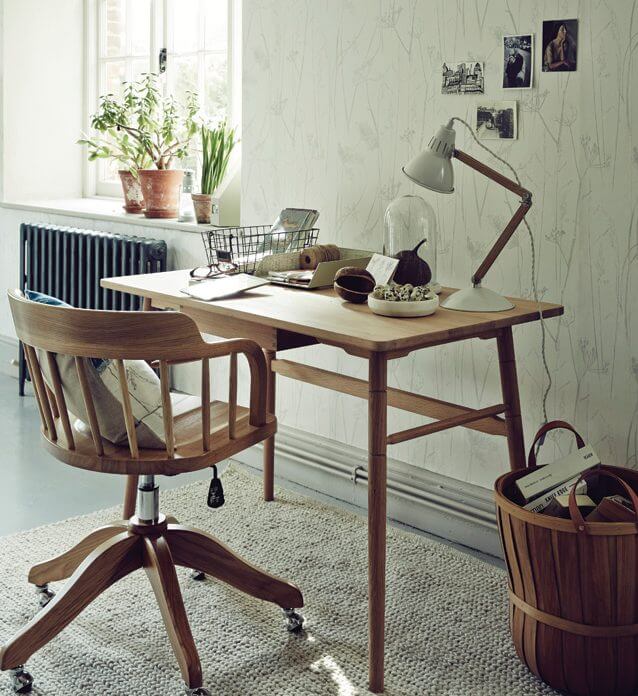 Image Source
The colour palette you choose will have a huge effect on the amount of work that actually gets done in this space. In a study, many would agree the aim is to complete as much work as possible.
Thus, avoid deep and dark tones as the dark can have a sleep inducing effect whilst bright and bold colours can prove distracting from the work at hand. I like to begin with light and passive tones such as cream or grey.
Dulux have set a very versatile denim blue as their colour of the year which wouldn't go amiss in a workspace. On the other hand, a muted equivalent of a light bold tone can also work, depending on the rest of the décor.
Lighting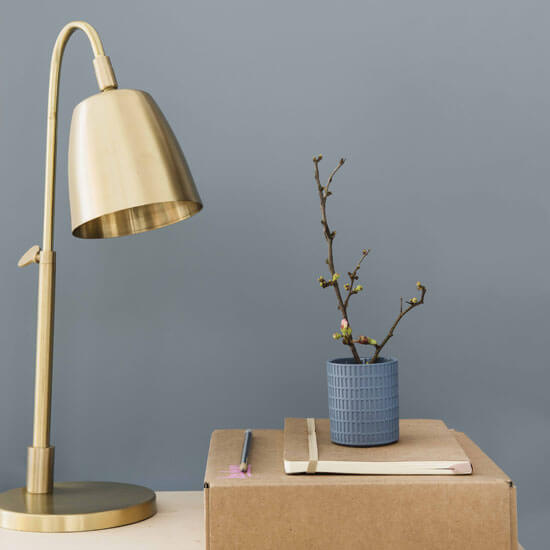 Image Source
The room should rely on natural light as much as possible. Wide windows and sheer curtains are a good combination, however, in our seasonal country you will require ample artificial lighting to combat the doom and gloom of winter.
One vendor I've been extremely impressed with is LampCommerce, a luxury lighting solutions company, stocking some very interesting brands.
Bright lights that mimicking the morning sun are the best, as they help with productivity, and you're then able to work whilst in the comforts of your own home.
When natural light fails a great option is to go for a desk lamp rather than just an over ceiling light. Desk lamps are beneficial as they cause less strain on the eyes meaning your eyes will not dry and tire as quickly.
Artemide is a brand that has some really interesting designs that would look great in a home office.
Maximising Space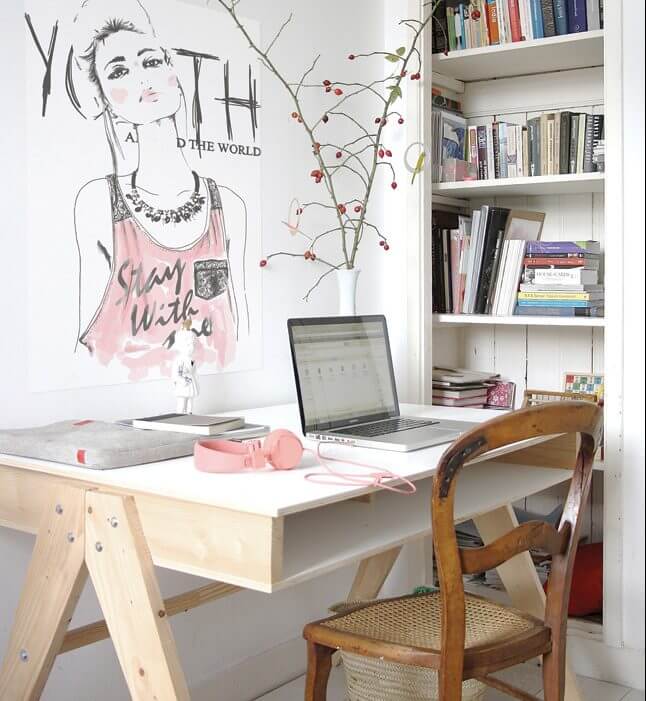 Image Source
Studies are often small, cluttered spaces where everything from last month's bank statement to that supermarket catalogue end up. As they say, "tidy workspace, tidy mind" and thus, to create a pleasant working environment the space needs to be tidy and well organised.
If your study area is not the largest space then opt for a wall-mounted desk and box drawers so no space is wasted by table legs and clunky drawer mechanisms.
In the rest of the house a bit of clutter is fine but in your study space it is good to adhere to a strict policy of one thing in and one thing out.
Collecting ornaments can generate a charming appearance in a homely living room but be weary when attempting this in a study.
Spending long hours on an uncomfortable chair can be extremely unpleasant and may even lead to a bad back and poor posture. No expense should be spared nor any compromises in design however you have to work with your space.
An easy way to fit the space is to avoid chairs with large arm rests as, firstly, you hardly need good armrests whilst writing or typing and, secondly, cutting down on wasted space is a requirement.
Books!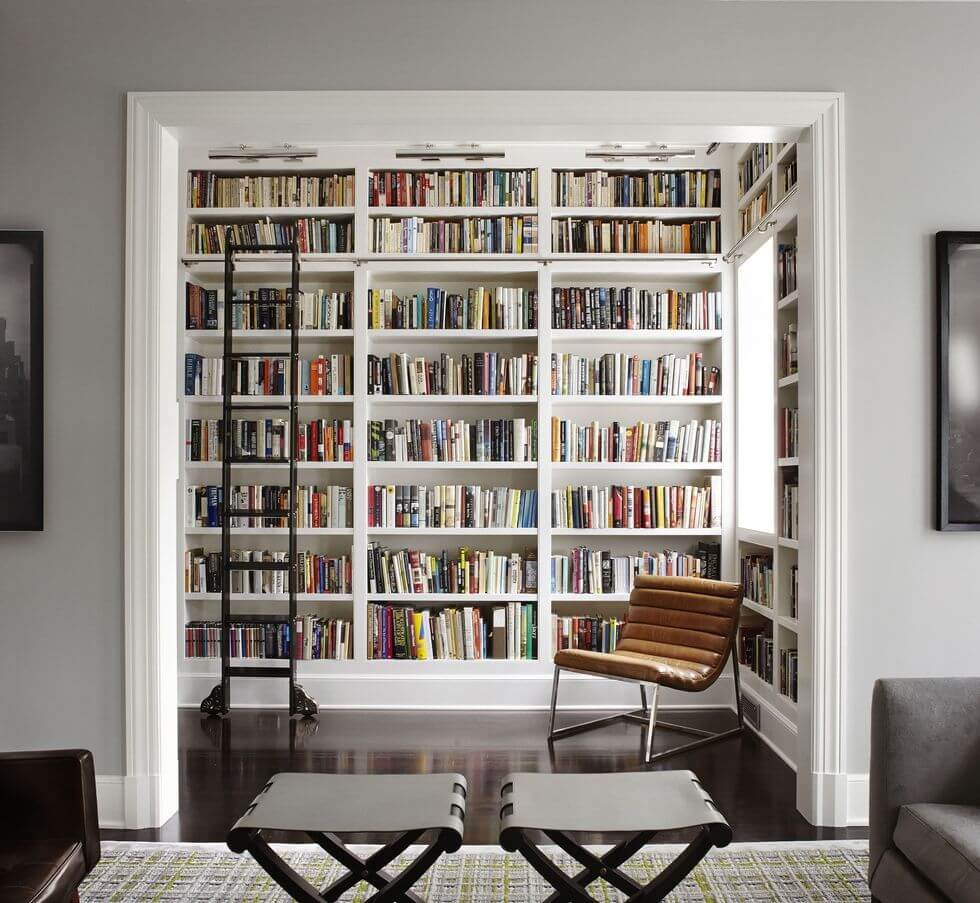 Image Source
One way of decorating a study that looks really smart is to use expansive book shelves, that show off your book collection. If you have a large book collection then floor to ceiling book shelves teeming with novels and the like can produce a sensational accent wall.
In addition to creating a statement, it is a great way of decluttering, and maximising the available space. Ornaments that would otherwise take up space on tables or the floor can also be placed on a good bookcase, saving space and utilising all of the vertical space available.
If you own a smaller book collection, diagonal bookshelves could create the same effect with a smaller number of books.
Book shelves can also act as a wall partition if you have a large space you don't want wasted entirely on office space. Creating a whole new wall is expensive, time consuming and entirely unneeded to craft your perfect office space.
Main Image Source