It's one of life's mysteries:  how do children attract SO MUCH CLUTTER?  Overexcited grandparents constantly buying new toys?  Goody bags from the endless birthday parties throughout the school year?  Dad unable to say no at the gift shop on the way out of attractions?  School uniforms, PE kits and hobbies…?  Or all of the above?  It's never-ending.
But when space is at a premium, where are we supposed to store it all?  Luckily, we have a few solutions up our sleeve.  In today's blog post, we'll share five of our favourite tips below:
1.  Get stuffing!
If your son or daughter won't part with their ever-expanding teddy bear collection, invest in a "stuff and sit" storage beanbag.  They will control the chaos while providing a comfy seating option for your kid's room.  (Plus, when your child does grow out of animal plushies, you can still use the bean bag case, simply fill it with spare blankets or towels instead. Perfect for sleepovers!)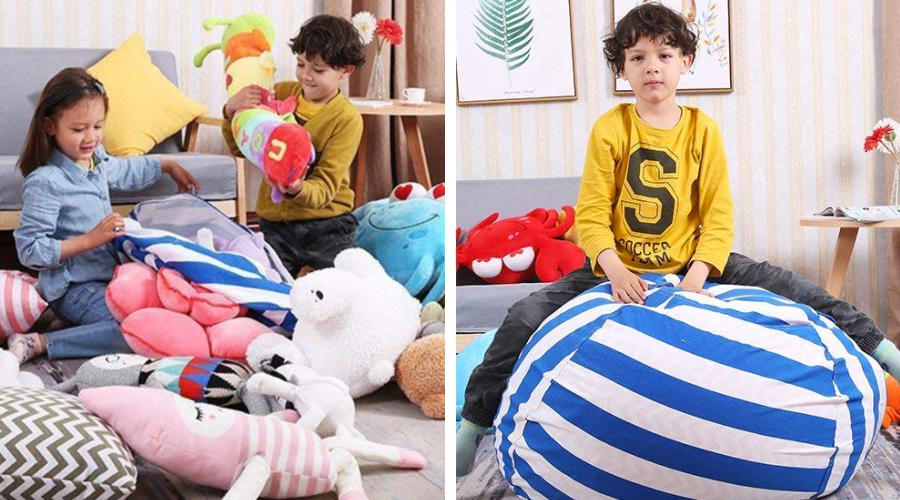 We love this stripy option from Amazon.   It comes in in two different sizes (small, large) and three colour options (blue, pink or grey).  Prices start at £12.99.
2. Combine play with storage:
We love clever little contraptions that blend the practical with fun, such as this expandable play table from the Great Little Trading Company (£148).   It features two table tops for your child to enjoy and a handy storage space underneath.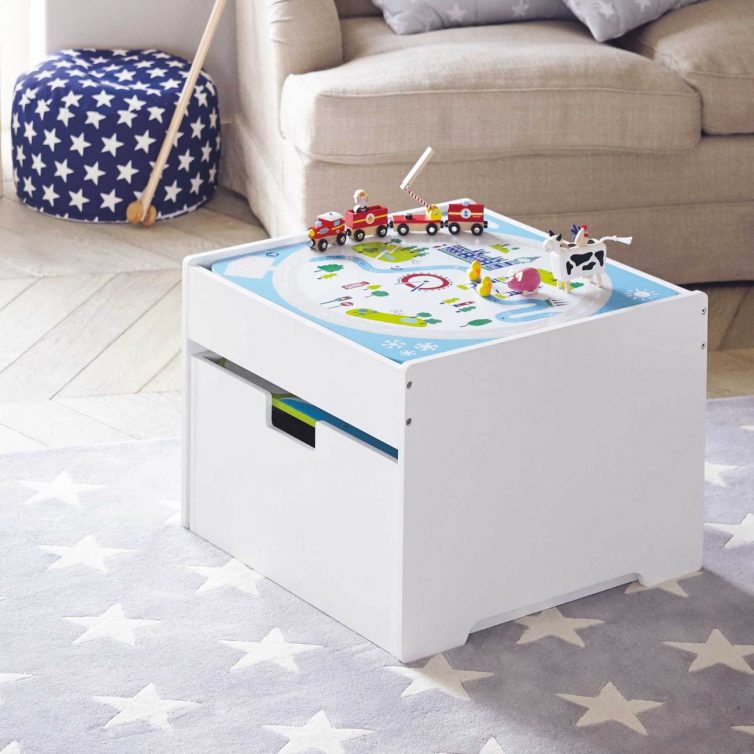 When not in use, you can fold the table into a neat little cube and place it in the corner of your child's room.  Stow toys in the storage cabin underneath the table, ensuring they're kept out of sight when playtime is over. We love how one of the table tops is reversible, giving your child three different play scenarios to explore.
3.  Use your walls wisely:
If floor space is at a premium, think vertically!  Build storage upwards with a set of floating shelves or crates screwed onto the wall.  This cost-effective solution will make use of bare walls.  Use the shelves to display stuffed toys, school certificates, books and other little treasures.
4.  Put the bed to work!
When there's minimal floor space in your child's room, bunk beds are a great option (whether you have two children in one room, or the 'spare' bed is for sleepovers).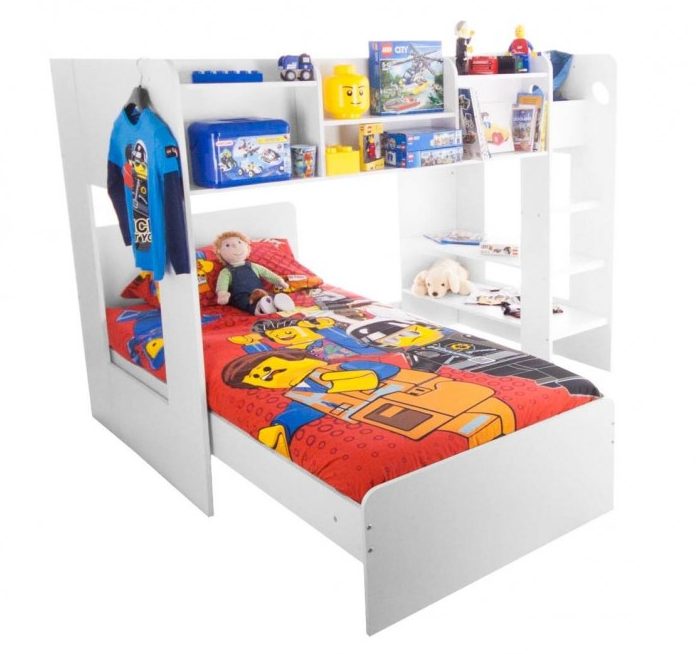 Look out for an L-shaped design, which will provide extra shelving around the bed, even allowing room for a chest of drawers or desk.
Pictured:  The Flair Furnishings "Wizard" bunk bed from BedKingdom.co.uk.
5.  Don't forget under the bed…
If your child's bed has a frame with unused space underneath, it makes sense to put it to work!  Use the space for stashing away winter clothes in summer (and vice versa), paraphernalia used for hobbies, less frequently used toys and bed linens.
To keep the space organised, invest in a set of plastic storage boxes with lids.  They can be found in many retail stores, including the discount stores like B&M, Home Bargains and The Range.  Look for the shallow boxes that are designed specially to fit under the bed.
6.  A hammock for the stuffed toys:
A toy hammock will turn any unused inch of your child's room into a fun storage space, providing a lovely place to display soft toys and teddy bears.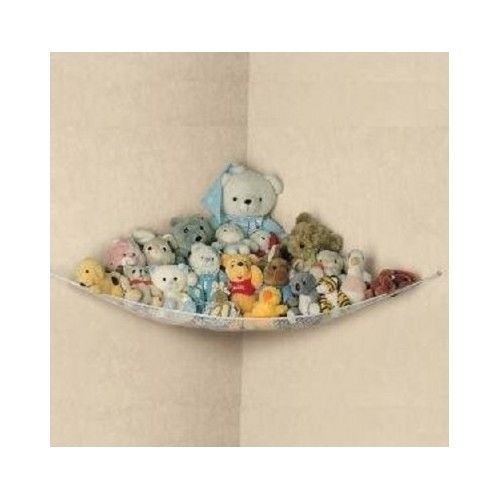 This is a cost-effective solution too, this one can be picked up for only £6.49 at Dunelm.