Today, we're sharing our pick of bedding sets that are perfect for the upcoming autumn/winter season.
We've selected eight fun, festive covers for you to browse – all decorated with cracking Christmas prints:
1. Christmas Patchwork
This is probably the most festive bedding set you'll find online!  It features a patchwork of winter motifs, including deer, robins, and fir trees.  The decorative design is finished with super seasonal tartan checks.  We also love that the bedding set is reversible, so you get to enjoy two different looks for the price of one!  It's available from the Happy Linen Company.  Prices start at £14.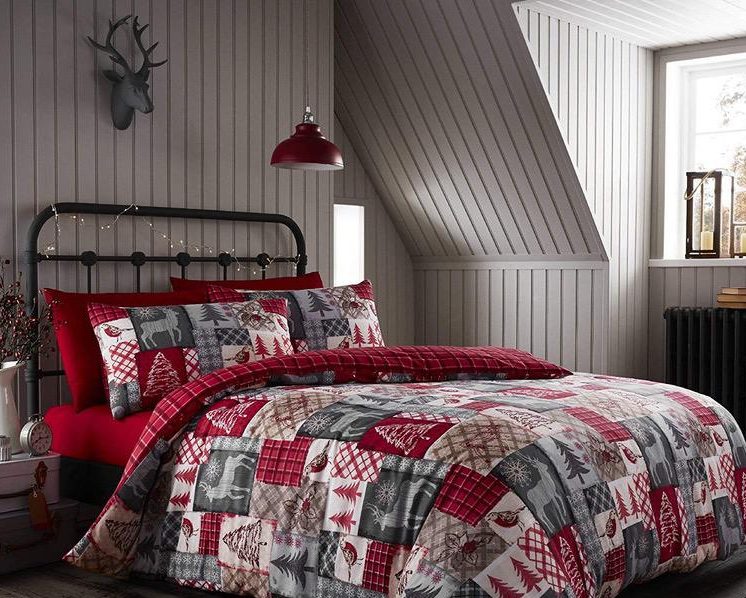 2. Red & Green Tartan Checks
If full-on festive prints aren't your cup of tea, you might prefer this tartan check bed instead.  It provides the perfect nod to the winter season without being too 'over the top'.  We love the rich berry red and deep holly green tartan checks.  It's very chic!  You can buy this from NEXT.  Prices start at £25.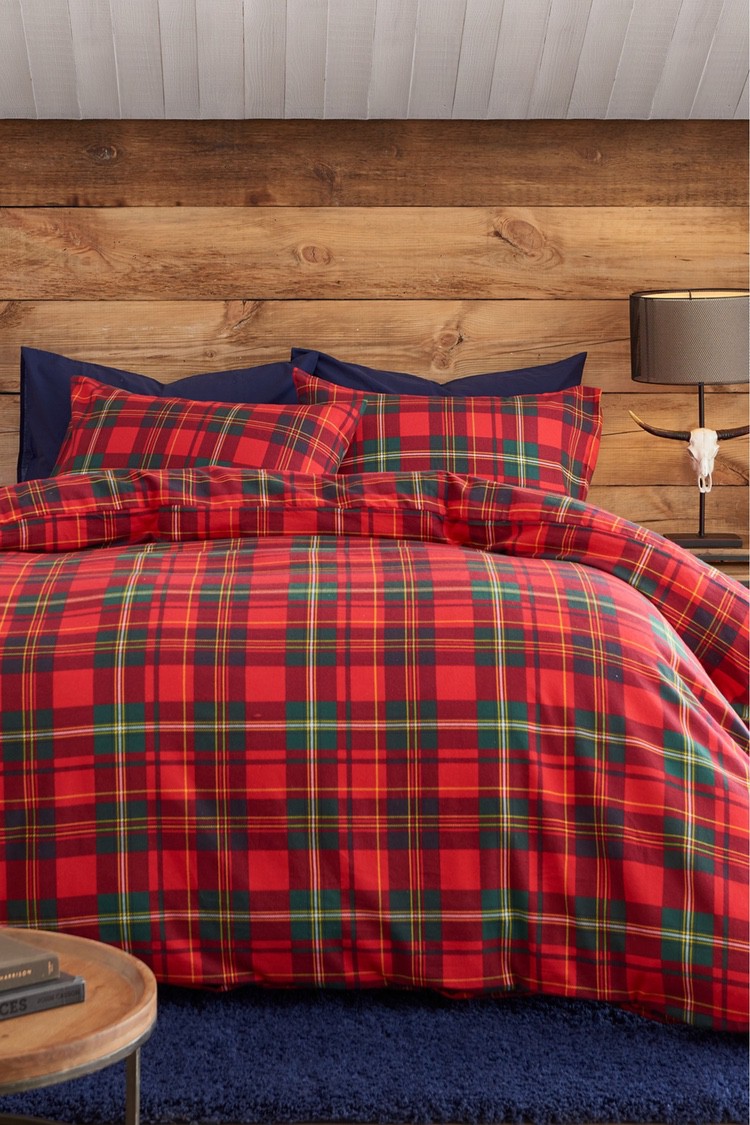 3. Festive Scandi
This grey and white nordic-inspired design will look fantastic in any Scandi-style home.  In addition to deer and fir trees, the festive quilt cover is printed with holly leaves, Christmassy garlands, baubles and poinsettia foliage.   Plus, it's reversible too!  Get yours from Happy Linen Company.  Prices start at £14.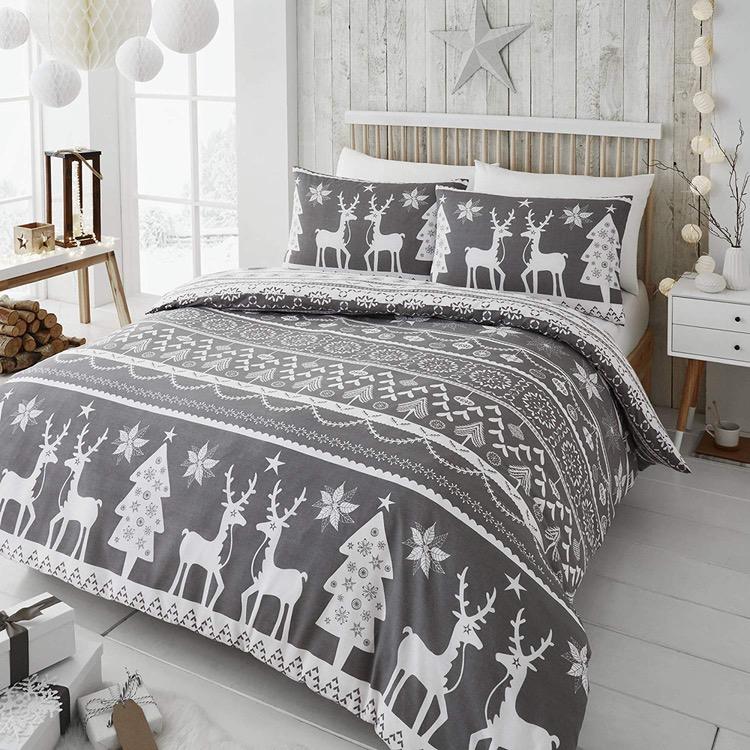 4. Deer in the Snow
This charming duvet cover features deer prancing in the snow, while the designers chose a simple grey stripe for the back.   While unfussy, the chic design still packs a punch.  It'd look great in any 'minimal' style bedroom.  Buy this bedding set from John Lewis.  Prices start at £45.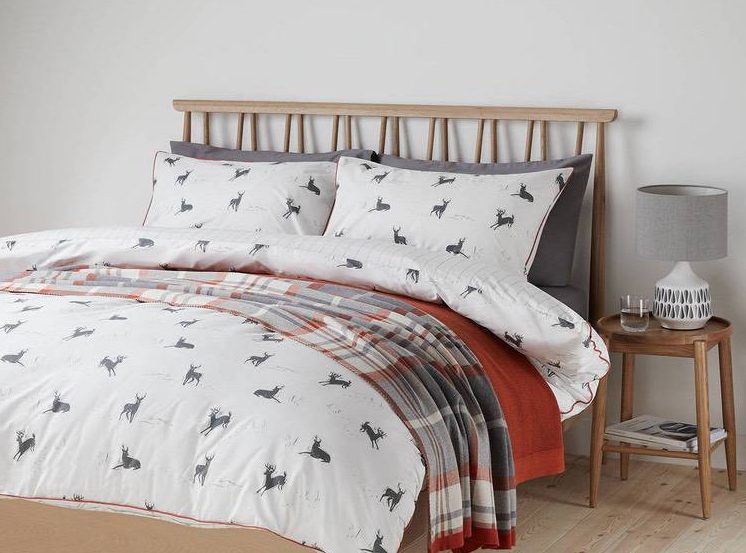 5. Festive Llamas
Looking for some festive fun?  This quirky bedding set features little llamas decked out with woolly hats and scarves.  It'd make a fantastic early Christmas present for somebody you love (llama prints are very trendy this year, especially among tweens and teens).  The print is interspersed with holly leaves and fir branches.  Fancy a change?  The bedding set is reversible.  One side of the cover is white and the other is red.  It's available from Marks and Spencer.  Prices start at £17.50.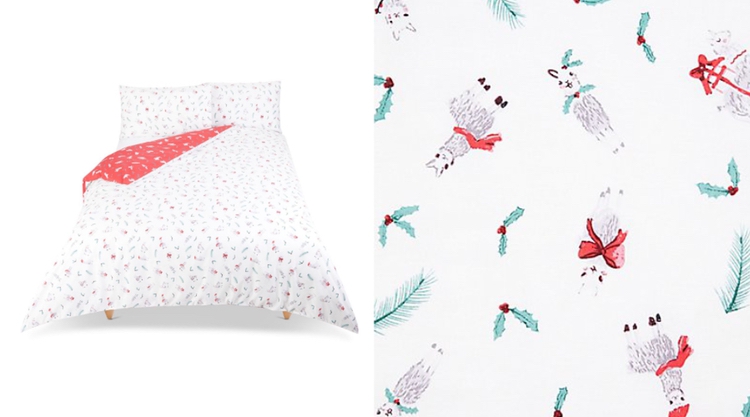 6. Alpine Lodge
This stylish duvet cover has a Nordic feel to the design.  You'll find reindeer leaping in the snow in a forest of sprightly green trees, cute little alpine lodges and friendly woodland creatures.  Get it from Marks and Spencer.  Prices start at £17.50.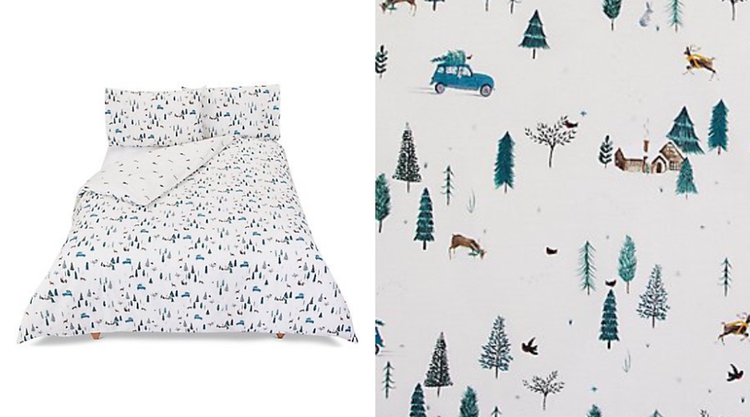 7. Christmas Garland
This quilt cover by Catherine Lansfield features festive garlands, charming hearts and wintery snowflakes.  It is decorated with the words "let it snow" and "winter wonderland".  One side is deep, rich red, while the other side is a rustic brown colour. Flip it over to instantly change the look of your room.  Get it from Very.co.uk.  Prices start at £25.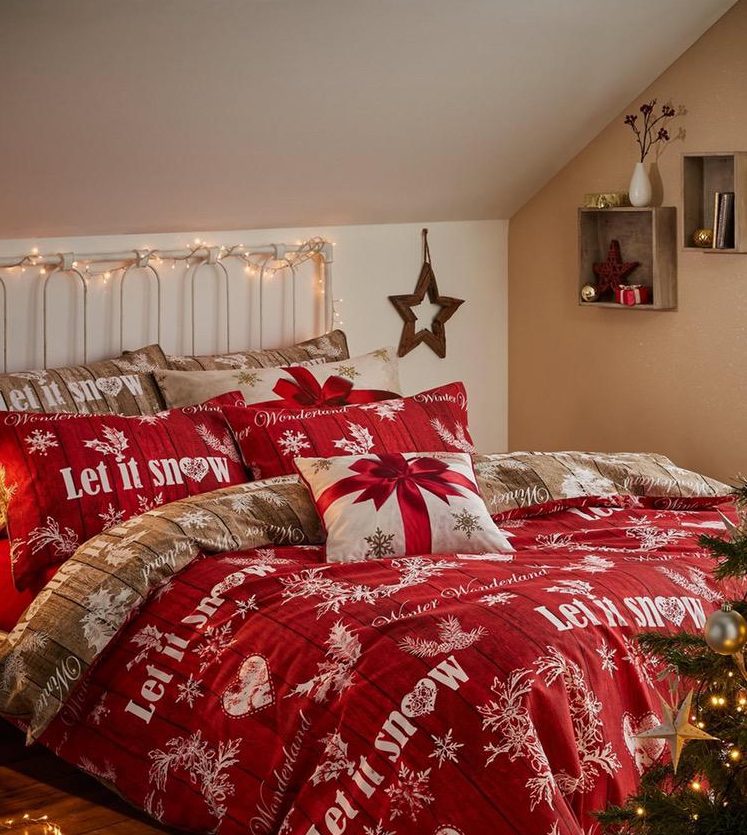 8. Blue & Beige North Pole
This bedding set is a real show stopper!  The reversible quilt cover is themed around the north pole and features a range of reindeer-related motifs.  Turn it over for a less festive, but still very attractive blue and white design.  You'll find this cover at JD Williams.  Prices begin at £25.