Everybody dreams of escaping to a tropical island to relax, bathing in the sunshine with the calming sounds of the waves, especially as the summer season approaches.
But back in reality, it's unlikely that any of us will get to those paradise locations this year, so why not bring the holiday to you with tropical-inspired home décor. And here's how you can achieve just that!
Light and breathable textures
The joy of a tropical holiday destination is the glorious heat, and although it can be rare to experience such sunshine in Britain, it doesn't mean that your home can't be prepared for such weathers. Decorating in a palette of pastel colours will help to keep the room clean, crisp and bright, and allow for pops of tropical hues in your finishes and accessories.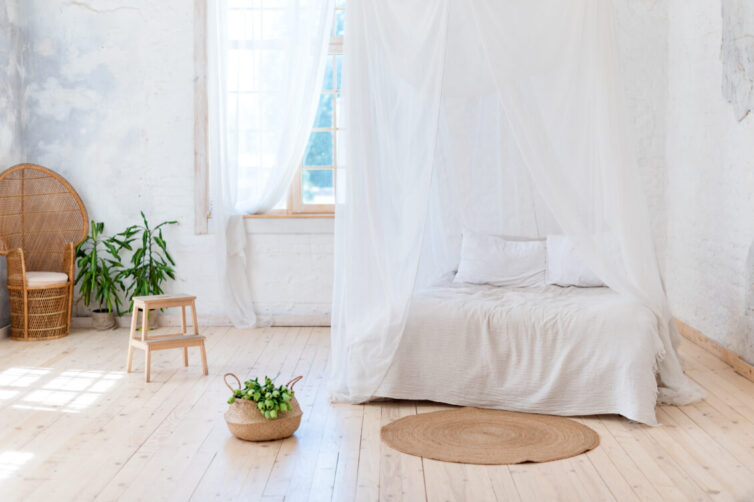 When it comes to the bedroom, light colours and airy fabrics will provide the ultimate summer vibes, whilst keeping things cool and reflecting heat. The bed is always the focal point of the room, so you should go for a designer bedlinen of the finest cotton or linen to ensure that you have the optimum temperature whilst you sleep in summer, but also encapsulates the natural materials typical of this style. The bedlinen could also be embellished with an island motif or a pattern of tropical plants, that draws on a palette of leafy greens.  
Natural materials and leafy plants
In order to achieve a tropical theme, it doesn't have to be a complete overhaul of the room, or even include painting and decorating the walls. A simple switch up of furniture and accessories can create that paradise you yearn for.
Starting with the furniture of the room, natural elements and materials are a great addition to create an exotic feel. Think bamboo, rattan or jute furniture of natural shades with a woven texture, which can act as a blank canvas for more vibrant prints and colours. If you're feeling particularly adventurous, you can even use garden furniture inside your home to complete the look.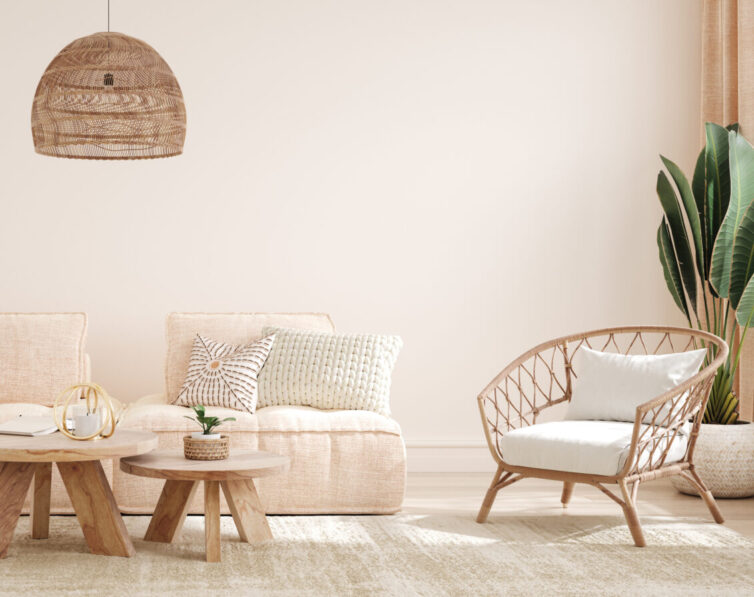 The best and most simple way to add a tropical vibe, is to arrange some green leafy plants in the room. The colours are obviously everything that you can imagine in an exotic location, but their purifying nature also can help create a space of peace and calm. This styling technique works perfectly in making a home office more stylish, as well as helping to boost productivity.
You can experiment with different levels and heights, placing a tall palm in a corner of the room, or dressing a windowsill or shelf with a basket of overflowing leaves. You could even research plants that are native of tropical climates, but be aware of the conditions they need to thrive. Or if you want all the decoration without the fuss, then faux plants work just as effectively.
Deep blues and ocean greens
Naturally, a tropical-inspired home décor draws on colours of the sea, sand and exotic plants. Blending these bold shades of blues and greens together can really pack a punch, so for a more subdued atmosphere, pair them with the golden tones of the sand and neutral tones of natural materials.
This theme can work for your individual aesthetic, as you can either lean towards deep and rich tones, or choose the lighter and brighter shades. For more inspiration, you can also look towards tropical flowers to add bursts of oranges and yellows here and there, to go with the ocean-like blues and greens.