Areas of the world that we naturally think of as being warm are making great use of combined indoor/outdoor spaces, adding value to their homes and more enjoyment by opening up the living space and taking advantage of the space they have outside.
In Australia, Brazil, many parts of America and the Mediterranean, indoor/outdoor spaces are incredibly common as they see the benefits of creating a seamless space to enjoy their garden as a true extension of their home. 
More and more British homeowners are realising that with a few adaptations, they too can create this kind of space usable almost all year round. 70% of people say spending time in the garden helped their mental health during lockdown so adding an indoor/outdoor space has many benefits.
What is an indoor/outdoor space?
In simple terms, it is a seamless continuous area created using doors that can be opened wide to extend your indoor living space into the outside The key differences over standard patio doors are the width of the opening and the flow of flooring and décor to give the appearance of one large room when the doors are open.
Why are they so popular?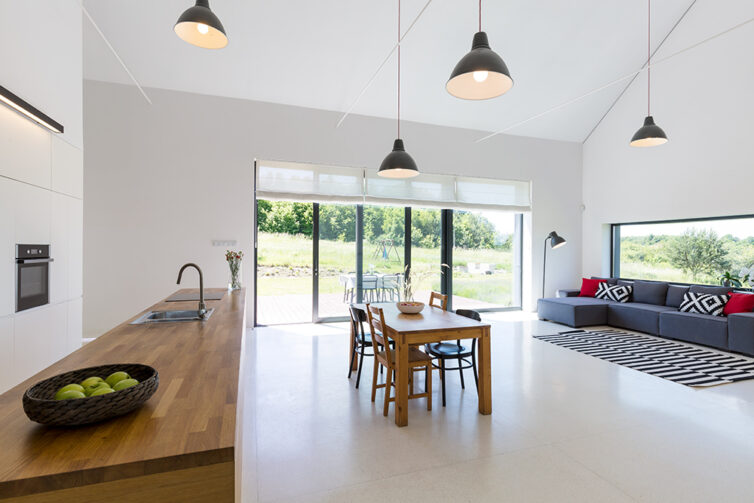 Larger living space, great for more guests or even a games table
More natural light than traditional doors or windows
Bringing nature close
Increased home value, these are desirable
Improved mental wellbeing
The Perfect Design
The bigger the better, when it comes to the opening between spaces. You will gain more of a connection with a fantastic row of folding doors that can be pushed to the edges, rather than a sliding patio door or French doors.  Your design should seek to create the feeling of one large space and not just an adjacent room, so keeping the floors equal height is a must.
Level floors, this is important to create the feeling of one large space, and with some great practical flooring finishes available you can even use the same flooring for both areas.  Concrete is a pretty good weatherproof material, and you could choose to add a lovely contemporary twist with a polished concrete floor, that is as stunning inside as out to create a seamless transition.  Concrete alone will require strengthening and so be sure to incorporate support using the correct rebar sizes. 
Continue the theme, whatever your choice of decoration, you can connect the two spaces using colour, texture and materials.  Shades from the same colour palette or highlighting one colour can create cohesion to link the spaces. Furniture is another great way, choosing wood in similar shades, or carrying the same style outside are all small but effective ways to make the outdoor space join naturally to the indoors.  
Make your space work almost all year round!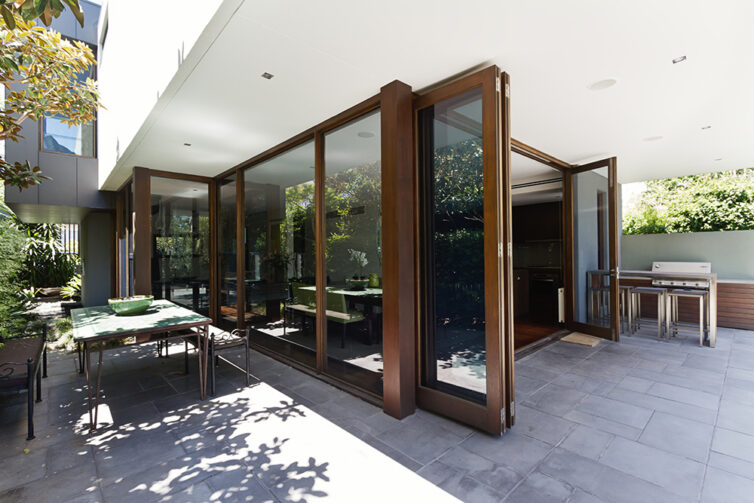 In the UK, we are often not privileged with such great weather as many other countries, but the good news is you really can design and build a perfect indoor/outdoor space with a few simple additions such as:
A weatherproof shelter
Underfloor heating even on the outside
A fire pit or patio/infrared heaters
A cooking grill or BBQ – you could even go as far as a mini kitchen to prepare food and eat outside.
Coordinating throws and rugs, if you get a little chilly. A rug under your feet and a throw to warm your legs may be all that is needed to enjoy the space on a winter evening.
Many people believe there's nothing that makes you feel better than the fresh air of the great outdoors. Creating an indoor/outdoor space could be the perfect way to benefit from all that nature has to offer, while having the ability to retreat indoors should the weather dictate.