The rules of designing a timeless kitchen are not etched in stone, but stone plays an important role.
Timeless cooking areas deliver many benefits such as being the centre of family life, providing an outlet for cooking creativity and enabling cooks to pass on their secrets to younger generations.
Many people confuse timeless with classic or traditional decorating, but timeless stands alone as an independent design philosophy that incorporates the best features of any design style. The only caveats are that furnishings and interior decor should be highly functional and long-lasting.
Borrowing Elements from Design Styles
Classic designs are flexible and include many timeless features such as neutral colour palettes and furnishings that aren't overly ornate or impersonal. These designs suit many designers because they include a range of options for different tastes and budgets. You'll feel comfortable whether you're preparing a sit-down family dinner, formal dinner party or a quick snack. Classic elements can be elegant in their simplicity but not ornate. Dark and ornate belong more to traditional design approaches.
The Most Crucial Elements of Timeless Design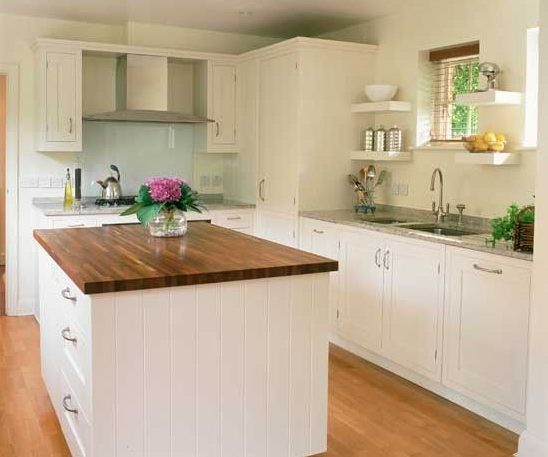 Colour trends change rapidly, and everyone has a favourite colour. Timeless kitchens work better with white and bright decorating schemes accented by a favourite colour and a few darker elements for contrast. It's difficult to tame dark colours to create a bright, appealing room for family and personal time and culinary creativity. Keep in kind this simple mantra: timeless, simple, fresh and functional. Some of the most popular timeless choices include:
Natural Stone Countertops
New technologies create countertop materials that quickly give way to the next big idea. If you want timeless counters, choose a natural stone. You can select from dozens of options and thousands of patterns because each bit of natural stone provides a unique look. Some of the trending natural stones are granite, marble and quartz. However, granite seems to be very popular since it's affordable, extremely durable and offers a timeless look. While searching for countertops, you can find out the cost of a granite countertop with a price estimator application. It's an easy and efficient way to avoid overspending.
Natural stone is versatile, eco-friendly and designed to last for several years. Your countertops can be as unique as a work of art since each natural stone varies in their appearance. Most natural stone remains immune to hot pans, liquid and spills. It's a great choice if you're generally hard on your countertop and need a durable and aesthetically pleasing material.
Tile and Backsplash
When looking for tile and a backsplash, dark stone doesn't work well for backsplashes if the countertops are also dark. Consider something different such as subway tile. The brightness of white subway tile will brighten the room, show food splashes clearly and clean easily.
Classic Cabinetry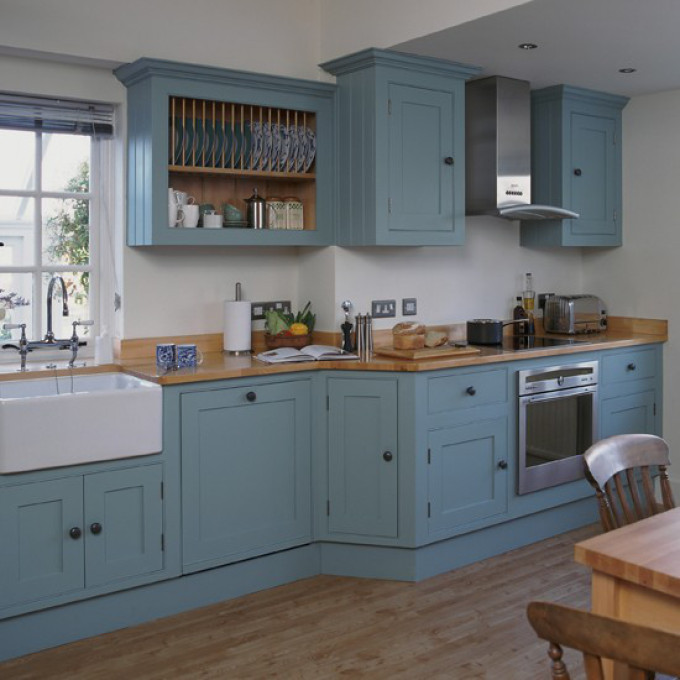 White or neutral-coloured cabinets are timeless. Many traditional woods–such as mahogany, walnut and white oak–also hold up against ever-changing decorating trends. Stainless steel finishes also work. However, here's a timeless idea that will give your breakfast room a unique look: shaker cabinets. Stile-and-rail cabinet doors and the shaker style have withstood the test of time for generations, and shaker cabinets convey a classic look. You can paint your cabinets or keep them natural for beautiful simplicity that defies turbulent design trends.
Smart Storage Systems
It would be a shame to design a timeless kitchen and forget to plan for storage. Smart storage principles involve storing pots, pans, food and utensils where they are used most. Taking this approach will ensure that you can enjoy the space for years. Architectural metals work well for creating a signature hanging pot rack, pot-hanging area over a work island and open metal shelves for nearby storage.
Signature Lighting
This lighting creates classic pendants, chandeliers, sconces and fixtures but with timeless and energy-saving LED lighting. You'll probably never need to change a bulb while reducing your energy consumption by up to 75 percent. LED lights include many signature colours and white light in colour temperatures in the white-to-warm-yellow range, which makes it ideal for cooking spaces.
Using Wood
Wood flooring is always timeless, and you can update the look with rugs and refinishing. Wood has been used for thousands of years as a flooring material. Wood can bring your design together when you add ceiling details such as exposed beams, crown moulding and planking. Create some drama with large entrance ways and sculptural arches. The larger entrances come in handy time after time over the years.
Exposed Brick
This has always been an important feature in interior design. Pair an exposed brick area with neutral-coloured cabinets, stone countertops and rustic wood flooring. The bricked areas become a focal point for colourful accents that are easy to change over time.
Big, Deep Double Sink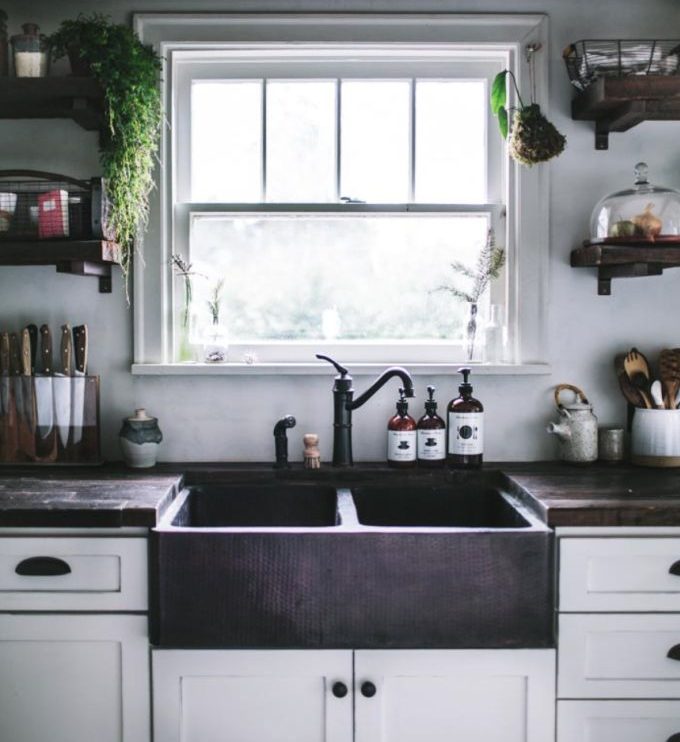 Image Source: Thekitchn.com
Ask any cook who washes dishes, pots and pans about the most important feature–it's usually the sink. Bowl and pedestal sinks and other fancy designs just won't do the job appropriately. It's easier to work with a double sink–one side for washing and the other side for pre cleaning or rinsing. You can't have too much sink even if you live alone. Big sinks enable a host of tasks such as filling mop buckets, bathing babies, cutting flowers, soaking pots and filling coffee pots.
Places to Sit
Even if you have a separate dining room, you should provide seating in your cooking area. You've got to rest while waiting for those onions to caramelise. Eat-in nooks, breakfast counters and islands with seating have been perennial interior design favourites since the early 1900s. They're not going out of style anytime soon, and your cooking area can become an ideal setting for coffee and conversation, gossip, family discussions and private tête-à-têtes.
Timeless Can Also Be a State of Mind
It's important to mention that a timeless space depends on what you put into it. An area that's seldom used can't really be timeless; it's more outside of time. Part of what makes the space timeless is its regular use day after day and year after year.
Timeless Trends Don't Need to Be Old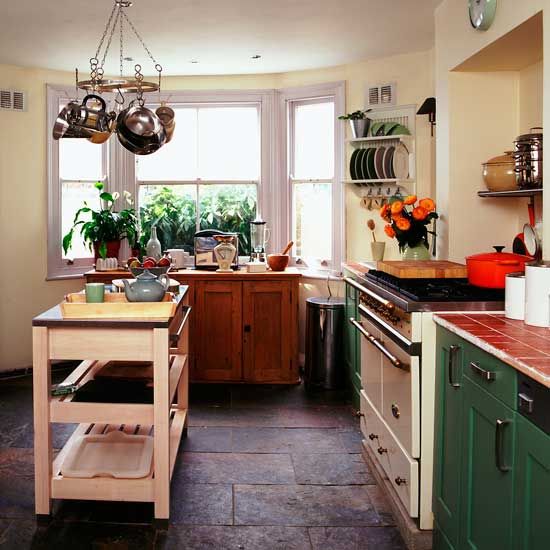 You don't have to borrow exclusively from old designs to create a timeless culinary space. LED lighting is certainly one way to incorporate contemporary technology into your designs to create a timeless space. However, there are other ideas that are only limited by your creativity. Here's a few suggestions to get you started:
Smaller Appliances
You can create several food-prep and cooking areas throughout your kitchen based on how you organise your appliances. Consider using microwave ovens, two-burner cooktops and side-opening oven doors placed at counter height. A refrigerator with adequate storage space can also be placed in a convenient area in your kitchen. Under-the-cabinet and point-of-use refrigerators can accommodate more specific temperature controls for deli, vegetable, fruit, root cellar, beverage and pantry items.
Touch Faucets
Touch faucets are gaining popularity with busy cooks. This technology is great when your hands are covered in grease, cake mix or bread dough. It's also helpful when you're carrying food or dishes and want to start the faucet to fill the sink. Touch-activated faucets are also ideal for washing hands in one quick step.
LED Rope Lights
You can brighten any area with a string of LED rope lights. These lights don't produce much heat, which makes them ideal for use within cabinets or on walls. They will add a timeless and homey feeling to your kitchen.
Vintage Appliances
It's not necessary to sacrifice function for a vintage style. You can choose new appliances that look vintage and enjoy the charm of vintage style and the functionality of modern technology.
Timeless design is functional, fresh and fashionable. Talk to your designer about building a kitchen that will meet your needs for decades to come.