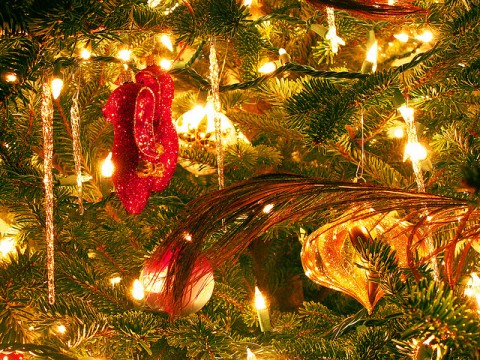 The best time of the year is just around the corner. Christmas is nearly here and I'm sure you already have a list a mile long.
What with the Christmas shopping, the food and the family arrangements, it's a hectic time. However, don't forget to make time for your home. The winter period is a wonderful time to really spend some quality time in the house. Making some alterations and getting ready for the cosy winter holiday is a great idea.
Christmas is all about rich, deep colours. It's about amazing smells of cooking and warm drinks. It's the perfect time to get snuggly and cosy by the fire. Your house should provide the perfect environment for this cosy living. When you've got family and friends round, you want the place to look perfect. There are plenty of cheap tricks you can do this Christmas to cosy up your home.
Subtle changes in lighting and soft furnishings will make a world of differences. Matching the right colours together and complementing your Christmas decorations is another great trick. When it's freezing cold and snowing outside, make sure your home is warm and inviting. Here are our top tips for a cosy home this winter.
Get the colours right
Christmas is famous for its distinctive colour palette. You can work from this and implement it into your home. Lush, dark greens and warm, rich reds work wonderfully together. You can use this to your advantage. Your Christmas decorations should provide plenty of greens. Match your thick green Christmas tree and wreaths to a deep red feature wall. Before Christmas sets in, decide where your tree is going to go. Paint the wall behind it a deep red colour. When your tree goes up, it will look stunning with a red backdrop.
Another perfect colour in the Christmas pallette is whites and creams. Match cream and red together in your soft furnishings. Buy some cream table runners or curtains to offset the rich dark colours. You can also achieve this colour match through lighting. We'll come to that later, but certain lights have a white glow that softens the greens and reds.
Soft furnishings
Christmas is the time to get out all the soft furnishings you have. Cushions, rugs and blankets all make a room cosier and warmer. Stick to the colour palette we talked about. However, with accessories, you can afford to veer away slightly. Try some deep purples. A plum colour or rich chocolate browns work really well at Christmas too.
The best advice with soft furnishings at Christmas is to look for thick materials. Woolen knits are great for those big, chunky blankets. Lay them over sofas to add depth. Try sheepskin rugs and throws or textured cushions. Fluffy cushions will add loads of warmth and depth to your sofas and chairs.
Lighting
Lighting is perhaps the most important factor when setting the Christmas mood. You'll want to aim for a soft, warm glow throughout the house. This can be achieved by making use of lots of lamps. Forget the larger, overhead lights and opt for smaller, scattered lights. If you have dimmer switches, keep them down low.
Candles are perfect at Christmas and you should fill your house with them. Again, creams and reds make lovely candle colours. The flicker of candlelight adds a delightful ambience to your home at this time of year. Better yet, a roaring fire will give off the best possible light in your living room. You'll also feel the effects of its warmth.
Finally, run some fairy lights along banisters, mantelpieces and curtain rails. They add a touch of sparkle and magic to the home without being overbearing.
The bathroom
We tend to get carried away with our living rooms at Christmas, but don't forget the rest of the house. If you've got a large family over, you'll have to think about your spare rooms and bathrooms. Take a glance at some UK bathroom suppliers and specialists if you need some inspiration. Soft furnishings and plants work a treat in softening up bathrooms.
Decorations
It's easy to go overboard on decorations, but try to keep it simple if you can. Keep those warm colours we talked about when putting your tree together. Finish it with red and cream baubles and sparkling fairy lights. Match this throughout your decorations. Follow the theme within your wreaths and other decorations.
If you've got kids, you might want to forget that advice. When there are kids in the house, let them make the decorations and go crazy with it. There's nothing more cosy than personalised decorations made by your children. It might make a giant, uncoordinated mess, but it's yours.
Smells
Don't forget the smells! The right aroma is what defines your home. Christmas is about enhancing all of the senses and that includes your nose. There are so many distinctive Christmas smells. They are all warm, thick odours. Things like melted chocolate, spiced coffee and cinnamon are at the heart of Christmas smells. Simply cooking these things regularly will help fill your smell with the aromas. However, you can cheat with Christmas scented candles or incense.
Plants
Winter is a good time to switch the plants around. In the summer, your home should be filled with light and airy plants and flowers. However, at Christmas, you want darker and richer plants. The huge Christmas tree will obviously dominate most living spaces. That doesn't mean you have to forget about the rest of the house. Small ferns with deep colours look great here. You can also try offsetting the overuse of green with brown plants. A simple trick is just to use a vase full of twigs or sticks. You can interlace them with fairy lights too for a more magical effect.
Follow each of these steps and you should be well on your way to creating a cosy family home this winter. Remember to stick to the Christmas colour palette of reds, greens and creams. Accent them with soft furnishings and carefully selected plants. Finally, infuse your home with the lush smells of Christmas and turn the lights down. Now we just needs some presents under the tree!