Square, angular, geometric? Old hat. For the past decade, home decor has been dominated by straight lines.
Now the tide has turned and the curvature trend has taken hold of the interior decorating world.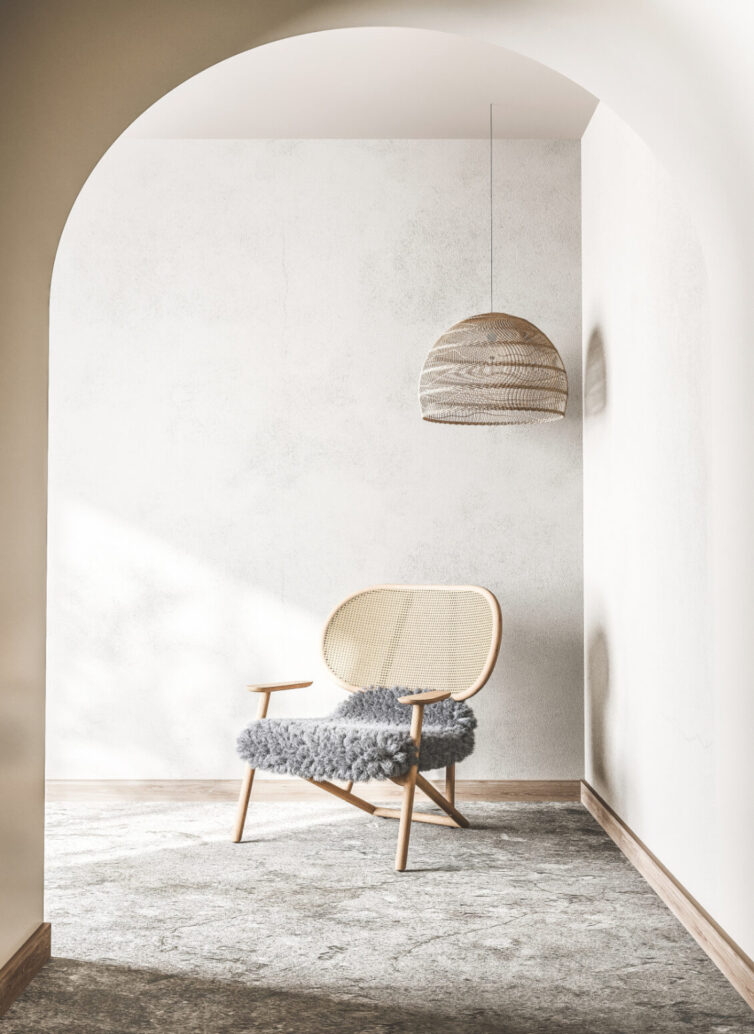 It seems like we're not alone with this observation, Pinterest have just published a "not-yet trending" report on their website declaring 'curve appeal' as one to watch in 2022.  (And I'm inclined to listen to their trend forecasts, they had an 80% success rate for 2021). The social media giant noticed searches for terms like 'curved sofa' curved walls' and 'round pool decking' soar on their platform during recent analysis.
Need more proof?  Just head over to Instagram and search home decorating hashtags.  You'll be met with a wave of influencers painting colourful arches on their walls, adding circular bar carts to their living rooms and installing curved rattan ceiling lights.
Get ahead of the trend by reading our guide below:
What is the curvature trend?
Think curved, rounded, natural, flowing and organic. These are the adjectives we'd use to describe the interior design trend that is set to define 2022. Use them liberally throughout your home: from furniture to furnishings and beyond.
Why embrace the curvature trend?
Curves unify spaces. They create symmetry and add balance. Sweeping organic lines make a space feel soft, graceful and intimate. There is beauty in the simplicity of curves.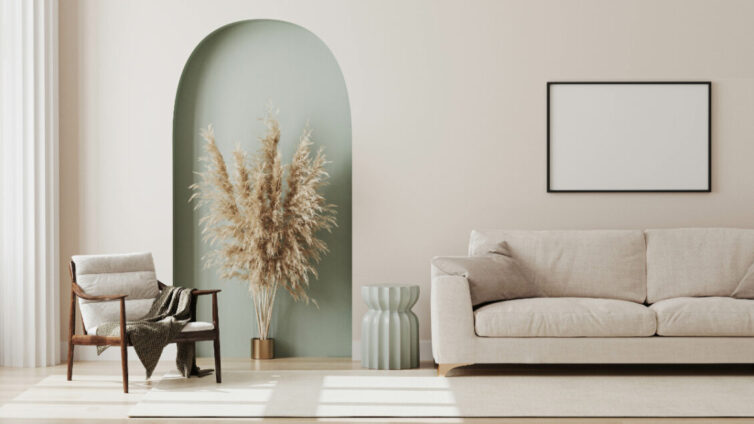 We love how this stunning alcove brings the whole room together. The accent colour pulls focus to the recess,
Curved furniture:
There's something comforting about curves.  Plump, cocooning couches feel safe and offer sanctuary.  This is likely led to the demand for curved furniture rising in recent years (because safety and sanctuary are two things we've been craving throughout the pandemic).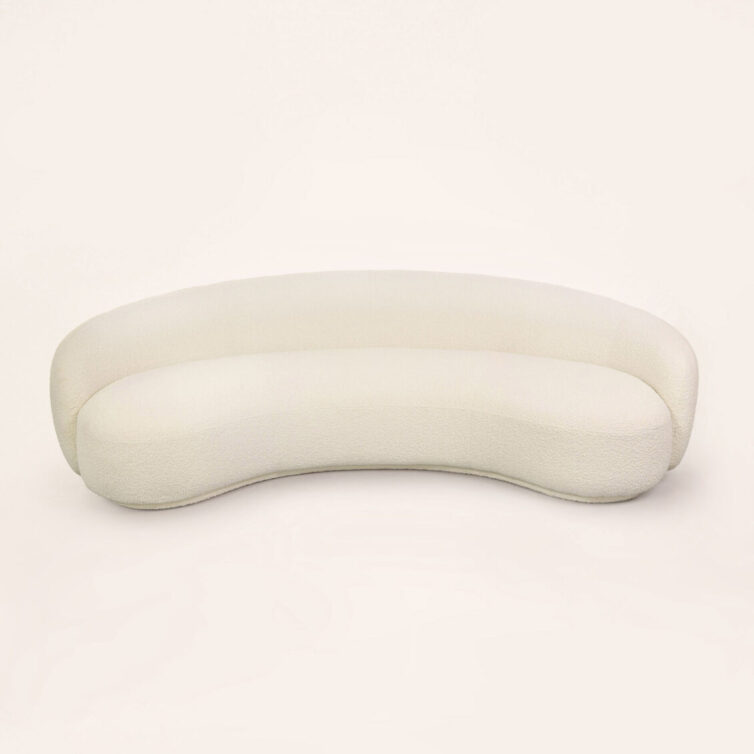 (Above, the Bouclé Curved Sofa from Six The Residence.)
Curved furniture adds a layer of sophistication to any room, especially those simple in colour and shape.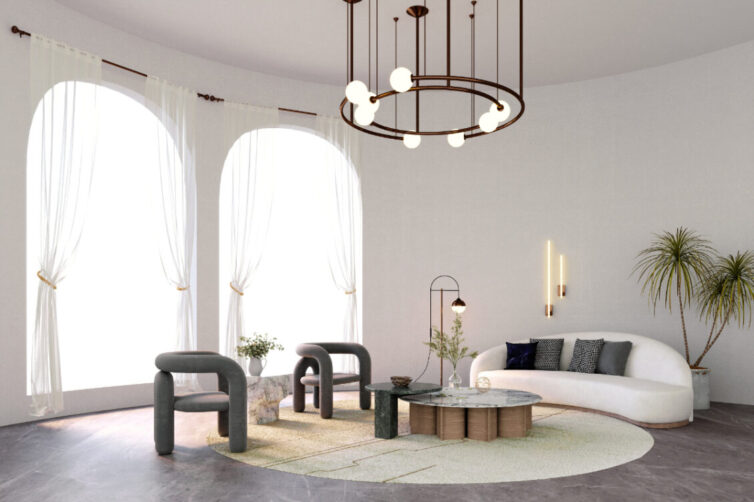 Curved accessories:
Curved accessories work together to soften the hard lines of any room—even a bathroom! We love the glass globe pendant lights, circular mirror and above counter round sink pictured below: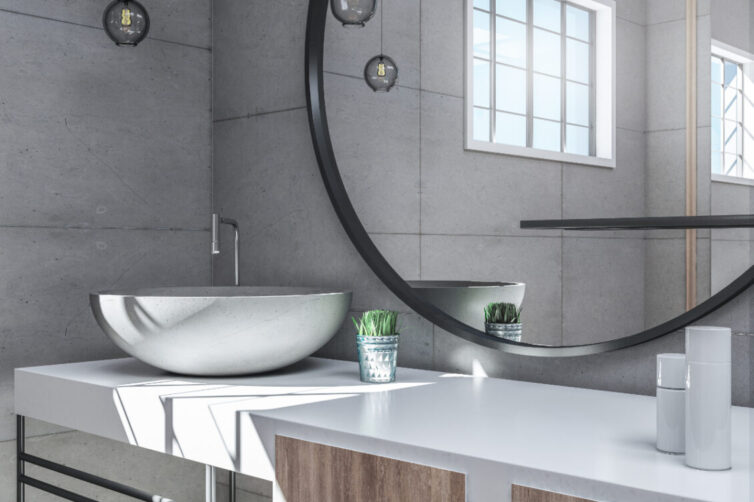 Don't ignore the power of accessories! Think about lighting fixtures, mirrors, frames and ornaments—look for circular, curved and spherical designs while shopping for your home.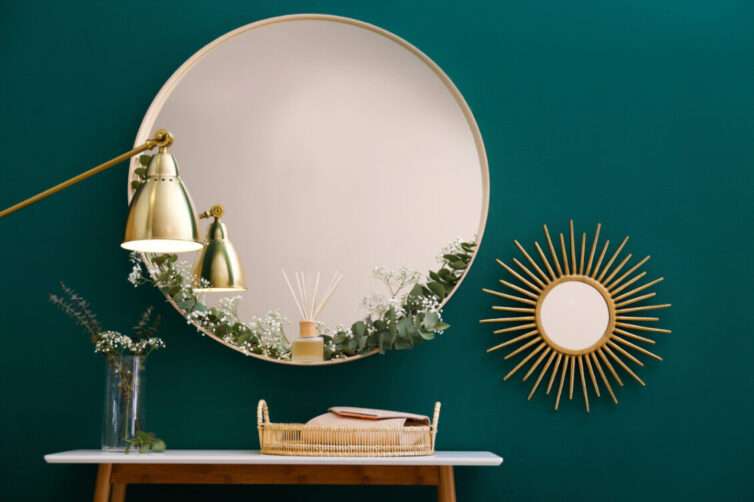 Curves will add a playful touch to any space (especially one decorated with metallics and a confetti-like terrazzo!)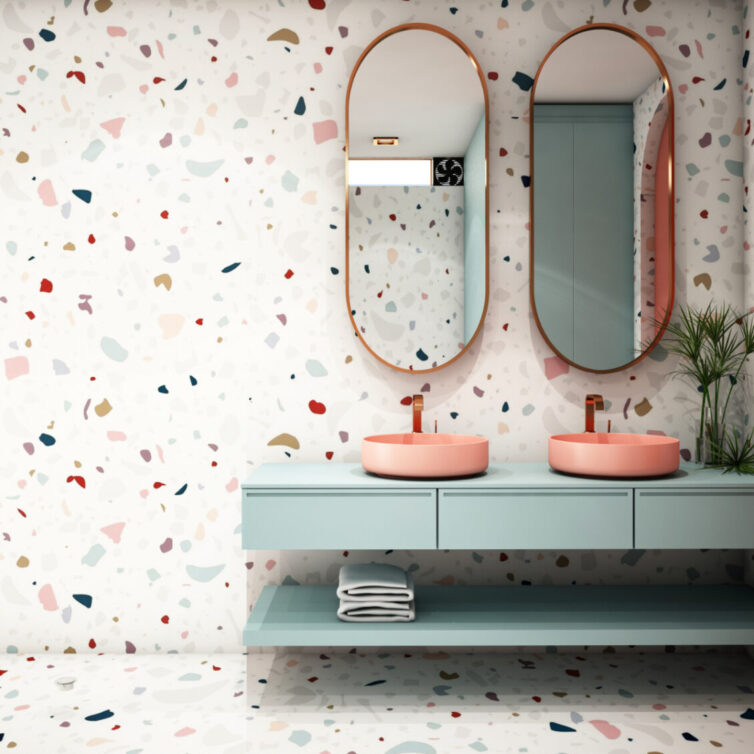 Structural curves:
If you're able to make structural changes to your home, consider adding an internal archway. It will create a fantastic focal point for the space (especially if you paint it in a dramatic colour, as below). For smaller rooms, archways create the illusion of space. They're also brilliant for connecting two different areas of the home.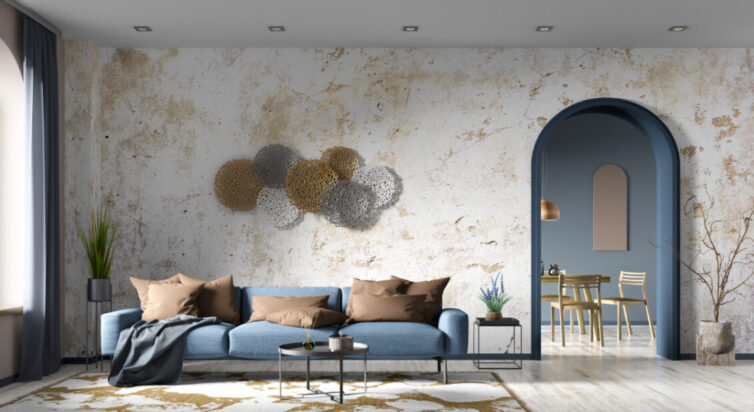 Colour schemes that suit the curvature trend:
Pair your curved furniture and accessories with powdery colours to create a relaxing haven; the perfect space to unwind after a hard day's work. Think soft, whispy—cloudlike.
Alternatively, layer neutrals for a contemporary and sophisticated take. If you're feeling brave, pepper in darker hues too, like navy or black.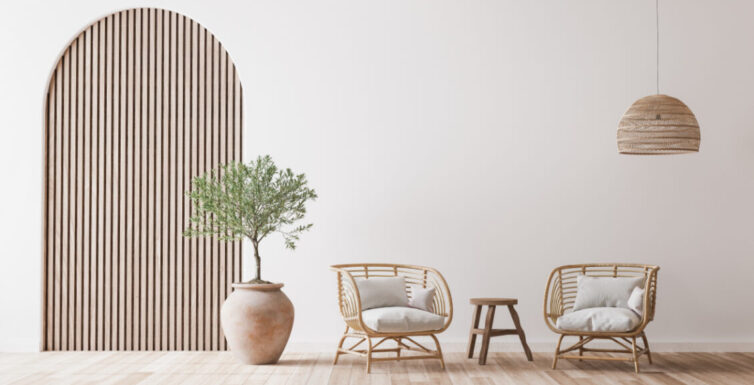 Or, go bold. Mix and match clashing and complementary colours for a daring look.