After soaring to popularity in the 1960s and 1970s, Terrazzo is set to make a comeback with a contemporary twist.

It comes as a welcome change after marble has dominated the dome decor space for the last 5+ years. Expect to see Terrazzo inspiring everything from flooring (as it's been traditionally used) to soft furnishings.
What is Terrazzo?
Terrazzo is a composite material made from combining chips of glass, marble, or quartz with a binding material. The mixture poured in place (for example, on a floor) or precast (into a shape, like blocks or tiles) and polished. The technique dates back 500+ years and is thought to have originated in Italy.
Here are ten of our favourite items if you're looking to incorporate the Terrazzo trend into your home this autumn.
1. Ora Side Table with Terrazzo Top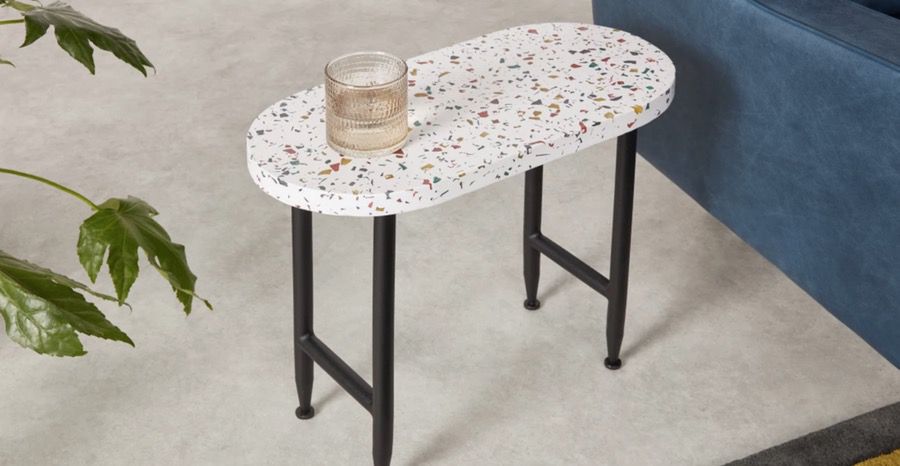 This trendy side table features a colourful Terrazzo top made from glass chips set in a cement-like mix. It features a contrasting black powder coated metal frame. It's available from Made.com for £109 (was £129).
2. Hukuun Terrazzo Plant Holders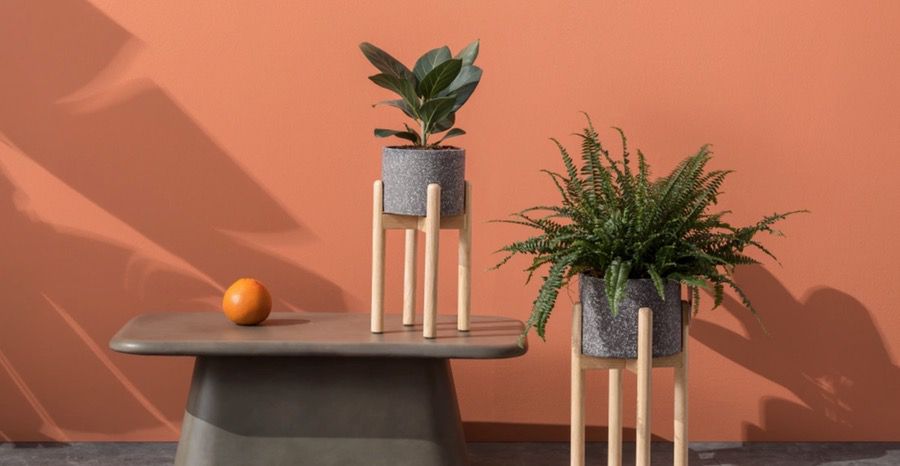 Use these tiered planters to create a beautiful botanical display in your home. The dark grey Terrazzo top contrasts with the natural rubberwood legs. They're available from Made.com for £59.
3. Tutti Frutti Terrazzo Tiles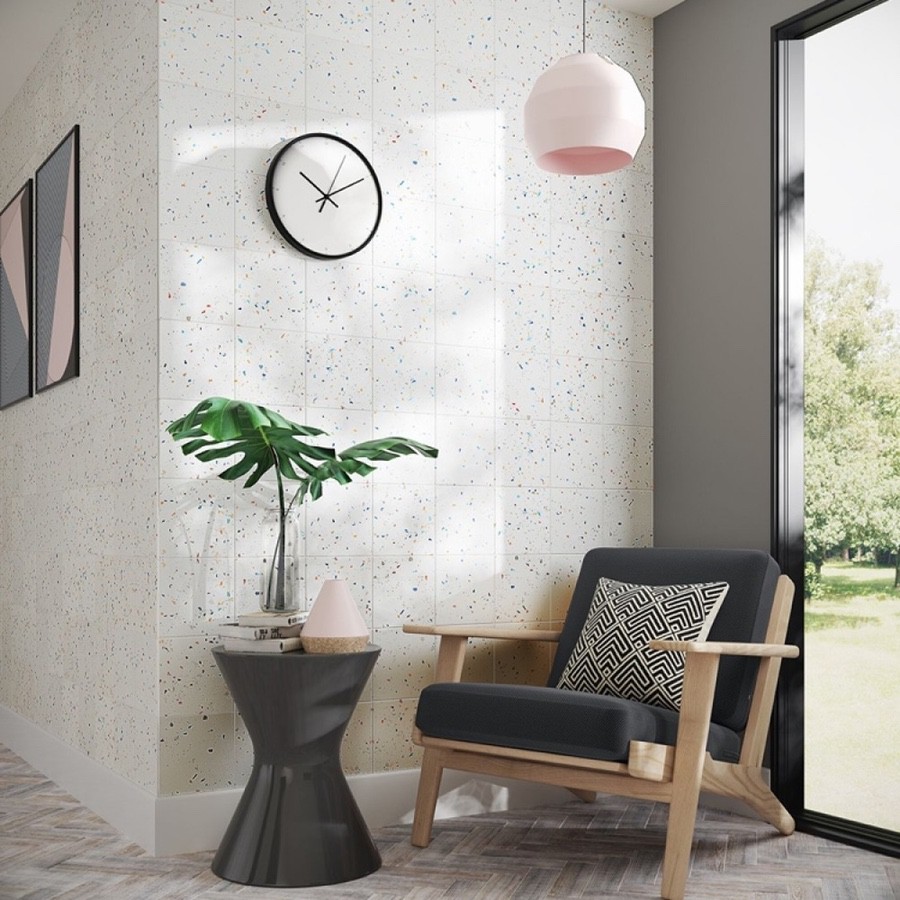 We love these elegant and modern tiles, which feature flecks of gold, grey and dark blue set against a plain white background. They'd look fantastic adorning walls or floors in your home.
Check out a selection of Terazzo tiles below:
4. Poppi Plates, Cups and Bowls with Terrazzo Design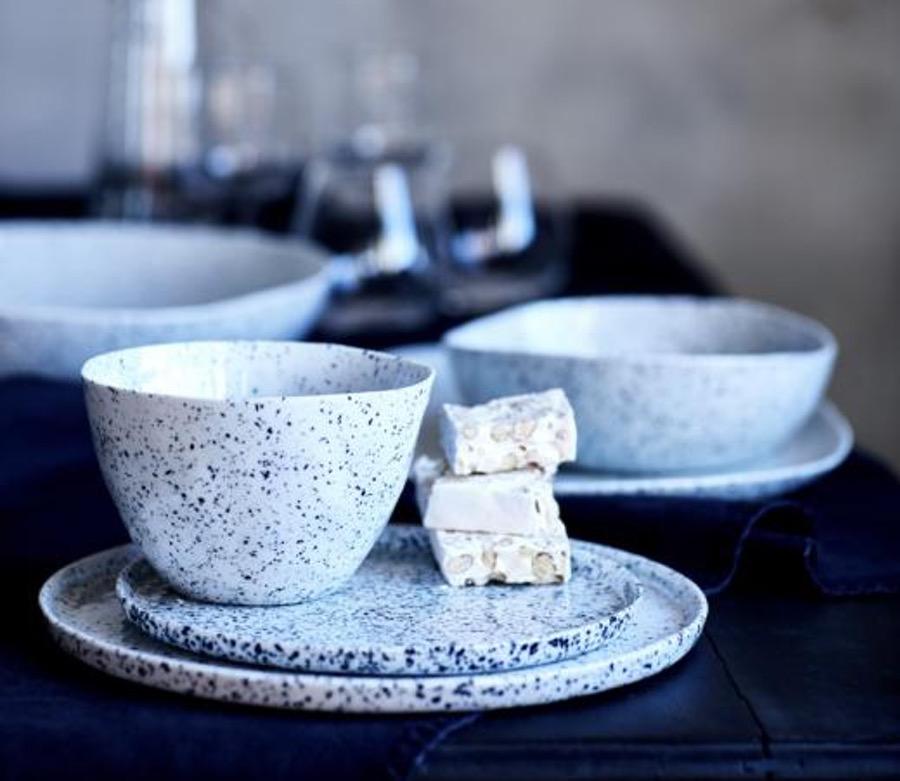 The Poppi crockery range features uneven black and grey dots splattered on a white background, which gives it that trendy 'Terrazzo' look. The individual pieces can be purchased from Abode Living. Prices start at £6.95.
5. Terrazzo Print Lampshade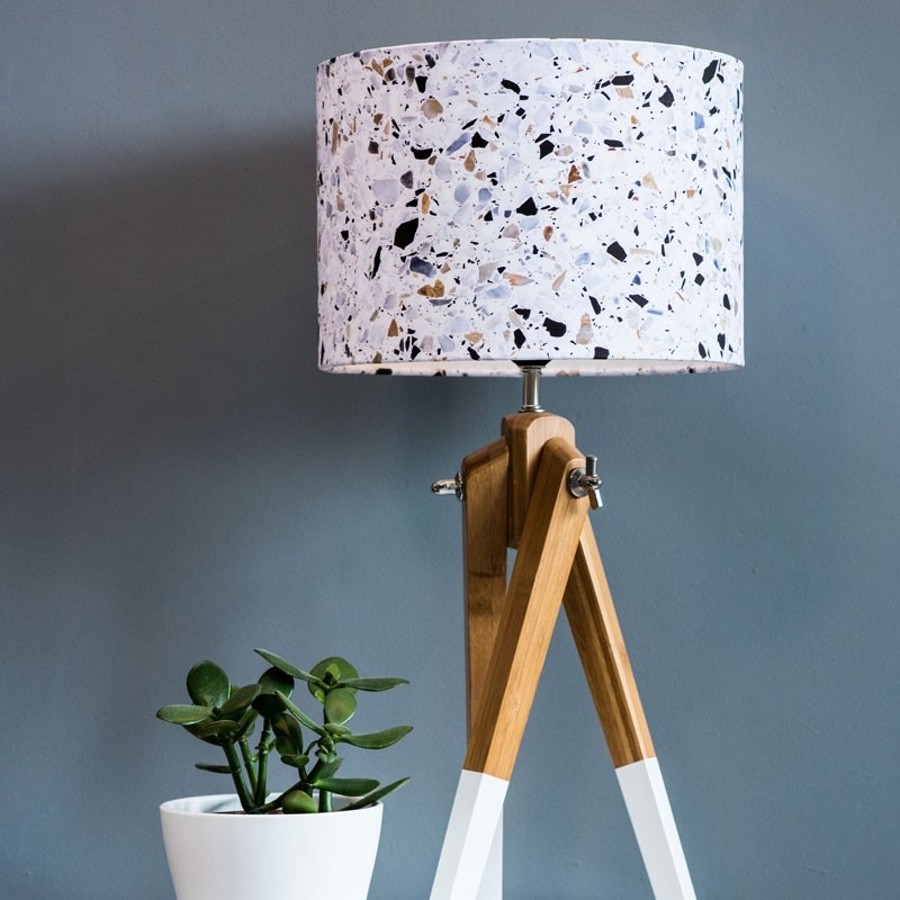 This designer lampshade is a simple yet effective way to introduce the Terrazzo trend into your home. It comes in three sizes and can be used on hanging pendant lights, floor lamps or table lamps. Available from Red Candy. Prices start at £30.
6. Terrazzo Print Bedding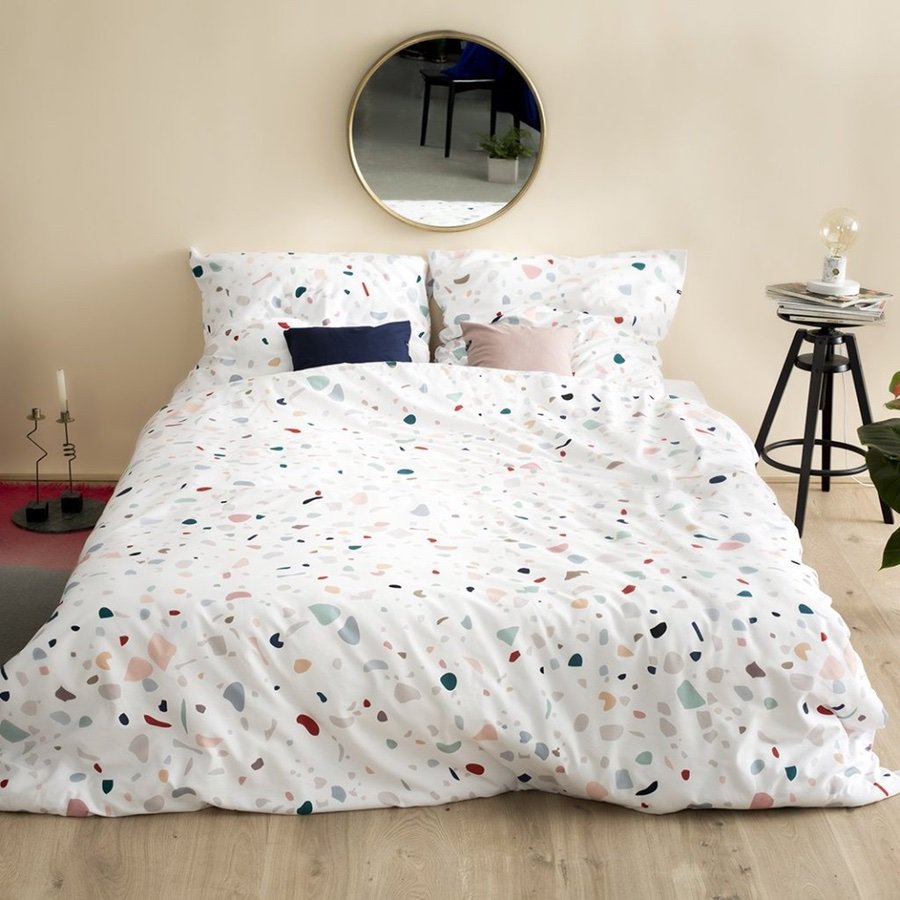 Invite Terrazzo into the bedroom with this colourful bedding set by HOP DESIGN. It features a trendy flecked print on a contrasting white background. The bed linen is made from 100% cotton in a satin weave for extra comfort. Get it from OOSTOR.com for £89.
7. Pegase Terrazzo Washbasin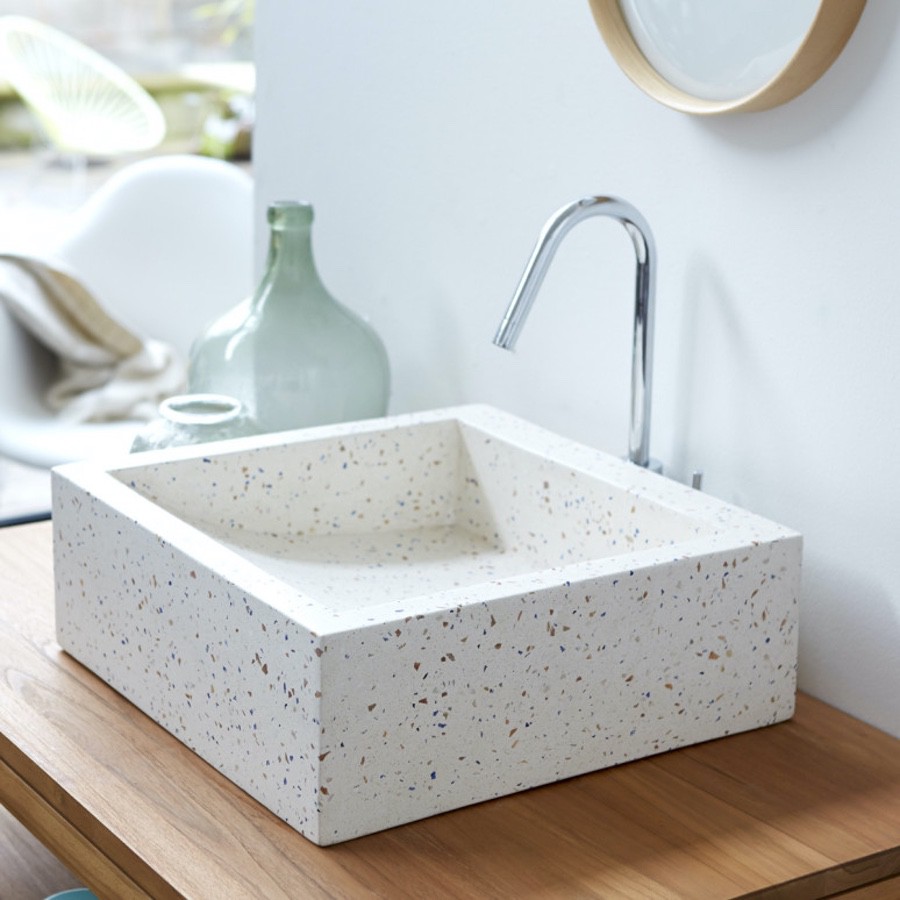 The Pegase Terrazzo washbasin can only be described as modern, chic, stylish and sophisticated. It'll look stunning sat on top of a solid wooden washstand in any bathroom. Available at Tikamoon for £149.
8. House by John Lewis Terrazzo Table Lamp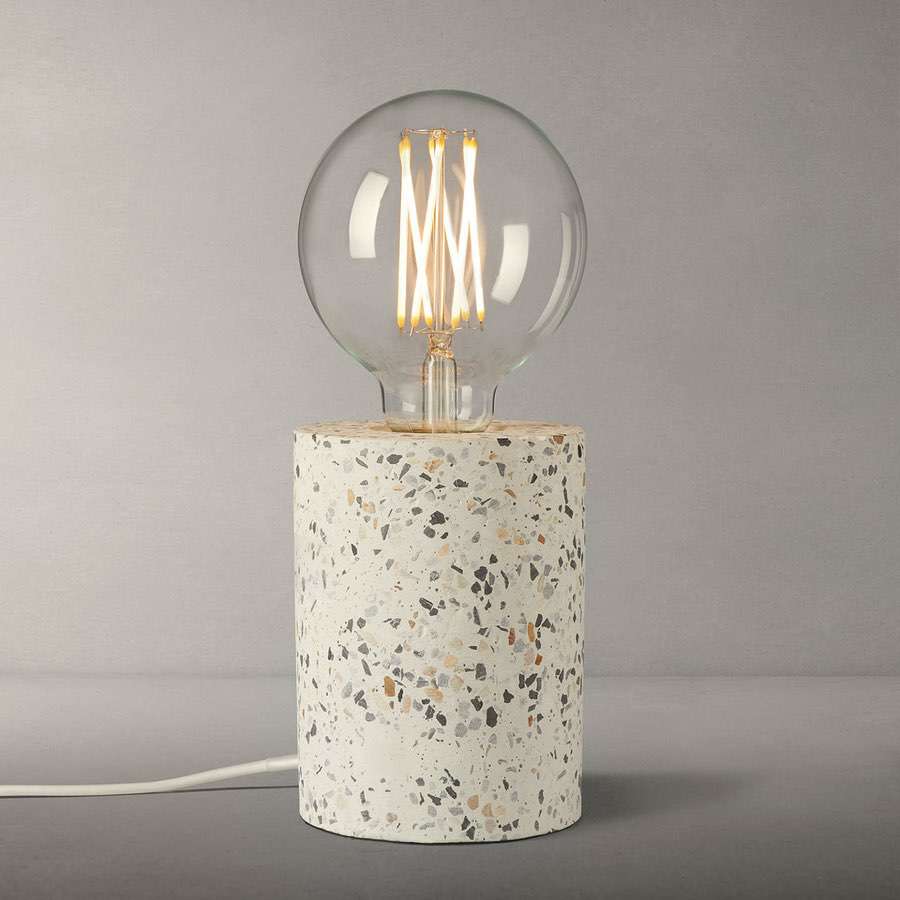 This ceramic lamp base has been finished with a colourful, flecked Terrazzo pattern in grey and gold. Pair it with a filament bulb for a striking look. Perfect for your desk or reading nook! Buy it from JohnLewis.com for £25.
9. Ferm Living Terrazzo Wallpaper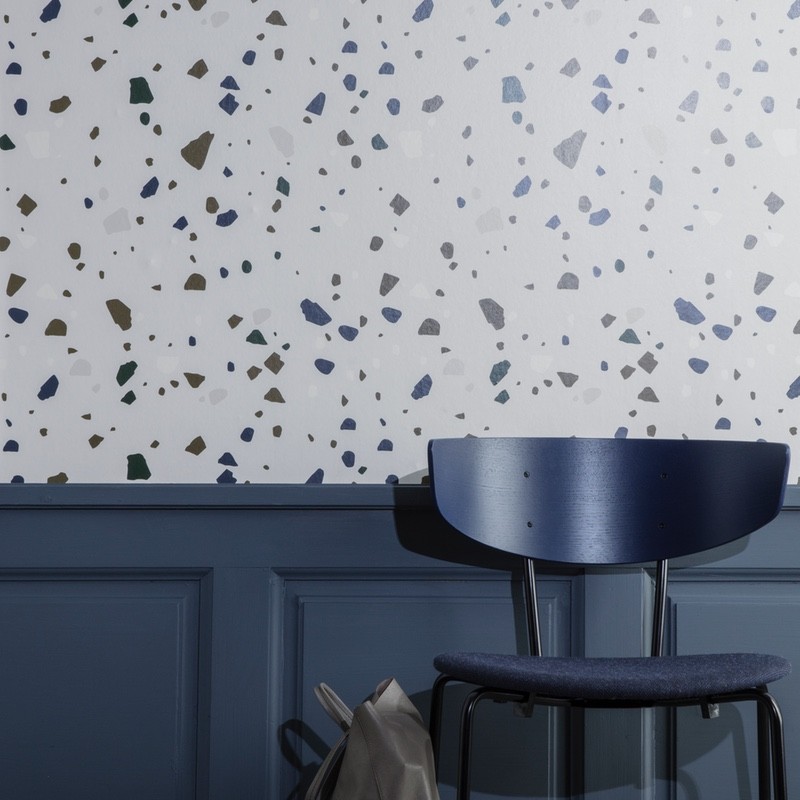 This wallpaper features trendy navy blue, hunter green and gold Terrazzo-style flecks printed onto a neutral background. Carry these on-trend colours throughout your room for a contemporary look. Available from Cloudberry Living at £58.50 (was £65) per 10m roll.
10. Ferm Living Terrazzo Knot Bean Bag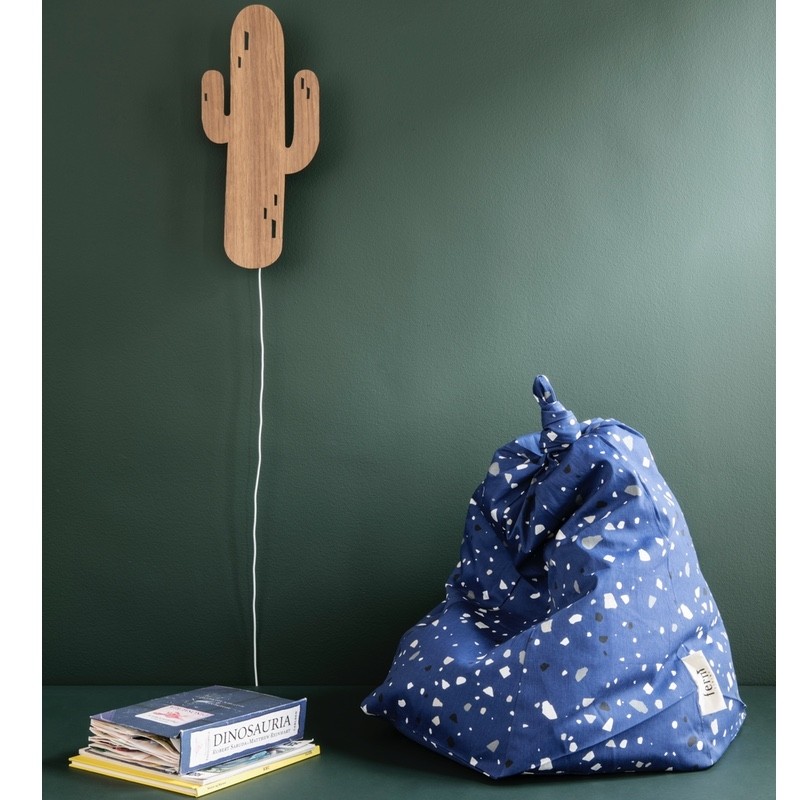 This stylish knot-top bean bag is the perfect accessory for your living room, playroom or child's bedroom! The deep blue background features a playful Terrazzo-style print in grey, white and black. (It also comes in rose pink!) Available from Cloudberry Living for £109.