Fed up of staring at the same four walls?  Want to turn your home into a sanctuary to weather the winter?  It might be time to renovate one or two of your most-used rooms!
Splash your favourite colours on walls, furniture and furnishings to cheer up even the gloomiest of grey days. Below, we share a rainbow of inspiration for brightening your home: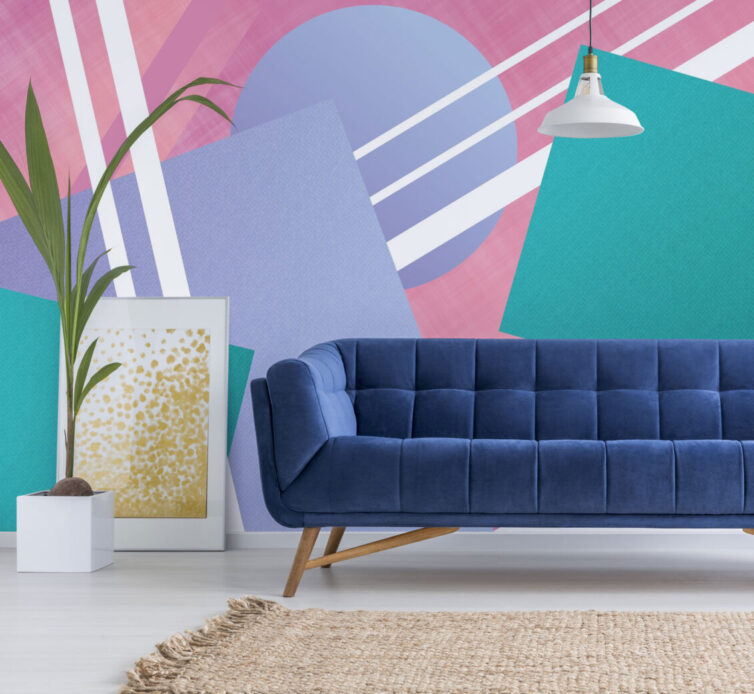 Lilac:
Move over millennial pink, it looks like lilac is the Instacrowd's colour of choice this year. This pretty purple is making a comeback after having a moment in the Nineties. Purple tones look dreamy in the bedroom and calming in the kitchen, or pair them with cool metallics for a modern, sleek look in your living room.
Images: Wren Kitchens; English Blinds; Carpetright.
Green:
Green is a vivacious colour that is synonymous with life, growth and nature. The colour increased in popularity throughout the twenty-tens. Pantone chose a yellow-green shade as their Color of the Year for 2017. There are plenty of ways to use this versatile colour. Mix a mellow shade of green with earthy neutrals to create relaxing living space. Or, paint a piece of furniture in a vivid shade for a bold pop of colour.
Images: Annie Sloan.
Teal:
Teal is a calming and peaceful blue-green that works well with corals, creams, navy, gold, grey and brown.  It's an easy-to-use colour, which makes it very popular with homeowners.  It works brilliantly in the bathroom, why not tile your walls in this standout shade?
Images: Walls and Floors; Louise Mead, Wallsauce.
Yellow:
Illuminating yellow is one of two 'Colors of the Year' selected by Pantone for 2021, so expect to see this shade everywhere.  According to the company, the vivacious yellow hue is strong, positive, sunny, friendly and it gives us hope that everything will get brighter.  Exactly what's needed in the midst of a global pandemic! 
This powerful colour invokes warm spring days and reminds us of happy daffodils bobbing in the breeze. The versatile tone lends itself to several spaces: use it to add cheer to your family kitchen or brighten up a guest room. A buttercup yellow front door will give your home serious curb appeal, or use a punchier lemon shade as an accent in your dining room.
Images: Furniture And Choice; Wren Kitchens; Wayfair;
Orange:
Orange is an exciting, energetic and quite frankly underrated colour, making it a fantastic choice for home decorating. This refreshing shade works well with a wide range of neutrals, but we love seeing hazy hues paired with nudes and navy for a contemporary look. Use a pop of orange as an accent in your existing room decor, or go the whole hog and paper with an orange mural to create a statement wall.
Images: Woodchip and Magnolia; Audenza.
Pink:
Why not introduce this energetic, feminine colour into your home in 2021? Hot pink pairs perfectly with midnight blue hues and other neon shades. Or, tone it down with lots of natural, earthy tones, creams or soft teal. Surprise visitors by decorating your downstairs toilet with a shocking pink patterned paper. Or, use a vibrant pink sofa or accent chair to create a bold statement in your living room.
Images: Darlings of Chelsea; Wallsauce; Lime Lace
Main Image: Annie Sloan Kids bedroom Chalk Paint mural by Lucy Tiffney in Athenian Black, Antibes and Barcelona.