Spring is here – so we have pulled together 10 beautiful living rooms for spring 2014, inspired by the lovely bright shades of the new season.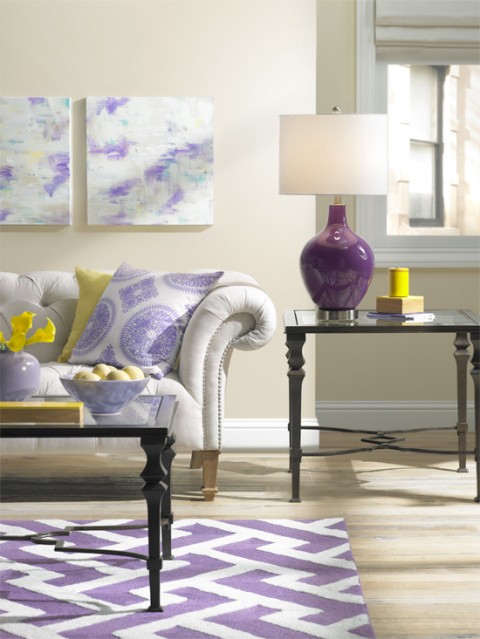 Purple living room with hints of yellow – Source
Bold colours added to a room with soft tones, can really bring the room alive and transform it from the earth tones of winter to the bright tones of spring.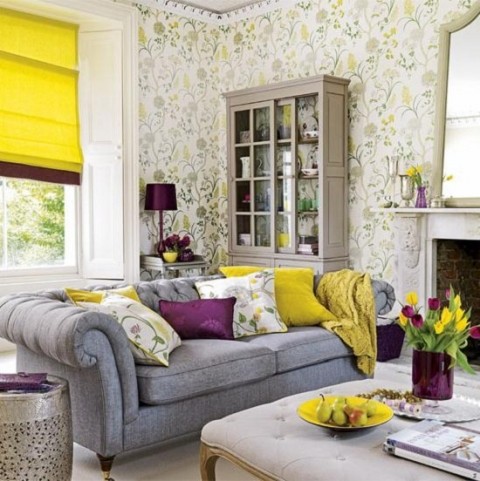 Bright yellow and purple, with muted greys and floral in the background – Source
A familiar bold tone of spring is yellow, most parks this time of year are covered in daffodils and tulips. Flowers being the epitome of spring, why not bring those colours and patterns into the home, be it the flowers themselves, or for a lasting effect freshen up the walls and cushions with a flowery pattern.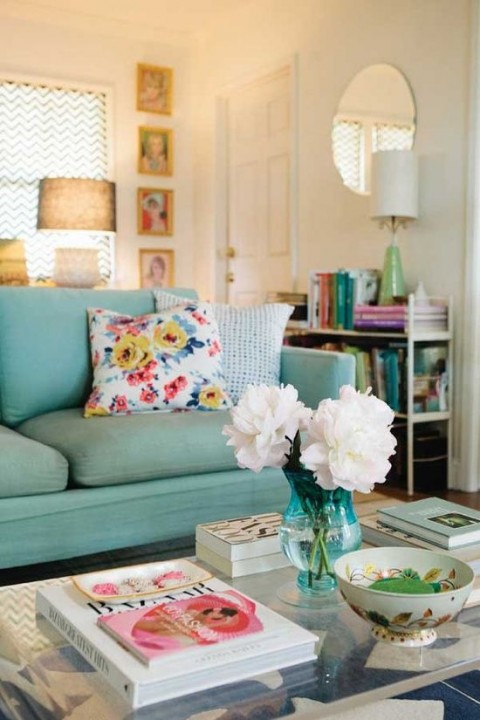 Loose covered sofa (ideal if you have children) with white flowers & floral cushion – Source
Covering your sofa is an ideal option when you love the original design, but feel you need a change of colour. With minimal effort it can be transformed, and the fashion conscious can update the sofa to the in colour each season. For inspiration, this site has many choices of loose covers.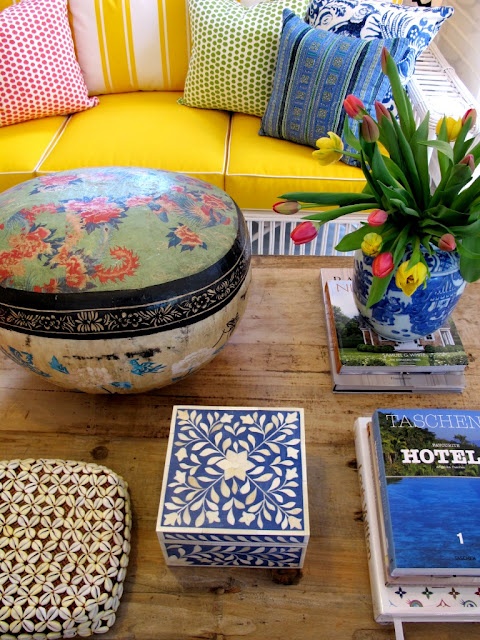 Bright yellow sofa, assorted cushions, rustic coffee table with flowers and decorative items – Source
At the start of spring your garden comes to life with new buds of colour, from blues, to reds, to yellows and greens. It feels alive, fresh and new. This can easily be achieved in your living room, by adding bright and vibrant colours, mixing of patterns and adding old and new. Don't be afraid to mix it up.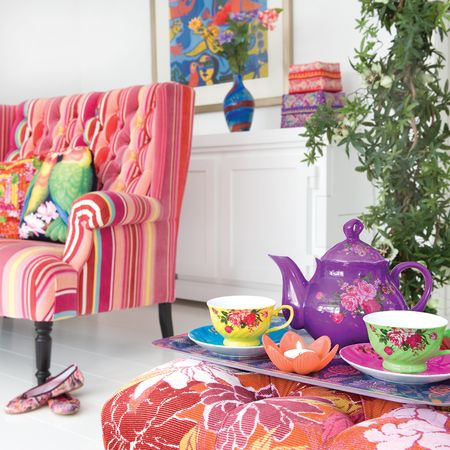 Pink patterned sofa with colourful vintage tea set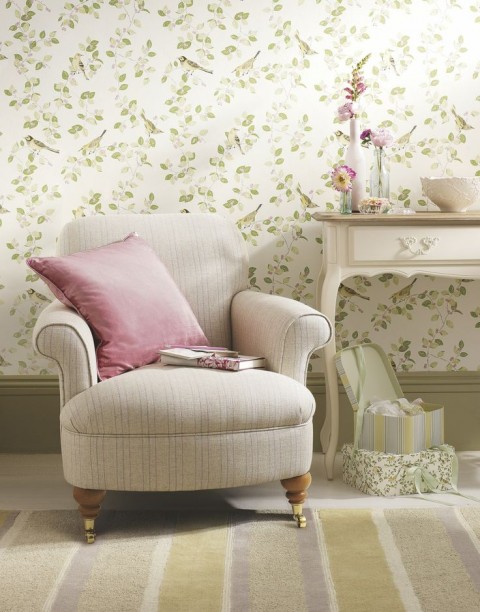 Chair and table with floral wallpaper background – Source
Muted airy tones with a splash of pink, is a subtle and beautiful way to showcase a spring living room. They have especially brought the outside in with the green bird wallpaper.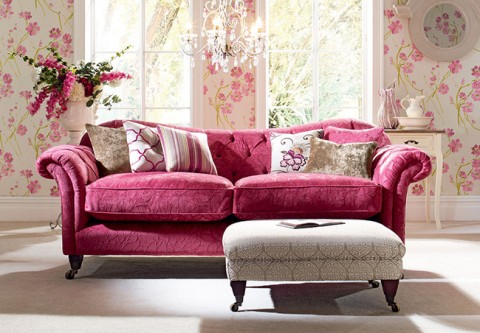 Cerise pink sofa with flowers and floral wallpaper – Source
A good quality sofa can last years, but it may need a bit more than a change of covers to make it look new again in time for your spring look. This is were reupholstering comes into its own.  Not only can you have the colour and material of the sofa renewed, but you can also have the cushions and springs renewed, further extending the life of your favourite sofa.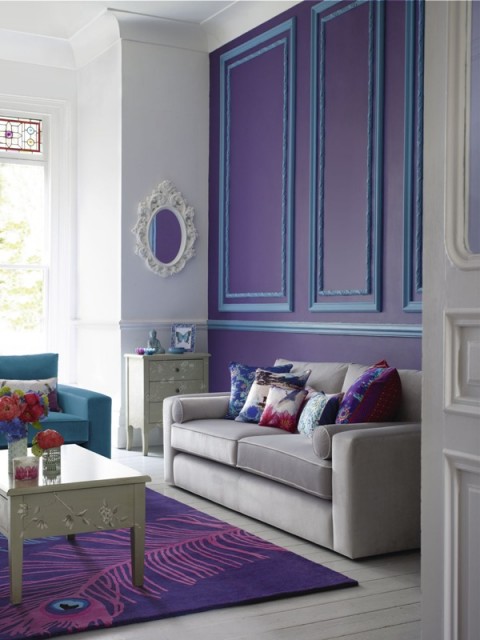 Something a little different – A fantastic purple focused living room – Source
Although not as bright and airy as all the other pictures, the bold blue and purple of this living room are elegantly reminiscent of blue bells in spring.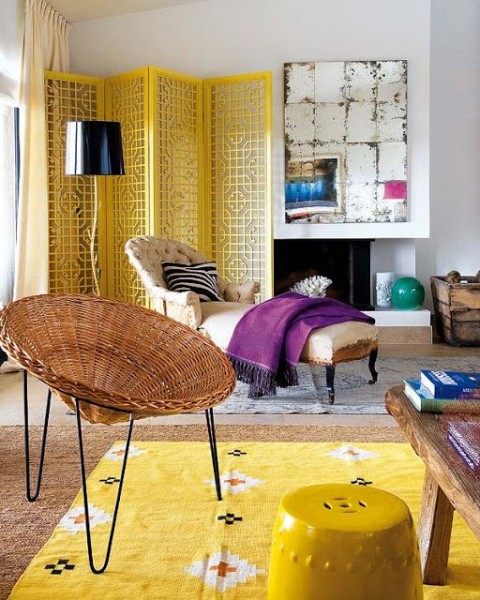 Shabby chic living room with yellow rug – Source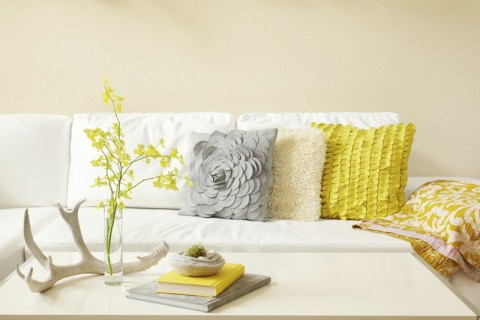 White sofa and coffee table, with antlers, slim vase & flowers, and assorted cushions – splashes of yellow
We hope you have enjoyed our collection! Please like and share using the buttons below.