Are you planning a wedding?  If so, huge congratulations on getting engaged!

Wedding planning can be daunting if you don't know where to start. If you're looking for inspiration, scroll through the four themes and colour schemes we've included below.  We've also shared DIY tips to help you create wonderful decorations – that are within budget – for your big day.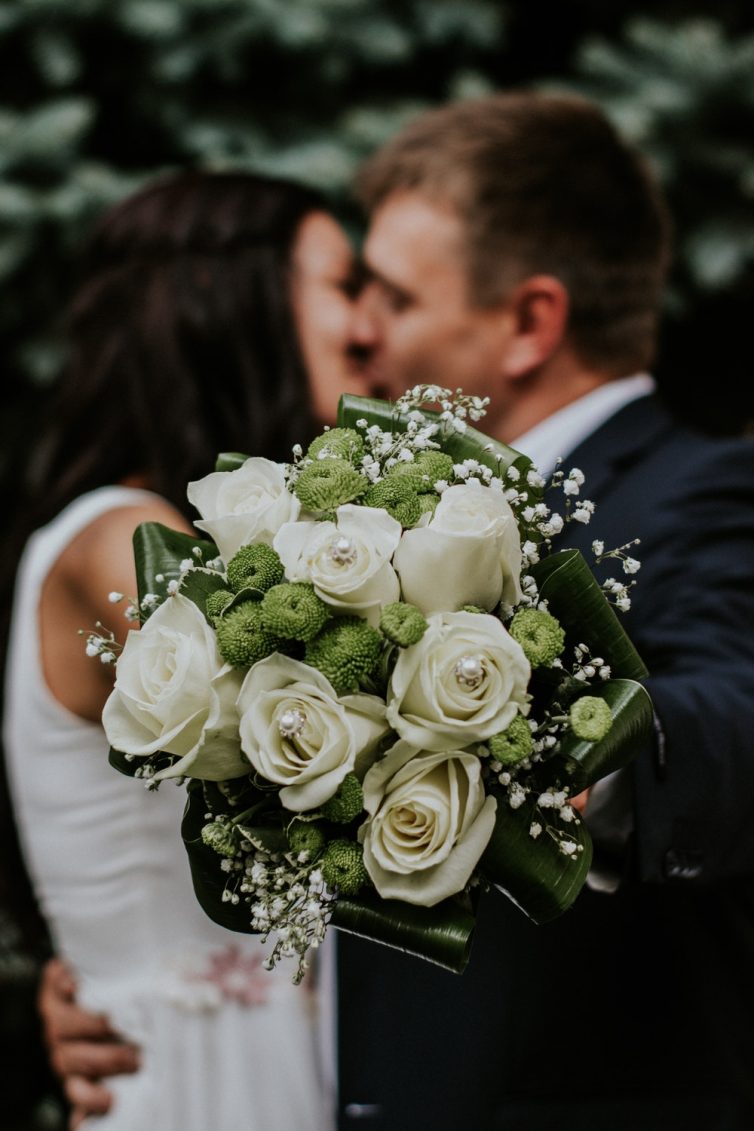 Pretty pastel Yellow:
According to Pinterest's Insights data, pastel yellow is an emerging trend.  The colour is set to perk up our home interiors according to the social media giant, and we think this will carry over into the wedding market too. Apparently, searches for the colour are up by 73% on this time last year.  Pastel yellow is a lovely, versatile hue that would suit either a spring or summer wedding theme.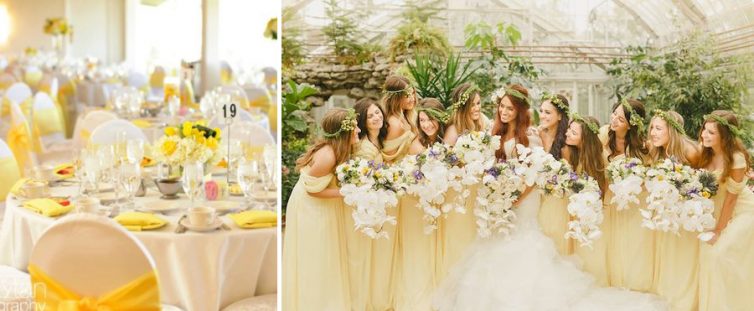 DIY venue decor:  Fabulous flowers!
If you're planning to marry in early spring, choose daffodils to decorate your venue.  You can pick up bunches of the cheery blooms from flower markets for an inexpensive price.  (You could also help yourself from a friend or family member's garden for free!)  Daffodils come in a range of shapes, shades and sizes, just pick your favourites.  They will look stunning mixed and matched in vases throughout your venue.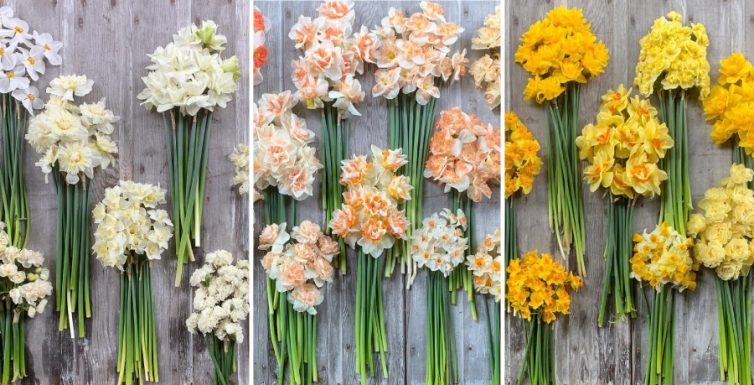 Wonderful watercolour:
Struggling to choose a colour scheme for your wedding? Select two or more of your favourite hues instead!  Use them in a 'watercolour' theme throughout your wedding from a sign greeting your guests to matching paper bunting strung from the ceiling.  Of course, you can use the watercolour theme for your wedding stationery and place settings too.
Then, simply carry your two or three favourite colours over to the other elements of your wedding, including the flowers and bridesmaid dresses.  Perfect.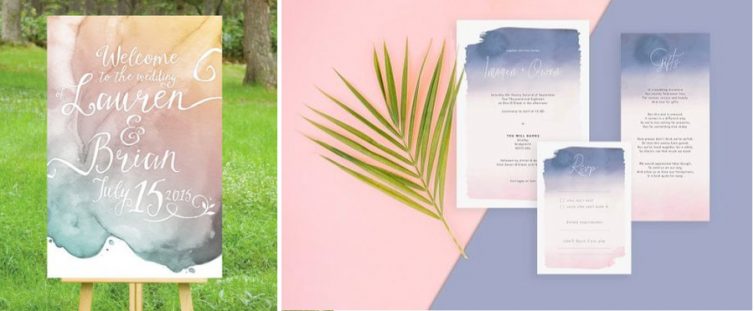 DIY venue decor: Watercolour Place Names!
Make your own watercolour place names using nothing but watercolour paper, brushes and paints!  This is an inexpensive trick that will look stunning with a bit of practice.
Soft grey:
Grey is one of the leading trends in the home decor world at the moment and lots of brides have chosen to incorporate the achromatic shade into their wedding day.  Either choose grey as your 'hero colour' or pair it with another shade of your choice. Keep it fresh by accessorising soft grey with cream, white and green.  Or choose a hint of pastel pink for a dreamy look.  Meanwhile, a sprinkling of silver will add an elegant touch.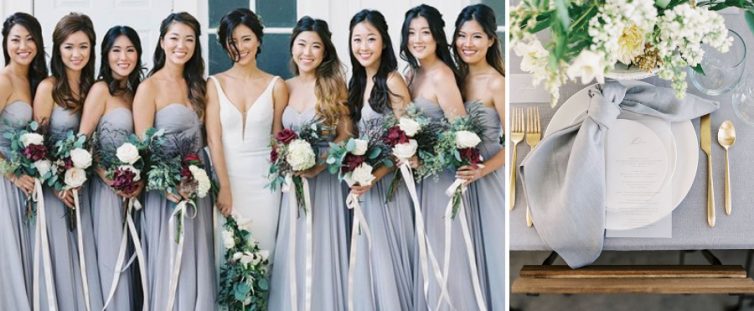 DIY venue decor:  DIY paper garlands!
Decorate your venue with homemade paper garlands, they are surprisingly easy (and inexpensive) to make.  We recommend using thick scrapbooking paper (it's like thin card) in the colour of your choice.  You'll need paper that is printed on both sides.    Use a large punch in a shape of your choice (we used this one-inch circle) and cut out as many shapes as possible.  Then, run them through your sewing machine, sewing each through the middle. (Top tip: measure the centre of your first shape and then place washi tape either side of the feed dogs to ensure subsequent shapes are perfectly centred).  Let the machine sew 'fresh air' for three or four stitches before putting the next shape through.  Repeat until your garland reaches the desired length. At the end of your garland, leave a little thread trailing for knotting and hanging.  Make multiple garlands and layer them throughout your venue.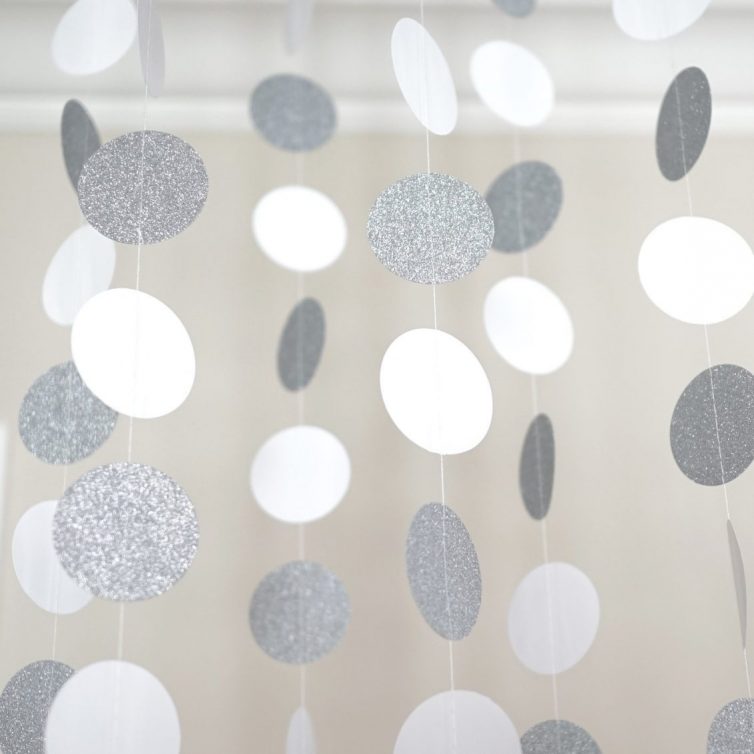 Source: PartyNBeyond.com
Gorgeous greenery:
'Greenery' is another popular choice for brides.  It's unsurprising really, the theme looks elegant and provides a chic backdrop to the big day. Instead of flowers taking the main focus, your guests' attention will be captivated by different textures of foliage layered throughout the venue.  Punctuate with candles and fairy lights for added whimsy.  This theme works year-round.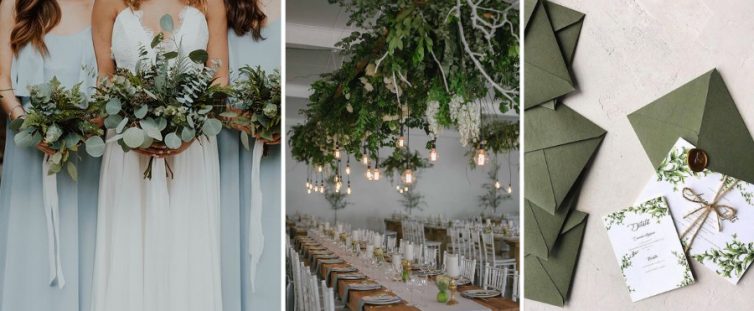 DIY venue decor:  Hoop bouquet for under £20!
Hoop bouquets are very popular at the moment and they're easy to make.  They're also considerably less expensive than traditional hand-tied bouquets from the florist, which means they're great for brides on a budget.  All you need is a wooden ring (you could also use the inside of a large embroidery hoop), a bit of florist's tape, some ribbon (optional) and your chosen greenery.   Feel free to add flowers too!  Find the full tutorial at RockMyWedding.co.uk