Anyone without a garden will tell you how much they'd love one, but it is a part of the home that is often overlooked by homeowners blessed with one.
More often than not, this apathy is born solely due to the time and effort needed to make it sparkle.
However, that doesn't have to be the case even if you don't have time to dedicate hours of your life to the garden. There are still ways of turning it into the perfect outdoor getaway for entertaining friends and family throughout the summer months.
For most of us, it isn't the initial transformation that frustrates us. Instead, it's the time needed to maintain it. Quite frankly, in today's busy world that simply isn't an option for many of us. Begin your garden upgrade by installing decking.
Decking is a wonderful addition for many reasons, especially if you are looking to host parties or BBQs during the summer. It's a relatively easy step to take and will instantly give your garden a renewed sense of excitement. Best of all, it's incredibly easy to maintain.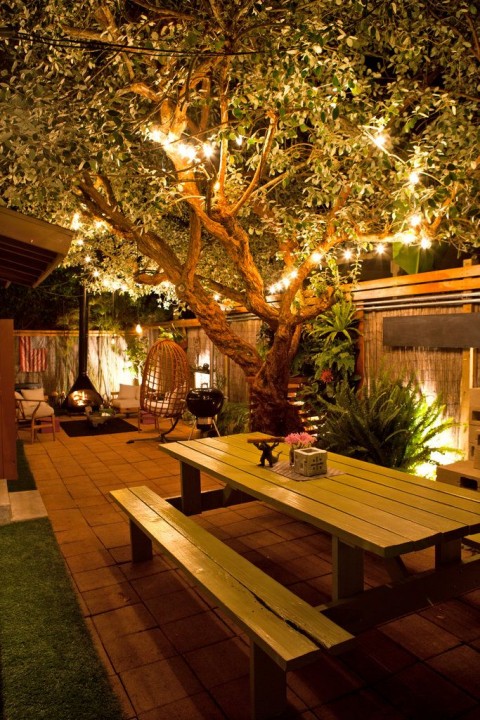 Image Source
Another good idea is to install some sort of garden lighting, especially if you are planning to spend summer evenings out there. By opting for a motion detecting system, it can also double up as a security measure. Most importantly, the garden lights will save you having to look for torches or other light sources when the evening starts to turn dark.
The garden should be a place to relax. Unless gardening happens to be your idea of fun, there's nothing enjoyable about spending more time on maintenance the land than actually using it. One of the most boring chores has to be cutting the grass.
It doesn't have to be, though. Artificial grass solutions are a great way to keep your garden looking in pristine condition all year round without the effort of mowing it. It also means you can get rid of the lawnmower to free up some shed space too.
Likewise, if you don't have to spend so much time on the grass then you'll be far more likely to put a little effort into planting some nice looking flowers. Perhaps you could even go one better by growing some fruit and veg, which is a great way of teaching young children about healthy eating as well.
If you are planning to use your garden on a regular basis then it's important to prioritise what features you want from it. Is it going to be a place for BBQs? Or do you just want somewhere relaxing to drift away on a lazy Sunday afternoon?
If it is the latter then investing in some comfortable chairs is an absolute must that will completely enhance the way you view spending time in your garden.
The key to unlocking the potential of your garden is tailoring it to suit your needs. These methods of cutting down the maintenance time will certainly help you appreciate yours more. Get the transformation underway now and it will soon be your perfect little paradise.
Main Image Source