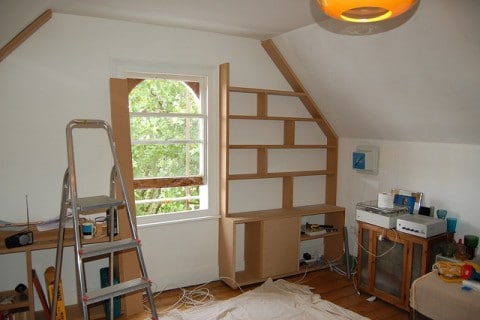 No matter how experienced at DIY you are, one thing will always ring true: if you rush the job, you will get poor results.
A great DIY project takes time to complete, and if you are impatient in any way, you can expect mistakes.
However, just because you should take your time with the actual work, doesn't mean you can't save a considerable chunk of time in other areas.
And, for the purposes of this article, that's what we're going to take a look at right now.
Better planning
The most successful DIY projects all follow a good plan. In fact, without a plan, there will be many occasions that you don't even get started.
Unless you have a good grasp of carpentry, turning a pile of wood into a twelve-foot storage unit is going to be nigh on impossible.
So, before you get started with your new decorations or projects, have an idea of what it is you are doing. Read through any instructions you are following and make sure that you understand them.
Nothing is worse than getting halfway through a build and realising you have screwed something in the wrong way around.
More efficient tools
The better tools you have, the quicker they will cut, saw and drill. An excellent, well-maintained power saw will also be a lot more accurate than the rusty old thing you keep in the garage.
Also, look into buying a tool belt. A lot of people waste so much time in DIY going backwards and forwards to find their tools when you could easily have them on you right there and then.
They make you feel a lot more professional, too – especially when finished off with a pencil behind the ear.
Better materials
When you use weak or inferior materials, you are going to waste a lot of time. Why? Because they just don't stand up to the damage, you will inflict on them.
Flimsy wood might be easy to cut through, but it can also snap at the mere hint of pressure. You can also consider alternatives to the traditional methods of DIY.
Nails and screws have been the go-to products for repair work, hangings and fixings for many centuries. However these days, they aren't necessary for every job.
Check out Kenyon Adhesives to see the sort of things that modern, ultra-sticky adhesives can do. They'll also save you a heck of a lot of time from drilling, screwing and repairing.
Ask for help when you need it
Don't be afraid of asking for help for your DIY projects. Many of us get a little too proud of our own handy work and are resistant to seeking out assistance.
The trouble is it's often cutting off our noses to spite our faces. At the end of the day, which would you rather have – a great piece of furniture or a great big mess?
If you are resisting help because of pride, then only one of those options is going to restore it anyway.
There's nothing wrong with asking a more experienced hand to guide you – and it will bring better results.
Main Image Source