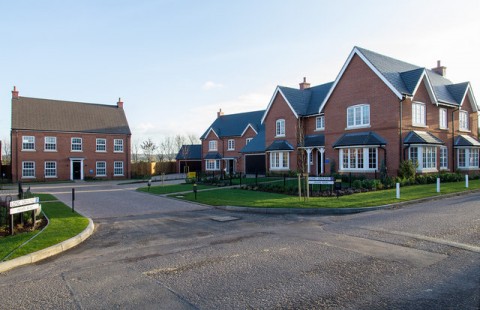 New build homes are a bit of a double-edged sword.
On the one hand, they are built up to scratch with modern standards, helping you save money on your energy bills. But on the other, they can suffer from cookie-cutter design and a profound sense of blandness.
However, there are a few ways you can spice things up a little. And, in this guide, we're going to show you how. Let's get started with some easy suggestions for adding some character to your new-build home.
Decorating basics
Now, before you rush off and buy a whole bunch of expensive wallpaper, make sure that your building has settled. When you move in, your new home will react to the extra heat.
There will be some expansion, and you might see some cracks appear on the walls and ceilings. It's perfectly normal and nothing to worry about, but you should leave any major decorating work and expensive finishing touches until it has settled.
A splash of colour
First of all, it's likely your new build home will be beige – very, very beige. It's the standard finish for all new builds, as it gives prospective buyers a blank canvas to imagine living there.
But, what's good for a sales environment is a touch dull when it comes to living spaces, so your first step is to add some colour to your walls. Use paint for the time being – at least, until your home has settled.
Go for something that reflects your personality – there are some great guides over at Dulux, which is the perfect starting point.
Get personal
No home is complete without the traditional family pictures. So, get yourself some nice frames, go through your old snaps, and get them up on the wall. Modern cameras all have high pixel rates, so you can blow up a great photo and make an impressive, and personal,  impact.
Try a multi aperture photo frame or two as well. You can even frame some of your artwork, which will give your room a unique character. Try anything to avoid the kind of stock photography you see in places like IKEA.
Keep your eyes peeled
Always be on the lookout for unusual pieces when you are out and about in town. Flea markets and car boot sales are great places for picking up bits and bobs, and you can find great gear that you won't find anywhere else.
Keep your eyes peeled when you are out walking, too. A walk on the beach can turn up some stunning knick knacks, and you might even find a piece of driftwood large enough to make an amazing shelf.
Be historical
Think about who you are as a person, and what you have done in your life. We're all different, so using this as a base for your design ideas can help you come up with some unique decor.
For example, perhaps you travelled a lot before having kids, or maybe you have an incredible record collection. If it's part of who you are now, then use those ideas to inform your home design style.
Any more tips to share? Why not get in touch and let us know?
Image Source