It may not feel like it at the moment but spring is just around the corner.
Spring is the perfect time of year to start a fresh, remove old household items and replace them with items that give your home a new lease of life.
To help you decide how to change the interior design of your home, I have put together five interior design trends for 2016, that will inspire and help you decide what would look great in your home.
---
Rose Quartz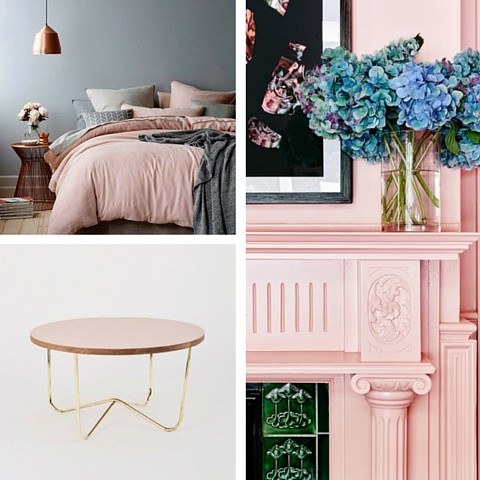 ---
Rose Quartz is a very soft pink, but do not be afraid of pink in the home, seeing pink as a colour just for girls, and blue just for boys is a very outdated concept.
Brass, copper and rose gold have had a huge resurgence in 2015 and their popularity is set to increase further still in 2016 and beyond.
The copper bedside table and pendent lamp in the top left image shows how well copper goes with rose quartz, and rooms with a soft undertone.
For sometime brass and copper have had a less than positive reputation, but you can see from the brass and rose quartz coffee table by Douglas and Bec in the bottom left, that they are nothing like the brass items of furniture we envisage from the past. This piece of furniture exudes style.
---
 Serenity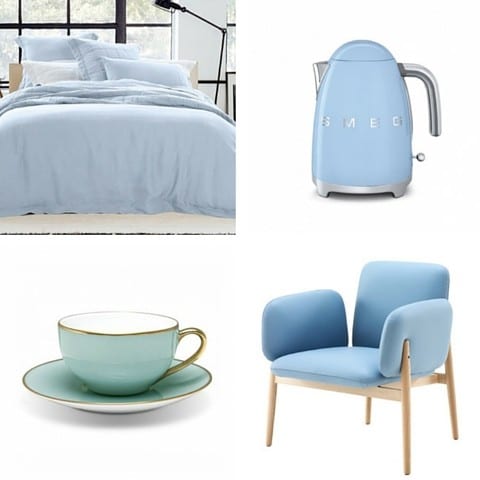 Image Source
---
Pantone is seen as a company with authority on colour trends and in 2016 they have predicted not just one colour (Rose Quartz), but two colours (Serenity) that will play an important part in our lives in 2016, be it in our homes, the clothes we wear and even the technological gadgets we use.
Here is a great article on rose quartz and serenity being the top on trend colours for 2016
Smeg appliances, as seen in the image on the top right, have always been a great go to company for guaranteed retro designs in pastel colours, and they also produce fridges, cookers and washing machines.
The images above are from Vogue Living 'How To Decorate With Pastels'. With the increased interest in Scandinavian furniture, Vogue Living's choice of chair by Lingne Roset – named 'Torii', is a great example of the Nordic trend of 2016.
---
Pantone Top Ten Colours For 2016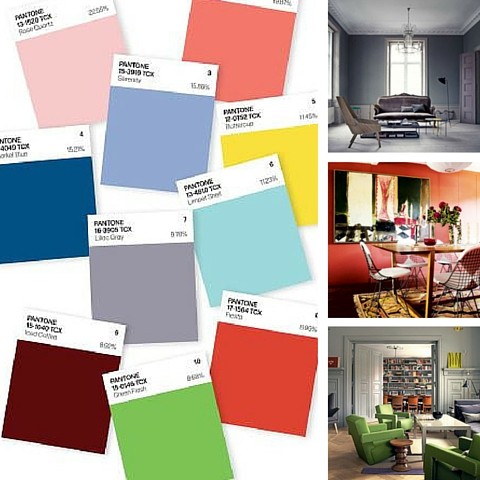 ---
If you look at the top ten colours Pantone predicted will be popular in spring 2016, you will note how they all have a calm, soft tone about them.
According to the executive director of Pantone Colour Institute Leatrice Eiseman
The fact that technology has gotten so overwhelming and so 24/7 has really created a great part of the need for these comforting, softer colours. Technology plays a huge part in people feeling like they want to stop the world and get off," she said. "At the same time, we can't deny that global doors are opening — as in Cuba and other south-of-the-border places.
The image on the top right has a stunning lilac grey sofa, which goes beautifully with the grey walls, another trend that is very popular in 2016.
Then underneath that image you have a picture taken from Vogue Australia, of a room with Fiesta painted walls, a great earthy, calmer tone of red.
In the bottom right  they have placed arm chairs that are coloured Green Flash. With a yellow undertone Green Flash is full of life but not an over powering bright colour.
---
Wooden Flooring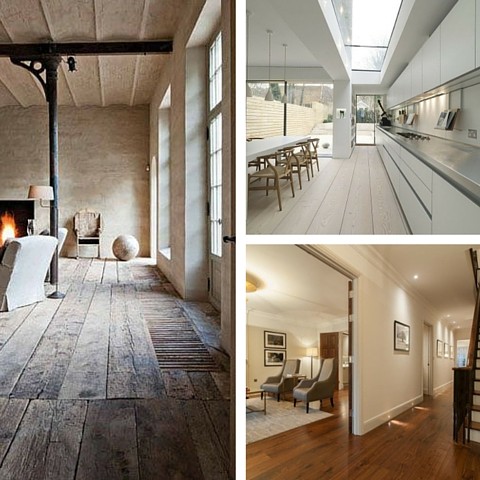 ---
Now we have inspired you with the wonderful colours that will be trending in 2016, we will take a look at the other interior design areas that are also seeing changes in 2016.
Flooring can add great character, depth and warmth to a room, it is important to fit the right material for your home as the wrong flooring can make a room look cold and or out of place.
Within the UK wooden flooring has continued year after year to be popular with home owners, architects and interior designers, and it is clear to see why.
If good quality wooden flooring is placed, it will last years, therefore a great investment, plus it's easy to maintain and has a homely, warm and welcoming look.
Wooden flooring will be seeing some big changes this year and will also be continuing with well-established trends, for example we continue to love the two extremes of colour from dark tones like walnut, to blonde/light coloured woods such as oak .
The natural appearance of blonde oak is an especially great colour to combine with the Pantone colours for 2016, but do make sure that whichever floor colour you choose that it will go with the colour of your furniture and walls, as although it is possible to sand and re-stain natural and engineered wood (only possible a couple of times), it will save a lot of time and money if you get the colour right the first time – so think ahead.
I love the image on the left, the new trend of wooden flooring being hyper natural, reclaimed and in different sizes, as it looks stunning in period properties, but it would not be practical for me as the spacing would make my home very draughty and collect all the children's and animal's spills.
I personally would go for an engineered light oak flooring that came in different lengths to add variety. I would also highly recommend quality engineered floorboards rather than solid.
It's definitely a good idea to speak to the professionals first as it's a big investment and what you like in the magazines, may not always be suitable for your home.
---
1970's
---
Within the fashion world and interior design world we are seeing a huge interest in 1970's designs, especially Scandinavian with bold or geometric prints.
Scandinavian furniture has a simple yet stylish design element, that although understated itself, can be a great canvas for bolder upholstery and fits perfectly within a room that has a lot of clashing patterns (another popular trend this season).
The top left image is a great example of mixing bold and different prints, from geometric, to jungle, to even fruit (very popular this season). They work so well, as the room is so neutral.
The top right image includes very striking black and white geometric shapes. The geometric shape became more and more popular during 2015 and is continuing to grow and become hugely popular in many homes during 2016. Adding a pop of colour with the yellow reproduction Eames armchair is a great way to bring the room and the geometric patterns alive.
The bottom left is an armchair reupholstered by sisters Natalia and Marta from Szczecin, who love Scandinavian furniture and scouring the flea markets and auctions for furniture to upcycle. I love how this armchair is bang on trend with it's Scandinavian design, and geometric and serenity blue upholstery.
You either love or hate the 1970's love of orange and brown, but you can't deny how such retro and funky designs/colours shaped a generation and still fill us with so much passion.
EllyMayHems who placed this picture on Etsy of her office, decided to redecorate and the piece that she was selling was the genuine Verner Panton fabric wall hanging.
Unfortunately the item has now sold, but the room, art work and furnishings are a great example of the 1970's love of of bold colours and Scandinavian furniture.
---
If you like any of the trends we have mentioned or there are any you like that we have missed off, then please leave a comment below, as we would love to hear your thoughts.
---
Main Image Source
---