Gazebos have been used in gardens since Greek and Roman times, while pergolas go back as far as ancient Egyptian times.
But what exactly is the difference between a gazebo and a pergola, and which structure is right for your garden?
Gazebos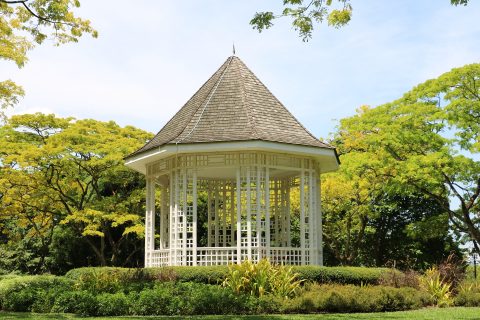 Gazebos are freestanding, pavilion-type garden structures usually made of wood or metal, and are either hexagonal or octagonal in shape. The roof normally slopes upward to a cone and there's built-in seating inside – some gazebos even have drapes or latticework.
Gazebos are normally positioned in a spot that offers the best view of a garden and they vary in size from a few feet in diameter to those that can accommodate groups of people for casual dining or relaxation. They also provide handy garden shelter from the sun, wind and rain.
Gazebo-like structures have been in existence for centuries. The Egyptians built them to support grapes for wine and raisins. The Greeks built temples in public spaces surrounded by gardens, and it was in these gardens that they built marble gazebos in memory of their gods and goddesses.
The Romans used private gardens as places to relax and entertain and constructed beautiful gazebos where they could gather and have fun.
During the Medieval and Renaissance periods, elaborate gazebos were built in church and monastery gardens and used as shrines, or as quiet places for meditation.
Asian teahouses were another form of a gazebo, most popular in China and Japan. The tea ceremony is a time of reflection and meditation, and is best enjoyed in the peace and tranquillity of the outdoors.
Gazebos became fashionable in England from the 16th to the 18th centuries, and could be found in many large private estates and public parks.
In the 19th century, many middle-class gardens had gazebos, but these functioned more as shelters from the sun rather than ornate architectural features.
In the late 19th and early 20th century, large gazebos were built in town parks and served as bandstands. Today, their nostalgic appeal make them a popular setting for garden weddings and other events.
Pergolas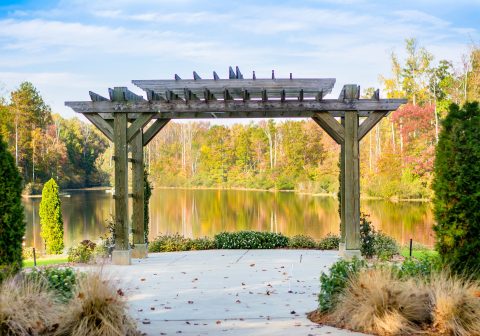 Pergolas are outdoor structures that consist of vertical pillars, or posts, that support an overhead grid of beams. The grid may be left open or covered to create an area sheltered from the elements. They can be used as an area for entertaining and are either freestanding or attached to a garden wall.
Pergolas often provide a walkway, or an entrance to another part of a garden and have trellised or latticed sides for plants to grow on. Benches or chairs can be set underneath them and the space used as a viewing spot.
Pergolas are either square or rectangular and the lattice-like structure is often covered with vines that climb gracefully up the sides and along the beams on the top.
While pergolas provide some shade, they don't provide protection from rain and weather, and are typically built to highlight the natural beauty of climbing flowers.
Pergolas date back to ancient Egyptian times and the Italian Renaissance period. The name 'pergola' is Italian for 'a close walk of boughs', referring to the fact that pergolas are narrow structures covered with plants.
Gazebo or Pergola – which one to choose for your garden?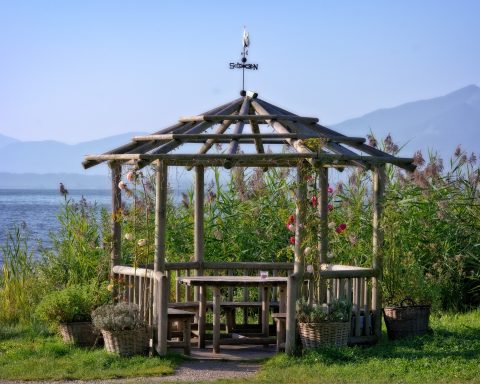 Most gazebos have solid roofs and floors, and most have built-in seating along the rails. This means they offer better protection from the elements and allow for entertaining even when it's raining. In contrast, pergolas are open to the elements and do not have solid floors.
Lighting and other electronics, such as amplifiers or other communication devices, can be installed in a gazebo. The pergola, on the other hand, is more of a peaceful, intimate area for conversations under the stars.
Although it does provide relief from direct sunlight when covered with vines or plants, it's not the place to be sitting in inclement weather.
Create your own private space
Most of us need a place to get away from the hustle and bustle of city life, even if it's only in our back gardens. To establish your very own hideaway in your garden, whether big or small, why not think about having a pergola or a gazebo built and incorporate a pathway that leads directly to it.
Hortons Group in West Sussex have a wide range of top quality pergolas and gazebos, made from timber that lasts for years. For added privacy, you can even have lattice-panelled walls built on the sides, and plant vines or climbing roses to grow up and over the framework. Make this your calm, beautiful space, your escape, in the peace and tranquillity of your own garden.