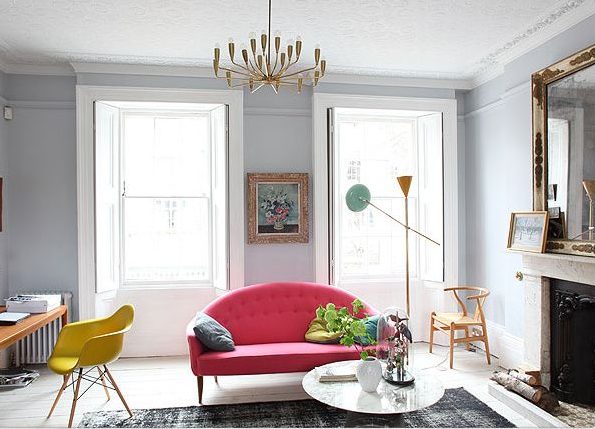 People often presume that if you live in an older property you need to fill the property with furniture that suits that era.
I believe this is not the case and find contemporary furniture looks great in properties old and new.
Firstly let's explain what contemporary and modern means in the design world, as the two can often get mixed up.
Modern designs originated after the art nouveau period when countries were recovering from and in the middle of two world wars (1920s – 1950s).
During this period resources became limited and unaffordable, so people could no longer afford items handmade and ornately crafted. Instead aided by an increase in industrialisation, furniture, lighting and accessories became simpler, streamlined and linear.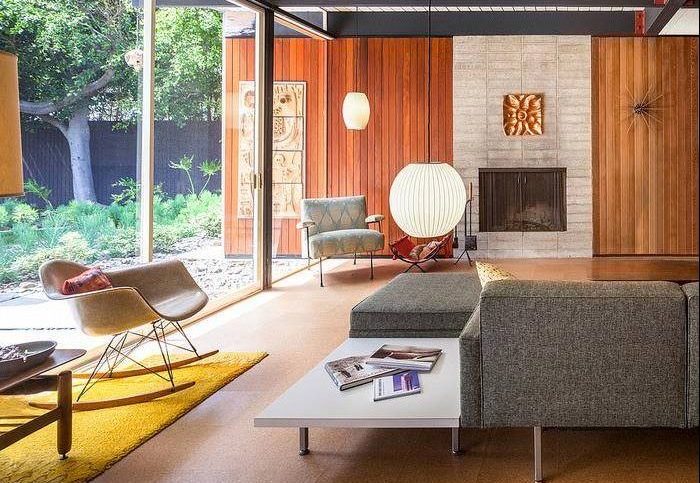 Image Source
The iconic period of design where modern furniture and architecture was taken to the next level, is called mid-century design. People once again had disposable income and sort fashionable items to furnish their homes, but were still heavily influenced by the modern design era.
This brings us to Contemporary designed furniture, as people often get the two mixed up believing that modern means the present and contemporary especially when attaching the term mid-century means the past.
It is in fact the other way round, modern design as mentioned above are from the past/a specific era in time and so are mid-Century design (1930s – 1960s). Contemporary interior design on the other hand is the designs we are using now.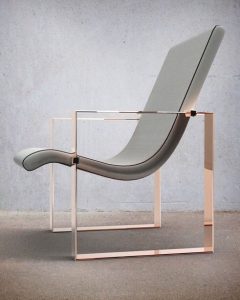 According to Leah from Relish Interiors
Contemporary by definition means "existing, occurring, or living at the same time; belonging to the same time." And that is exactly the same for the use of the term in interior design.
How do we then achieve and showcase a contemporary look within our homes? For a start what areas within Interior Design are you drawn to at present?
Rose gold, brass and copper are still very popular; yes they were popular metals and alloys used in the past, but contemporary is about what is being used now, and as you can see by scouring the internet, interior design magazines and the high street, rose gold, brass and copper are very popular at the moment.
You will also find that although a number of designs are influenced by the past, they have used this influence and created an original design.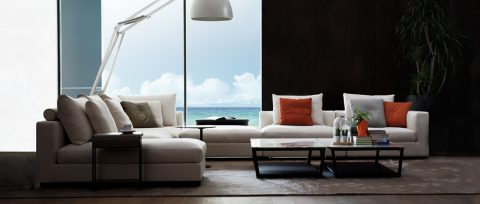 Image Clouds Corner Sofa from Camerich
The task lamp (swing arm lamp) was a very popular mid-century modern design that had originated from George Carwardine's Anglepoise lamp, which he had originally invented for industrial use and then realised it could possibly be marketed to households.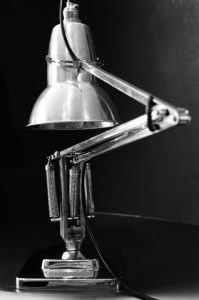 The lamp in the image above is a great example of mid-century modern design made into a contemporary piece by enlarging its size. To incorporate the design into your home keep the light as the only dominant piece of furniture and don't try to add other pieces that grand in size or along the same eye line as it could over power the room.
The designer of the room above has cleverly worked with black and white, a combination of colours that would often be too much of a contrast for many. With darker wall colours becoming increasingly more popular amongst homeowners, finding a way for the look to work and not resemble a dark gas lit Victorian property or a 1960s nightclub requires skill.
It also helps that the room is well lit from natural light streaming in from grand sized windows, plus the clever positioning of the sofa. Had the entire sofa been placed in front of the black wall it would have been too much.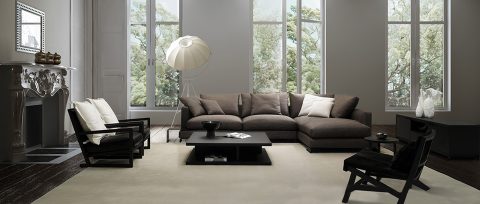 Image Lazytime Corner Sofa from Camerich
I can imagine the room above having once been very dark in colour with richly detailed wall paper, huge wooden shutters, deep rich upholstered furniture and a dark but inviting fire place.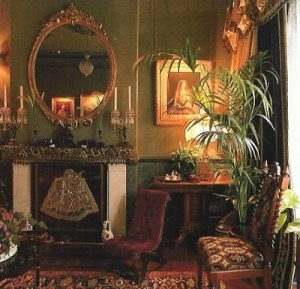 In contrast the room has now been painted white with no part of the structure of the room standing out. Even the fireplace would fade into the back ground if it wasn't for the ornate moulding.
The great part about a room's interior being designed like this is that it shows off the furniture instead of the room. With so many wonderful pieces of contemporary furniture why wouldn't you want to have them fully on show?
A great tip designers use to pull the whole room together especially in contemporary rooms inspired by modern minimalist designs, is to purchase a rug big enough to place at least the sofa, side and coffee tables on,  as it adds warmth and depth to the room and pulls the look together.
These tips should get you started on your path to your dream contemporary interiors. And should you have any tips of your own we would love to hear about them in the comments below.
Main Image Source