A guide to creating your ideal home office.
Creating the best looking, and most efficient home office
There are a lot of considerations and requirements for taking the plunge at starting your own business and working out of your home: a business plan; funding; connections. These are just a few of the necessities, but there is something that people may always overlook: how your home office actually looks.
The better designed and maintained your home office is, the better your productivity and your efficiency. Think about it; if you are sitting in a dingy, bleak, miserable room all day, you are naturally going to feel down and unmotivated. Having the proper office for you and your needs it vital.
So, without further ado, here are some pointers that you can take on board to get the home office that you need.
Go Minimalist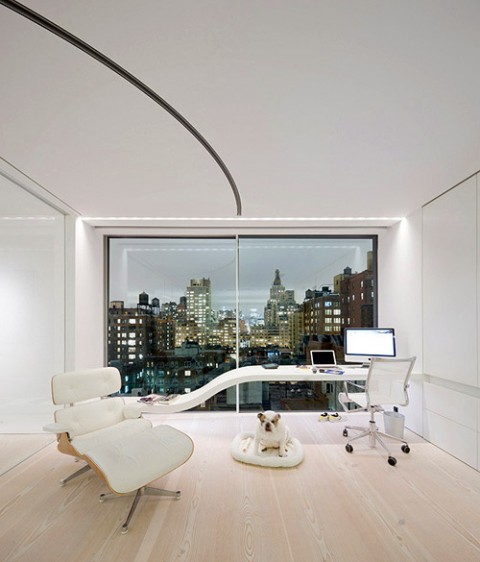 Image Source
Keeping your office minimalistic will help you pull off a productive work day as it eases off distraction. If there is less there for you to divert your attention to, then you are going to be focused on your work. So, definitely don't be hanging a 40 inch plasma in your home office if you're wanting to get work done.
Cool, neutral colours will be your friend in this endeavour. Whites, ivories, greys and tans can actually help you feel comfortable in your environment and importantly, do not distract. Check out this Pinterest page for some more ideas along these lines.
Storage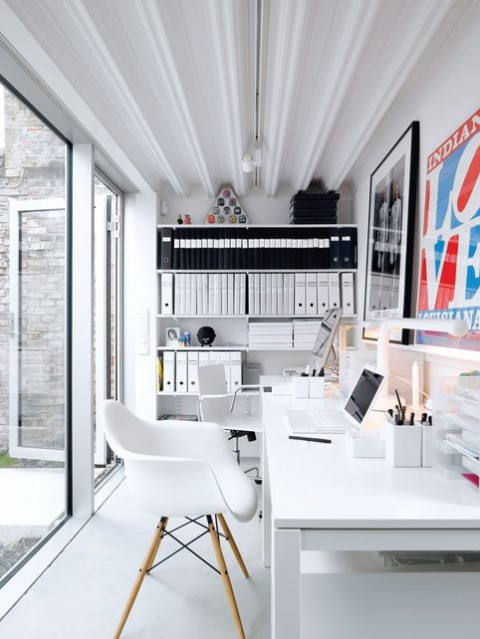 Image Source
While the first point in this article is important, it is also important to not go too minimalist, particularly in terms of your storage. Keeping organised is a key factor to your productivity, and having adequate storage for your files, documents and bits & bobs is vital to keeping organised.
There are many routes you can go down in terms of storage to keep your minimalist theme going. Spaceist.co.uk are specialists in this type of office furniture, but if you're looking for something a bit smaller then IKEA should be your first stop.
Lighting
Lighting is important anywhere, but particularly if you're going to be spending a large part of your day under them, as you would in a home office, they need to be right.
LED lights are the way to go with this. Not only are they cost efficient, but they are better for you as they don't give off any UV light. They also come in a variety of designs, shapes, sizes etc so you can get that ideal lighting situation to match the rest of the design of your home office. Also, they are ideal for nurturing plant life; which moves us onto the next point.
Foliage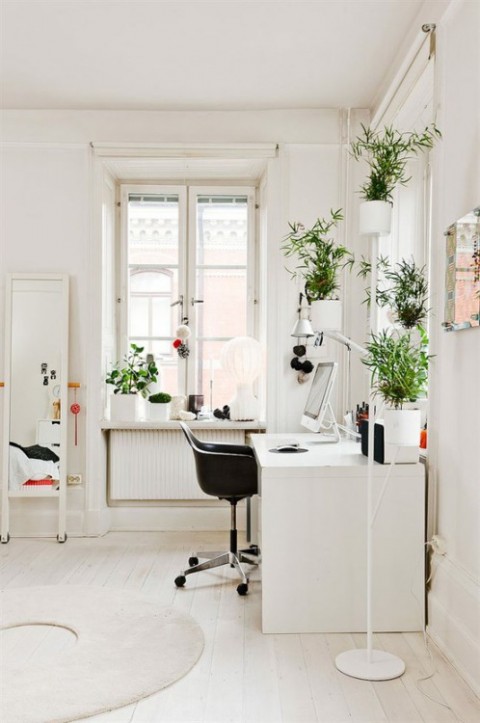 Image Source
Who doesn't like a nice plant or two? They liven the place up, but at the same time, are not exciting enough to distract you – which will fit in with your minimalist theme if you have been taking heed of the rest of this.
Plants are also very helpful in a working area, as they are scientifically proven to increase happiness and productivity. So, pick out the plants that you like and use them to your advantage, on both a mental and productivity level.
Main Image Source