We were lucky enough to get an opportunity to interview kitchen glass splash-back specialists CreoGlass, to find out the low-down on what to consider for your own kitchen design in 2016, some of the thoughts and inspiration behind new CreoGlass designs, and much more.
Hi, thanks for agreeing to do an interview with us!
Before we get down to the fundamental details, could you tell us a bit about how Bohdan got into the glass and kitchen worktops/splashbacks industry?
Glass become a new canvas for Bohdan's creativity and passion for business development in early 2013. He's mother was a designer and father was a architect.
Bohdan attended art school since the age of six but it was only later on when he realised his passion for product design, marketing and business development.
CreoGlass is a great brand-name. Who came up with the concept and the name?
The word "Creo" comes from mediterranean region and stands for "Believe" or "Created" CreoGlass Design was created by Bohdan himself.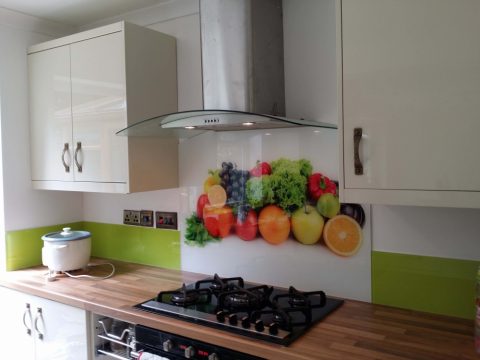 What is the main benefit of a high quality kitchen splashback?
Splashbacks are designed to be placed anywhere that you would normally have tiles, and because there is no grout they are very easy to keep clean, making it very hygienic. We also have a huge range of splashback designs to choose from which makes a fresh change to the traditional tiles.
What separates CreoGlass from the competitors?
There are many glass splashback suppliers who have a variety of plain colours but at Creoglass along with the plain colours we have 100's of different textures and patterns to select from.
Along with the large choice of designs, we create all of the finishes in our own workshop and do not work with subcontracts, so you know we are fully in control of your project.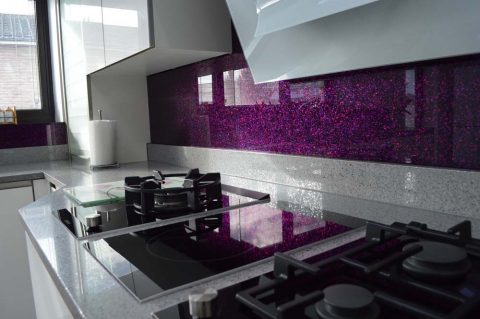 Have you worked on any exciting projects recently that you can tell us about?
At the moment a lot of our current projects are for our package deals – so glass splashbacks and worktops. These are really interesting to work on as it means our customers can combine our collections and are not limited to stick to just one design or sparkle!
There's also the opportunity to go crazy with colours as our worktops can also be colour matched to Dulux, Farrow and Ball and RAL. Matching colours and playing with combinations inspires our designers and our website is constantly being redesigned to let people play around with colour to their hearts desires.
When you and your team are coming up with new designs, what influences do you have and what kind of process goes into the design stage?
Our biggest influence is our customers. They often come to us with an idea and we can then use our knowledge and experience to find a way to turn it into reality. We recently had a customer who wanted cave paintings on her splashbacks, so we contacted an artist who worked with us to create the final design, so anything and everything is possible!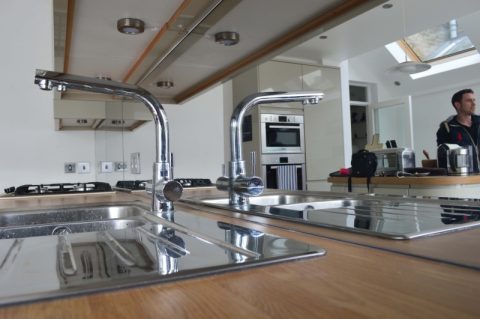 What type of designs do you think will be most popular in 2016?
At the moment we are working on a prototype for toughened ice cracked mirror which means it would be suitable for behind the hob and can have cut outs for sockets, unlike the regular ice cracked glass on the market.
This design has always been very popular but because it's not toughened it's limited to where it can be used, hopefully this new concept will eliminate this problem and make it much more versatile.
We take great pleasure in refining our trade and the continuous learning keeps us on our toes and keeps us loving what we do.
Where do you see kitchens going in the future, and is there any kitchen tech that has really impressed you recently?
Wow… there are many trends in the kitchen interior world, just which will resonate with people in the long term is anyone's guess.
Automated kitchens with tech seem to be of interest to big business however, the kitchen is so central to the family household that whichever tech makes it will need to be focused on making the family come together the defining characteristic.
Saying that, we think back to basics and working with top quality designers and architects to create the best possible spaces for the family are becoming more accessible and affordable to family budgets.
It is amazing what can be done with limited space with some thought and innovative ideas. I don't think a lazer vegetable peeler would bring as much pleasure than getting the basics right.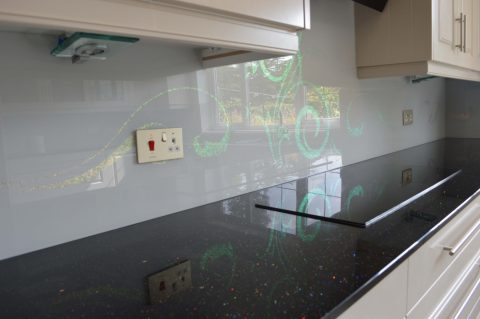 Everyone wants everything in a hurry, but what time frame do you think is reasonable for someone to go from choosing a kitchen surface or splashback, to getting in delivered and fully installed?
We are always the last people in on kitchen and bathroom renovations so we do understand that our customers would ideally like the installation as quickly as possible.
Our standard lead time is 4 weeks from measuring to installation which allows us to have the glass manufactured and processed in our workshop. The glass is completely opaque and so if any marks are made on the wall during the production process they will be hidden.
Are there any common mistakes you see people make frequently?
Pitfalls include misquoting measurements and getting colour palettes incorrectly. Our team help with this now hands on, so it is only an inconvenience to us but keeps everyone happy in the long run.
A glass splashback or worktop is not something that is going to be changed often so we advise our customers to take their time making a design on the colour or design. You still have time while the glass is being manufactured to decide, so don't feel under pressure.
Finally, if you had one tip for a newbie that wanted to design the perfect kitchen, what would it be?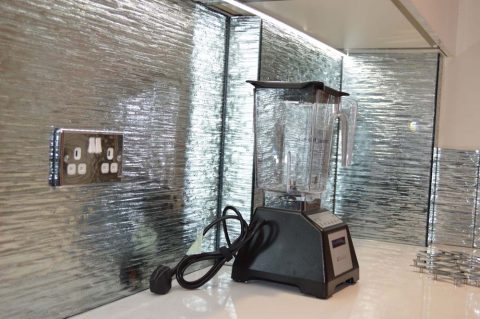 Going back to one of our previous points, design the kitchen as the central part of the household. We spend more time in the kitchen with our loved ones, then any other room in the house. Keep it open, airy and full of light.
Whether you spend the rest of your life in the house or plan on selling in two years, the investment is worth it either way. Think of ways to combine cooking areas with storage, connecting to the dining room and living room if possible.
My best advice is if your dining room is connected to the kitchen then put the wall through and bring them in together. You might actually use the dining room if you do this, and it will open up the house and let you see more of the family when you're all there together.