Often one of the most overlooked rooms on your home, a corridor or hall can sometimes lack design and attention.
However, hall runners are a great way of of sprucing up your home and creating a beautiful aesthetic throughout a house instead of just focusing on one room at a time.
Hall runners add a pop of colour or pattern to any hallway and can be incorporated to fit themes already in your home proving hall runners versatility.
Before choosing on a hall runner consider the overall look you are trying to achieve. Are you going to carry a theme on from another room or are you going to make your hallway a unique feature in itself.
By identifying what you want this first will help with your search for that perfect hall runner. You can do this by identifying colours in the rooms that the hallway lead to and thinking about which colours will compliment each other when all of the doors are open and the rooms are visible.
Ideally you want your hall runner to work harmoniously with the rest of your home to build a strong design theme.
Striped Runners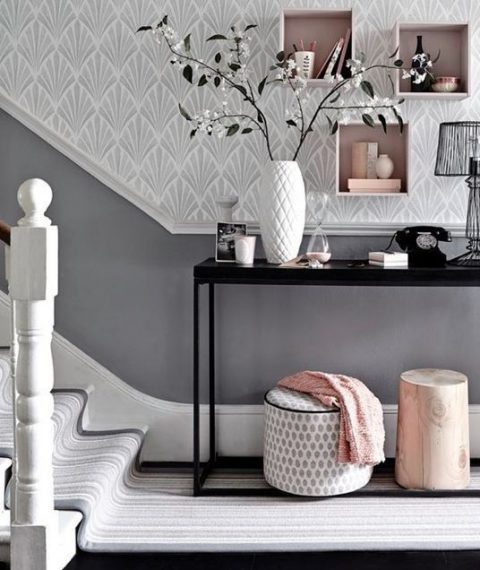 Image Source
Choosing a striped runner helps to bring a sense of fluidity to a room. If you have a narrow hallway opt for vertical stripes as this will elongate the look of the hall and work with the floor to create a feel of direction.
On the opposite side of the spectrum, if you have a very wide hallway that you are looking to shrink in appearance then use a horizontal stripe.
This will make the hall feel shorter and narrower by disrupting the flow of the floor. This is ideal if you don't have any furniture or accessories in a wide hallway as it will make the hall feel slightly cosier.
Patterned Runners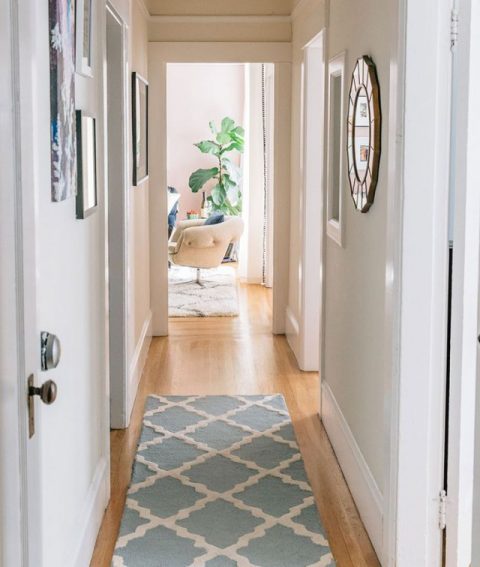 Image Source
If you're looking to add a little more design then try a patterned hall runner. With the many different hall runners available you can get any number of patterns from floral, geometric or abstract.
These all use a combination of colours for a gorgeous and solid look. Patterned hall runners are a feature accessory and will allow you to build further with accent pieces such as mirrors and candles for a beautiful finish.
Plain Runners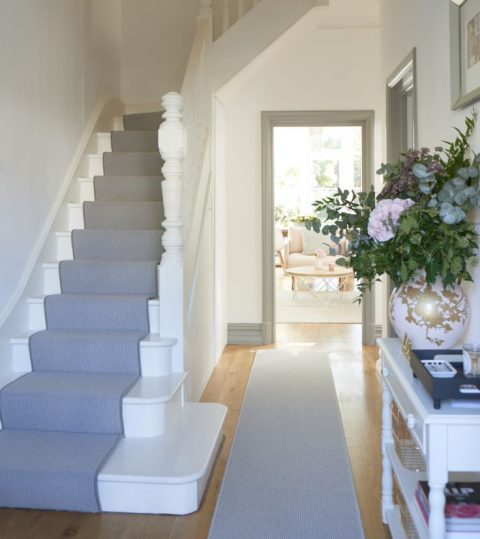 Image Source
If you don't want anything too dramatic but still want that added touch that a hall runner can offer, than a plain hall runner is perfect for you.
Plain hall runners can warm a rooms atmosphere while retaining a modern yet homely look. This is your go-to if you have a bold wall colour or busy wallpaper as it will tone down the overall aesthetic.
Once you've identified your ideal hall runner you will need to measure your hall. Hall runners aren't supposed to go wall-to-wall. Ideally, you will need to be able to leave six to 12 inches from the edge of your rug to the wall for a classic look.
Hall runner rugs are a great way of continuing great style and warmth throughout a home. Don't neglect your corridor, they are the entrance point to the rooms in your house and they deserve just as much attention as any other room.