Whether you're expecting your first child or your fourth, transforming your spare room into a nursery is a fantastic rite of passage for parents-to-be.
If you're wanting to choose a unique and fun theme that is bang on trend for 2018, look no further. We have plenty of ideas for you to browse below. Plus, a number of the options are gender neutral – perfect if you're planning to find out the baby's sex when it arrives, or if you're not a fan of 'gendered' colours.
1. Twinkle Twinkle Little Star: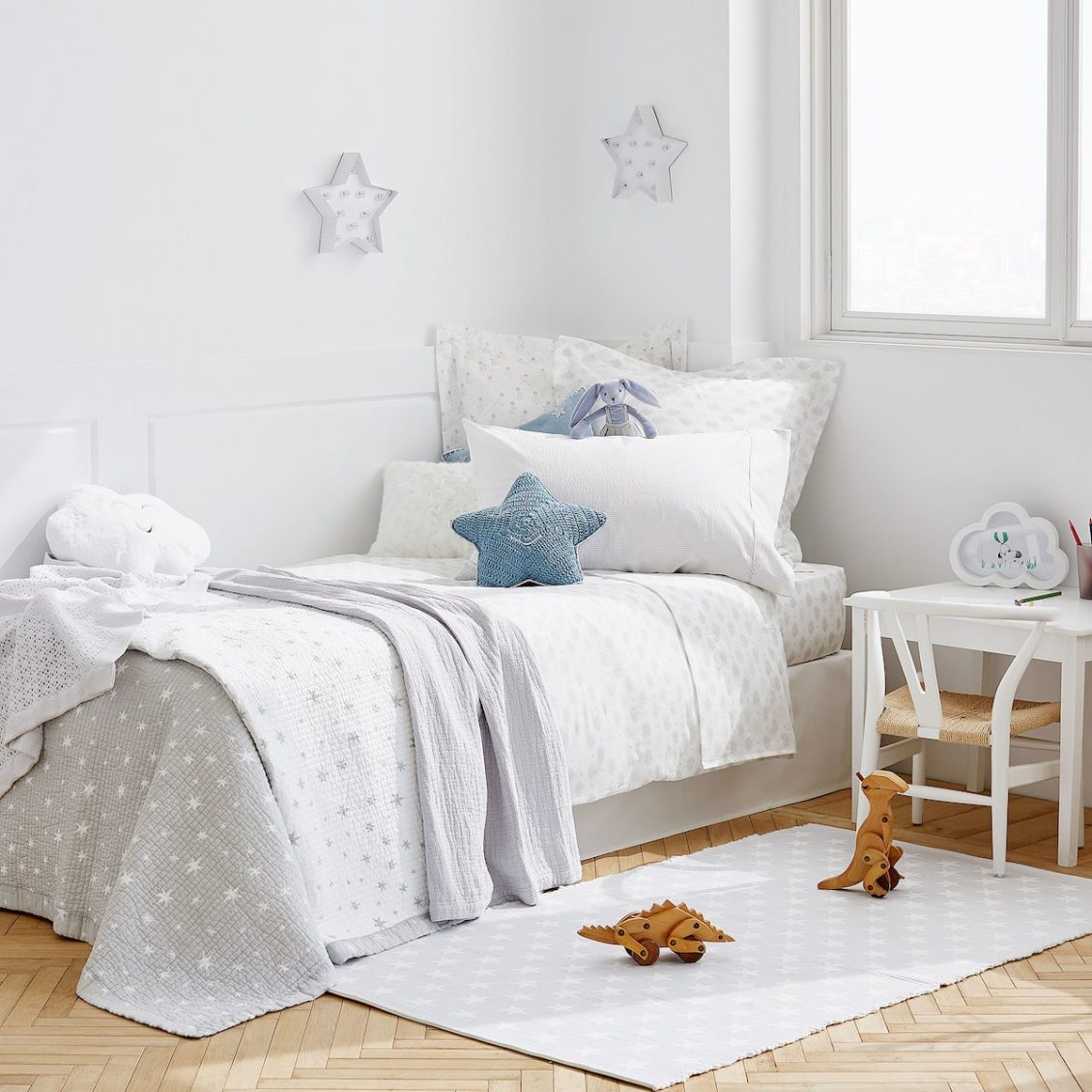 Looking for a dreamy theme for your little one's nursery?  Mix shades of white and soft, delicate greys with coordinating accessories that have been sprinkled with stars.
We love:  this Zara Home Star Print Cotton Duvet Cover (which is available in both cot and child's single bed size). From £12.99.
2.  Wonderful Watercolour: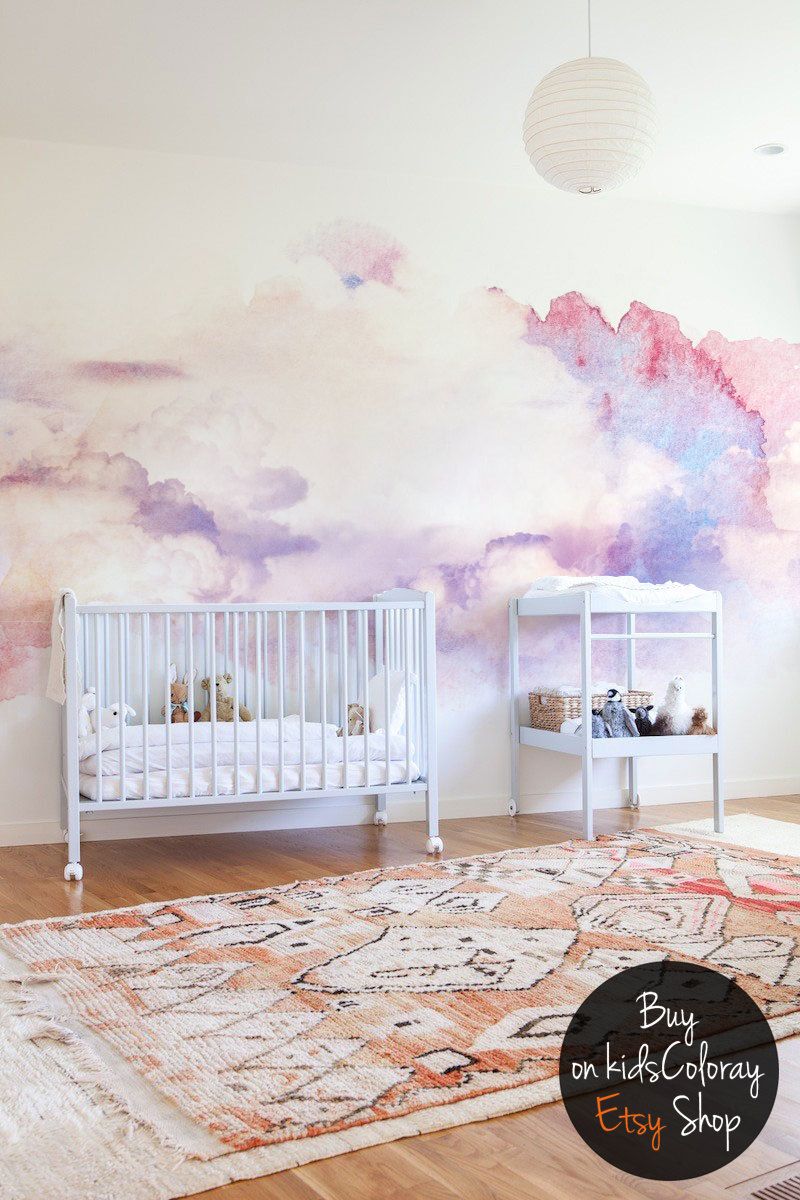 Watercolour is very popular in home design at the moment, so why not bring the trend into your nursery?  Decorate with shades of rich green, inky blues or warm pink – or choose a mixture of them all!   Choose soft, muted tones or go bold and daring with brighter shades.
We love:  This watercolour wallpaper from KidsColoray on ETSY – £249.59
3.  White-on-White: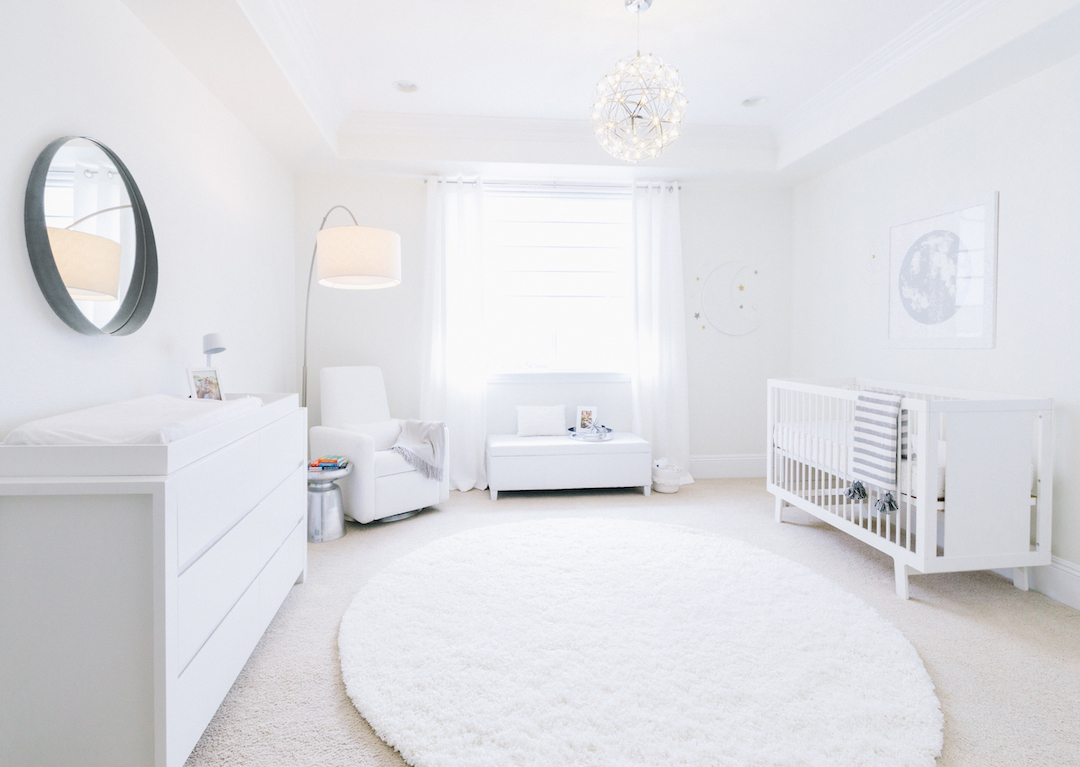 According to a joint research project conducted by Air B&B and interior design website Houzz, in 2018, the most popular colour for parents to paint their baby's nursery is white. In fact, nearly half of the parents surveyed by the two companies opted for the achromatic hue. We love decorating with white-on-white for a fresh, contemporary and bright look.  To avoid your nursery looking stark and clinical, use fluffy textures to add softness.
We love:  JEJN soft, warm and cosy faux fur rug from IKEA – £10. Perfect for tip-toeing over, away from baby's cot when he finally settles!
4. Rainbow: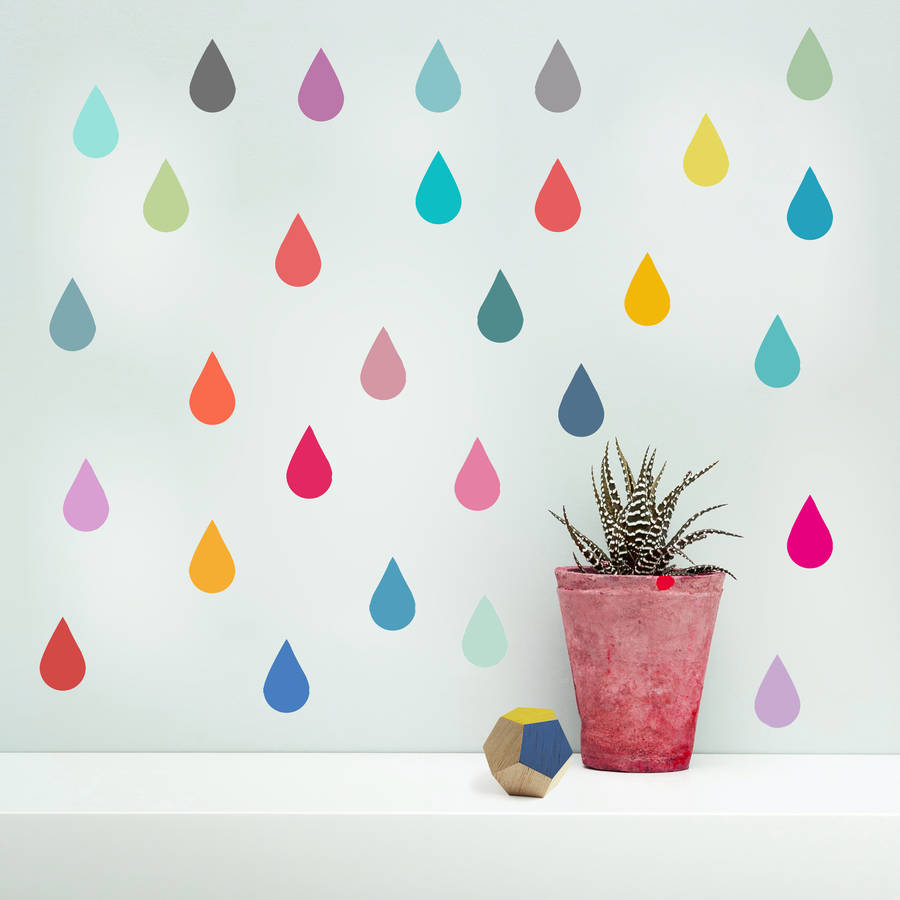 Decorate your nursery with all the colours of the rainbow for a fun and cheery theme.  Opt for soft pastels to create a muted look, or choose bold and bright shades for standout style.
We love:  These rainbow raindrop decals by Oakdene. Add them to the wall above your baby's cot for an easy way to add a splash of colour to the nursery.   Available from Notonthehighstreet.com for £18.
5.  Brilliant Bears: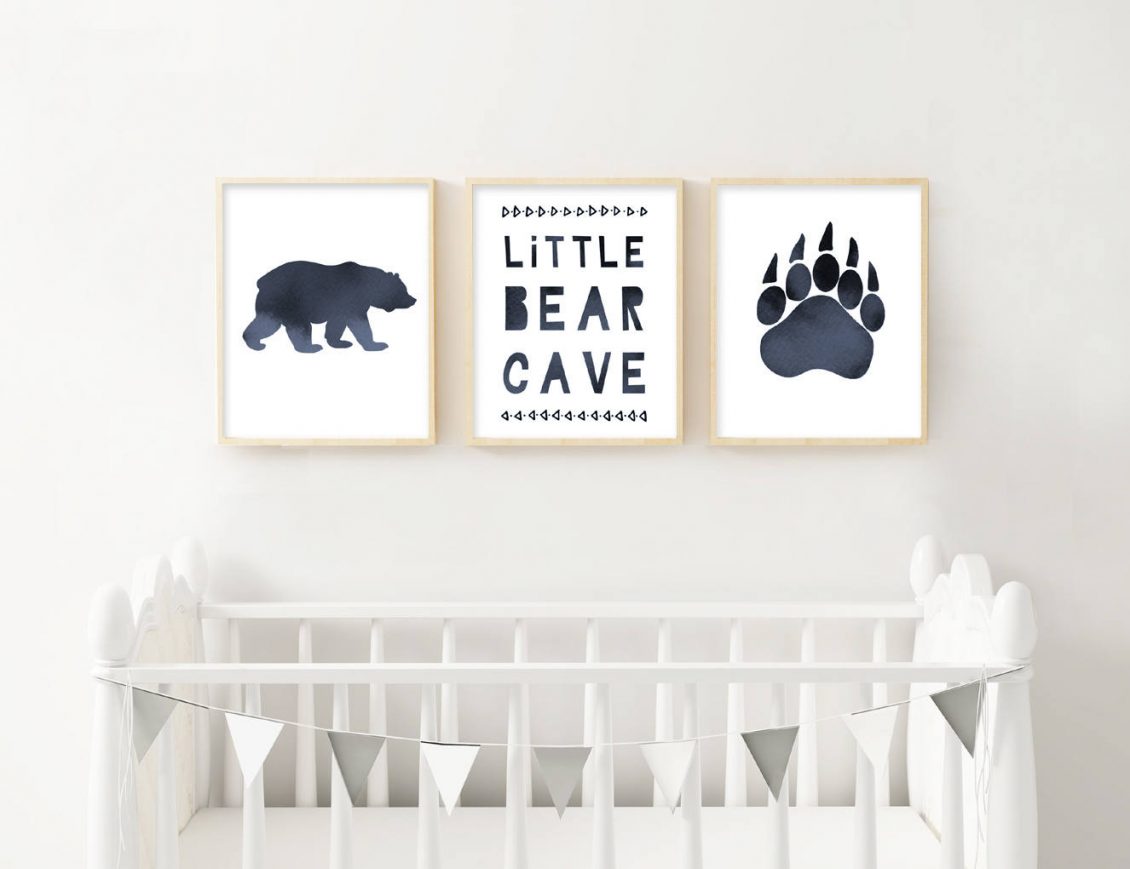 Move over lambs and bunnies, there's a new animal on trend right now: the bear (and we don't mean of the teddy variety!)  Create a statement wall in your nursery by decorating with bear print wallpaper, or search online to find dozens of bear-print bedding sets, woodland quilts, ornaments and prints to help you achieve this theme.
We love:  Outdoor themed bedroom prints for a "little bear cave". From £10.50 on ETSY.com.
6.  Fabulous Florals: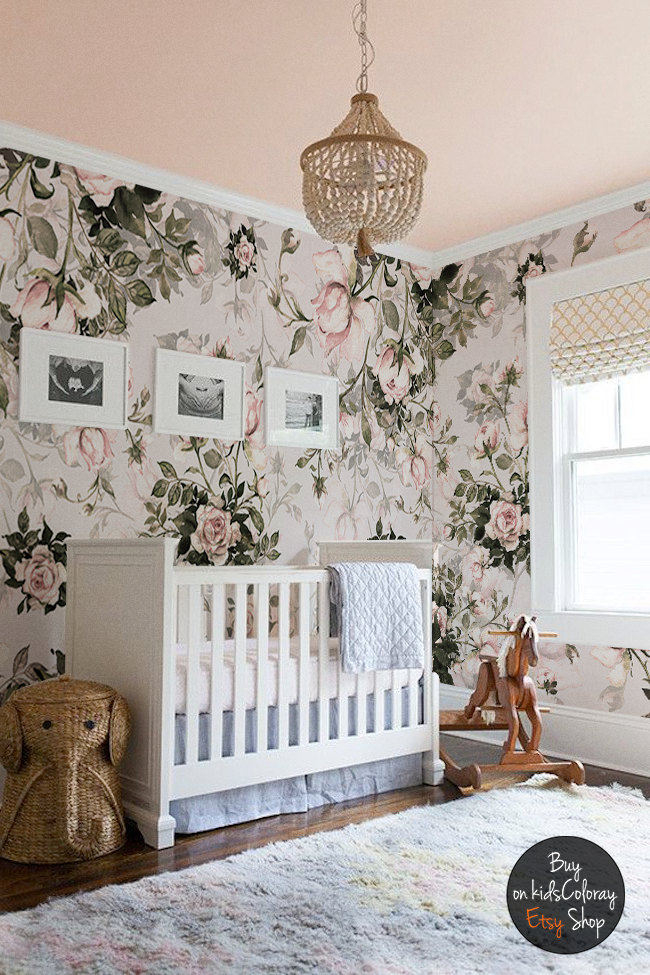 Bring your baby's room into bloom with beautiful botanicals!  Invite the outside in with fabulous floral furnishings and on-trend greenery.  Use real plants or faux foliage (depending on how green-fingered you are) to add a finishng flourish to the nursery. Note:  if you're going for real plants, remember to shop for non-toxic varieties.
We love: Large Green Stem Arrangement from M&S for £49.50. It'll create a fantastic focal point placed on a shelf in the corner of the room.