Using tiles as wall coverings is common in most people's homes. While there are other options offering great value for money, these ceramic elements are also very functional and versatile, easy to maintain and really hard-wearing.
In bathrooms, as well as kitchens, hygiene can be seen as an advantage. Another notable highlight of using tiles in your bathroom is that they offer a wide variety of design combinations. Tiles can be combined with smaller mosaics, matching borders of different sizes or even large tiles.
In this article, we will see in detail the most common types of tiles and the most popular trends.
What are the most common tiles used in bathrooms?
Porcelain and ceramic tiles
Porcelain and ceramic tiles are arguably the most common tiles used in bathrooms. Besides working great as wall tiles, they are suitable for use in a variety of rooms. For instance, these tiles can be installed in bathrooms, kitchen floors, living rooms or even outdoor terraces.
Ceramic and porcelain tiles are treated to protect against moisture and in most cases, tiles are very resistant to heat and most chemical agents too. This makes tiles a very resistant material.
Now let's shift the focus slightly towards design instead of properties.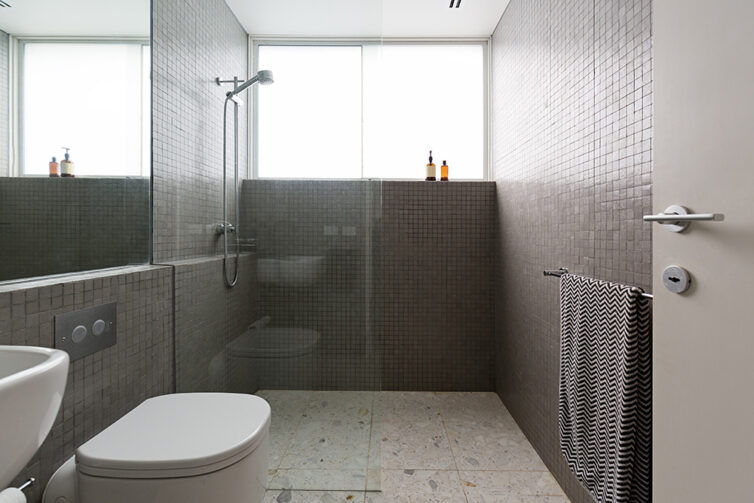 Mosaics
Mosaics are a type of ceramic tiles with irregular shapes that add colour and strength to the decor. They are mostly used on floors and walls but even furniture in some cases.
Terra cotta tiles
Terra cotta tiles are also known for their resistance. These tiles' main feature is their warm colour: reddish, orange tones. These tiles tend to be less slippery compared to other ceramic materials.
Stone tiles
Stone tiles can be made out of slate, marble or other types of natural stone. They have great durability but their installation can be difficult and they do not convey the same feeling of warmth.
Popular bathroom tiles trends
The tiles in a house, no matter where they are installed, are much more than a basic element of decoration. The presence of tiles adds not only to the aesthetic of the room, but also to its functionality and level of comfort. However, there is no doubt that the main feature of tiles is their ability to provide a unique dash of colour in our homes.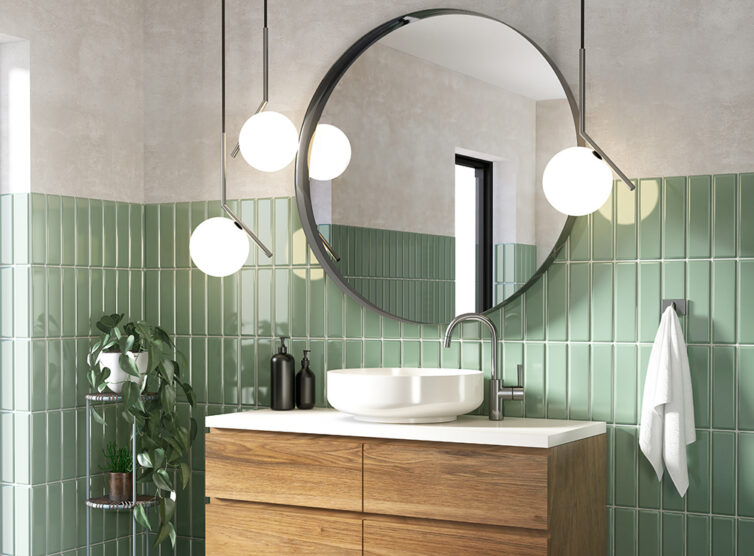 A great option is using marble-looking tiles. These tiles have a texture similar to marble and are reminiscent of classical times, offering a sense of sophistication to the room. Marble tiles come in different formats and various colours as well as veins. Gray and golden veins on a white background is a safe bet, but not brilliant white, rather a more natural one.
If you are looking for an industrial environment, not so classic, cement tiles are the best choice. These types of tiles will give your room a sober style, using them on floors too will provide a nonslip effect very suitable for bathrooms.
Stone imitation tiles appear to look like the genuine real stones. The formula used to make stone-looking tiles, aims to inspire a natural atmosphere, more rustic, these tiles intend to bring nature into our home.
A popular option for floor coverings are wood-looking tiles. These tiles have the strong eye-catching effect of parquet but come with the advantages of porcelain tiles: resistance, durability and protection against moisture.
Ceramic mosaics, coloured tiles can be an innovative option
Last but not least, coloured ceramic mosais tiles do not pretend to emulate other materials. It's solely about ceramic tiles: coloured tiles, large sized mosaics. These multicoloured pieces often have bright and intense tones, adding a cheerful and original touch to your walls. Although this option is not recommended in smaller sized bathrooms, as the visual effect causes the room to look smaller and the tiles overwhelming!
There are just too many tile designs to use in your bathroom, the key to getting them right is by playing around with their finishes and textures.