With nature so strongly influencing interior design and fashion, it's no wonder Pantone chose a colour that embodies nature itself.
They have gone for a very fresh and alive green with a touch of yellow. A green that signifies new beginnings, and life itself, and which sits perfectly alongside the ever popular Nordic/Scandinavian trends.
How to incorporate Greenery into your home
Greenery can be incorporated into your home in many ways. The most simple way is to add house plants and plenty of them. Use conventional plant pots or have a try at growing a living walls.
[youtube https://www.youtube.com/watch?v=xMO-Ig_fRts&w=480&h=270]
Summer Rayne Oaks with the help of Mingo Design filled her small apartment in Brooklyn New York with 500 plants including a living wall. I love that Summer also painted her apartment in a colour close to Greenery.
Botanical Wallpaper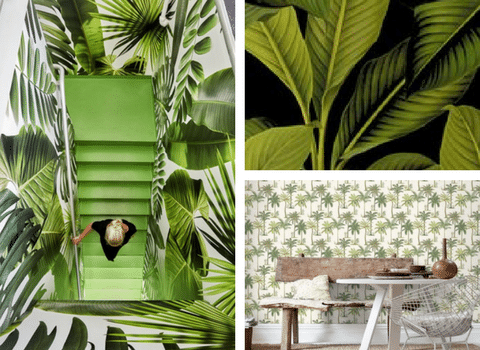 Not all of us are green fingered so why not bring Greenery and plant life into your home by adding botanical wallpaper.
My favourite has got to be the bold botanical print from the office of Manhattan based advertising company Barrows. Ghislaine Viñas not only designed the office she also designed the wallpaper for Flavor Paper.
High Street Accessories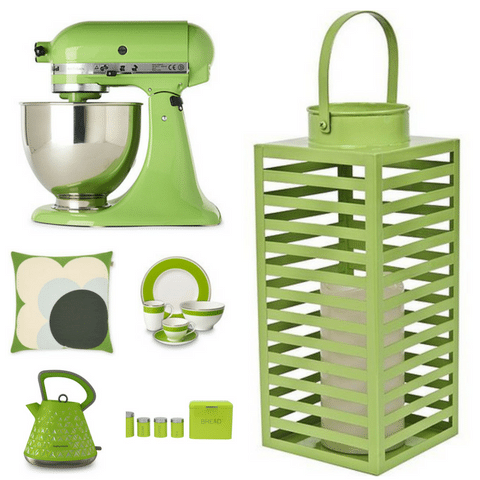 Image Source: 1, 2, 3, 4, 5, 6.
If you are looking for something less dramatic, but would like to stay on trend and add a touch of Greenery within your home, why not add accessories, you can then be as subtle or bold as you like.
The Morphy Richards prism kettle is something else, ticking so many trend boxes, from the colour to the geometric pattern. And it's great to see that the kettle and other items can be purchased easily at high street stores.
Painting Walls & Furniture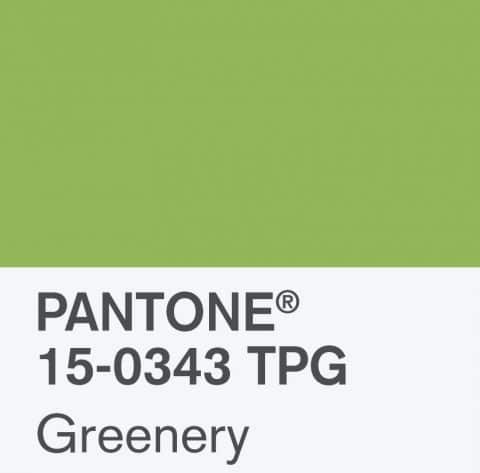 Colour experts have long believed in the benefits of green, so make the most of those benefits and use a brand of paint that is kind to your health and the environment.
I use a great company called ECOS paints as I also suffer from Allergies that are worsened by paint fumes. Use their free colour match service and they can easily match up the Pantone colour Greenery for you.
Though remember different batches of paint no matter where you purchase them from never 100% match, so make sure you order enough the first time around.
Greenery Fabrics & Furniture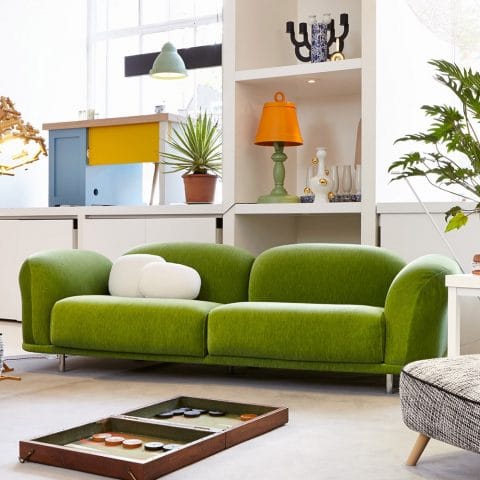 Image Source: 1.
Find a sofa of similar colour such as the Moooi Cloud Sofa above from Houseology Design Group Ltd, or purchase a colour swatch card from Pantone and have your old sofas and armchairs reupholstered.
There are a number of companies that will build you a sofa from scratch, with your desired material and colour. If Greenery is the colour you have fallen in love with then why not.
Main Image Source
If you have a favourite Greenery piece we would love to hear about it in the comments below.