Last week, Dulux announced their Colour of the Year for 2022. They chose…. drumroll, please… Bright Skies! A fresh blue tone reminiscent of cloud-free morning skies.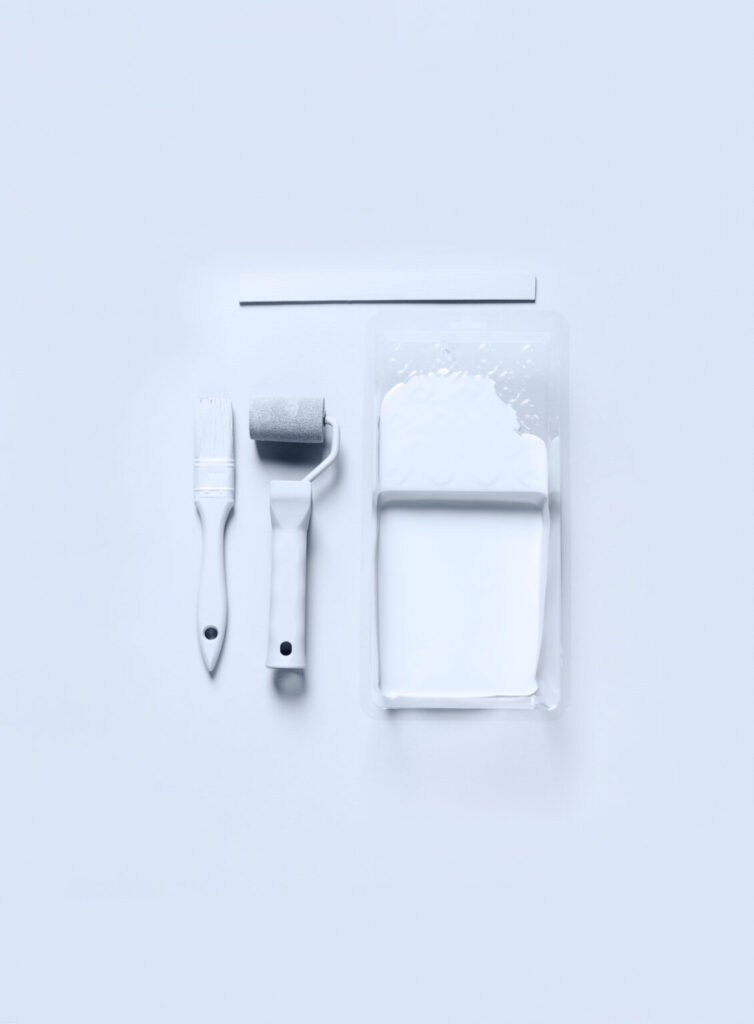 The company say the light and airy tone will "open up and [breathe] new life into any space".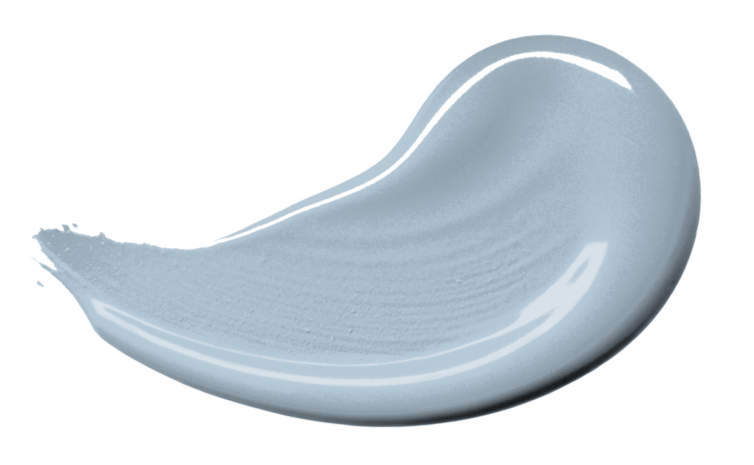 This is the 19th Colour of the Year chosen by Dulux. For nearly two decades, the company have consulted with experts from the fields of design, fashion, interiors, social economics and architecture to make their selection. For 2022, the experts wanted to capture our desire to reconnect with nature and get outside. Bright Skies is the perfect antidote to lockdowns, self-isolation, cancelled foreign holidays and the humdrum of everyday life. It's an optimistic, uplifting shade and a much-needed breath of fresh air.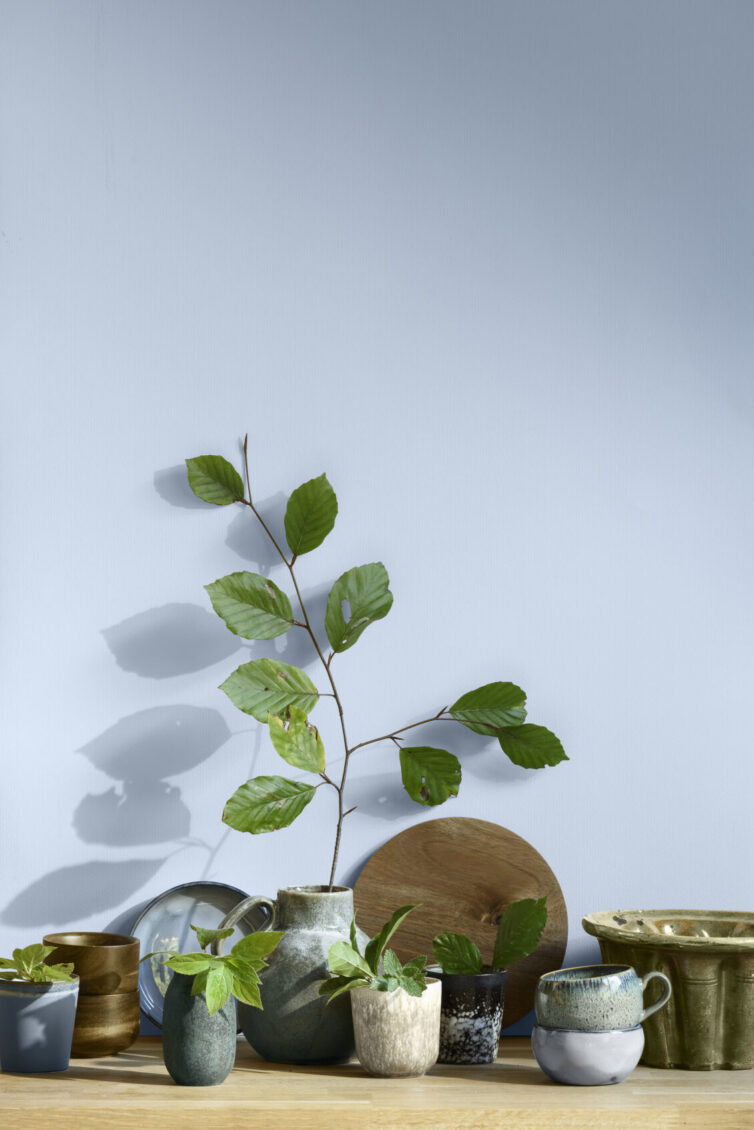 How to decorate with Bright Skies:
Dulux's colour experts have put together four colour palettes to use with Bright Skies, full of complementary shades. Perfect if you want to reinvent a room but don't know where to start!
This is the Workshop palette, it's suited for a living room that constantly reinvents itself throughout the day: from social hub to home office to classroom to relaxing space. It's a vibrant and joyful colour sheme. Pair Bright Skies with Healing Spice, Rose Canopy and Golden Cookie to get the look.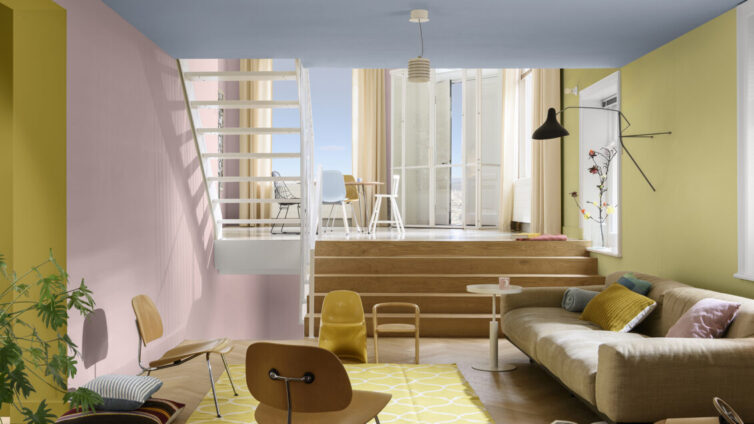 Here's the Greenhouse palette. It brings the positive effects of nature into the home using on-trend green and blue hues. Combine Bright Skies with Moon Cloud, River Valley and Denim Drift to achieve this look in your home.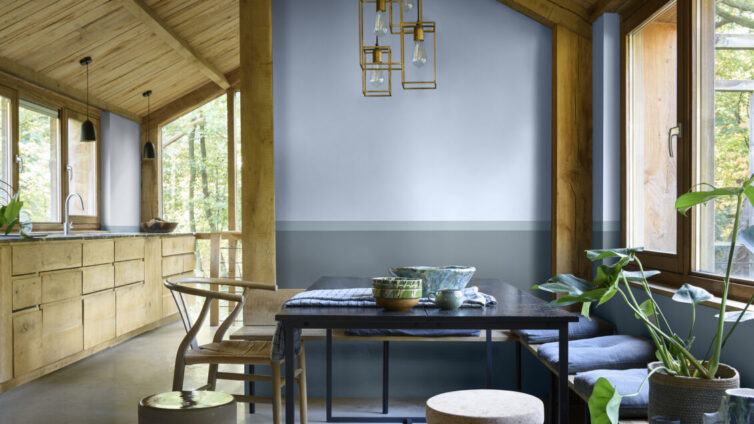 The third palette is called Studio. This soft, and airy combination will create a soothing space. There are only three colours in this palette, Bright Skies, Restful Summer and Birch Root.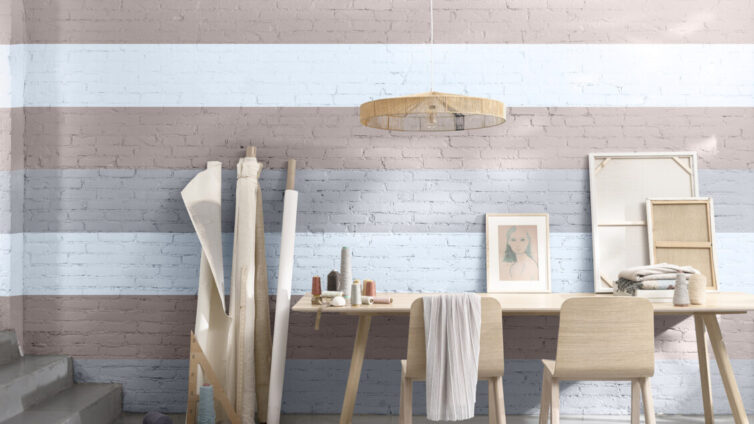 The fourth and final palette is called Salon. It's a combination of soft white and light neutrals that Dulux say will create "an open space that's ready for anything." Use Bright Skies with Rubble Road and Cliff Walk to get the look.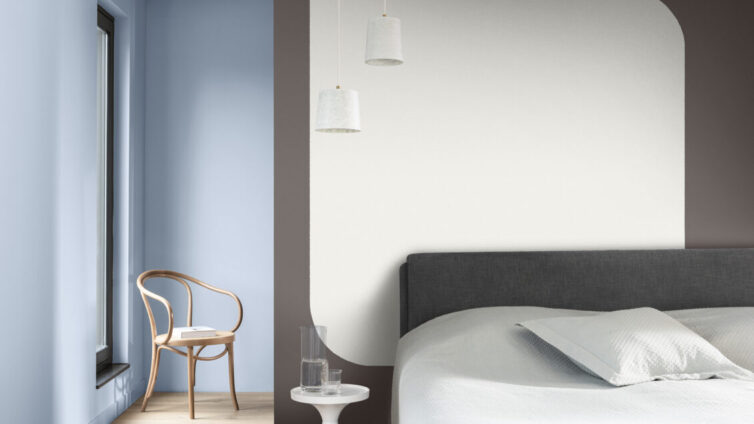 Where to use Bright Skies in your home:
This gentile blue is well-suited to small spaces. It packs a punch of colour without feeling overwhelming.
Why not create a little slice of heaven by "colour drenching" your bedroom with Bright Skies? This trendy decorating style uses the same or similar tones throughout the room–on walls, woodwork, the ceiling, doors, even in soft furnishings and furniture! A blue-on-blue colour scheme will create a tranquil space. Ideal for relaxing!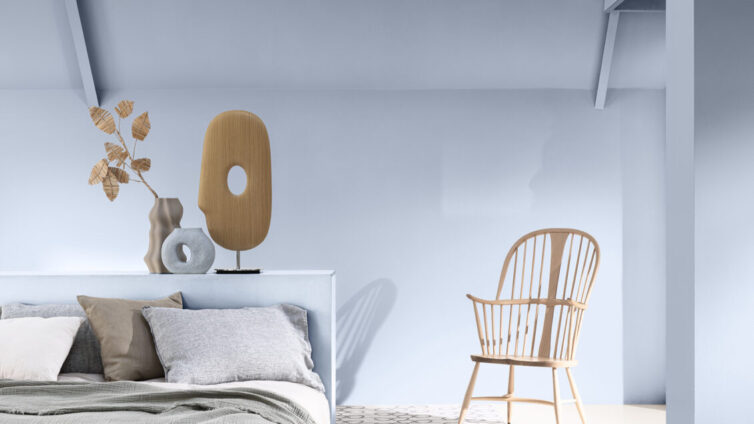 Shop The Colour of the Year:
Below, we're sharing some of our favourite blue-coloured homewares that'll complement the Bright Skies theme:
Midnight Meadow Blue Cotton Fabric, Fable & Cedar.
A pretty fabric featuring wildflowers, butterflies and deer. Perfect for window treatments and home accessories. Price: £65 a meter.
Icon Classic Faux Fur Bean Bag, Bean Bag Bazaar
Sit back and relax on this faux fur bean bag. Perfect for kids' rooms and living rooms! Cost: £59.99.
Linen Cushion Cover, Chalk Pink Linen Co.
Made from 100% linen, stonewashed for extra softness. Add it to a chair, sofa or bed. Price: £23.
Helston 2 Seater Chaise Sofa, Darlings of Chelsea
This is a stylish sofa with a solid wood frame. The Helston range is handmade in the UK and can be fully customised to your needs: choose a size to suit your space, add a chaise, add a sofa bed, pick a fabric and choose from four different foot colours. Prices vary.
Cushdie Bed in Blue, Loaf
The perfect blue bed for anybody willing to try the colour drenching trend. As the beds are handmade to order, you can customise them to your liking. Choose from three sizes and 139 different fabrics. Prices vary.