If you are craving a slice of summer on the Med right now, there's no better way to get the lifestyle than to bring it into your home.
A Tuscan-inspired kitchen is the epitome of laid-back, coastal living, designed for leisurely cooking while sipping a glass of wine and catching up with loved ones.
Here, we look at one modern Tuscan kitchen and pantry by Artichoke, experts in bespoke handmade kitchens, to see how you can get the look.
Design your own Tuscan-inspired kitchen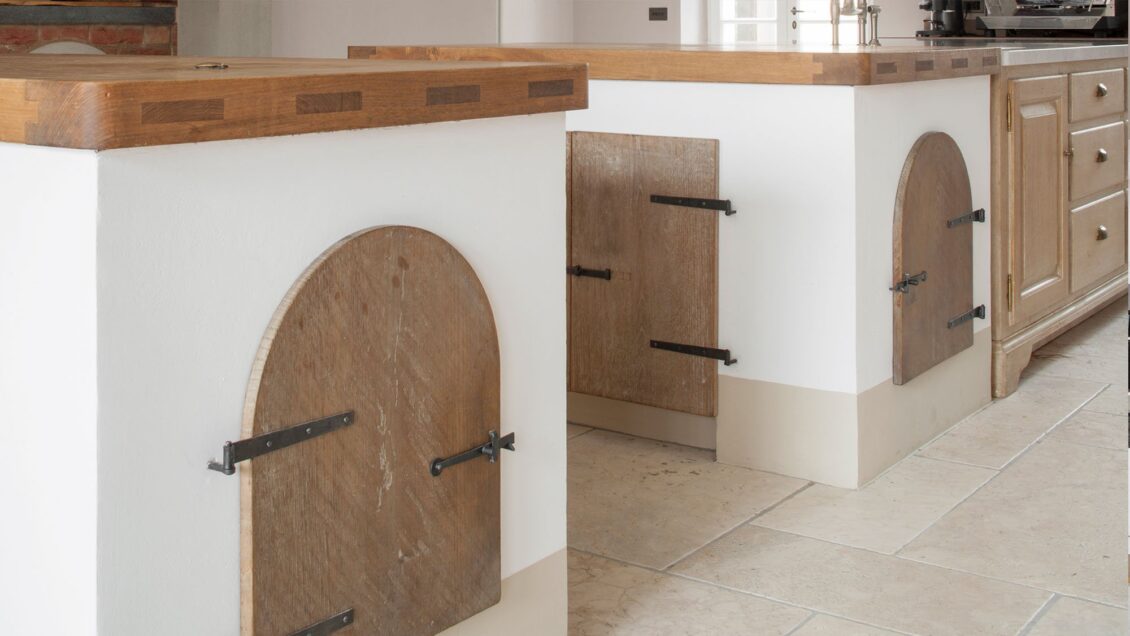 Materials
When you're looking to achieve a high-end modern rustic look, the right materials are absolutely key to achieving an authentically warm and characterful space.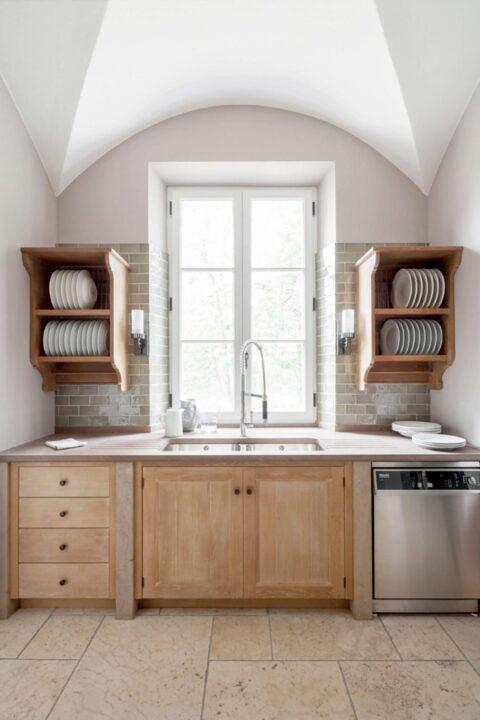 In Artichoke's modern Tuscan kitchen sun-bleached oak is a core material. Used for the cabinets throughout the kitchen and pantry, it instantly creates a summery and timeless Mediterranean feel.
Santa Fiore, a Tuscan sandstone that is often used in the architecture of Tuscany's capital, Florence, has been introduced on the worktops here. Sandstone pillars also act as a divider between cupboards – this unique style is instantly recognisable and classically Tuscan, making it perfect for any Tuscan-inspired renovation.
Limestone is another traditional material – as seen on the shelving of Artichoke's Tuscan kitchen – providing yet more texture and adding to the rustic character.
Brick plastered in a warm, neutral tones is a Tuscan design staple – as seen on the central islands – creating a subtle contrast between the other natural materials.
Use of space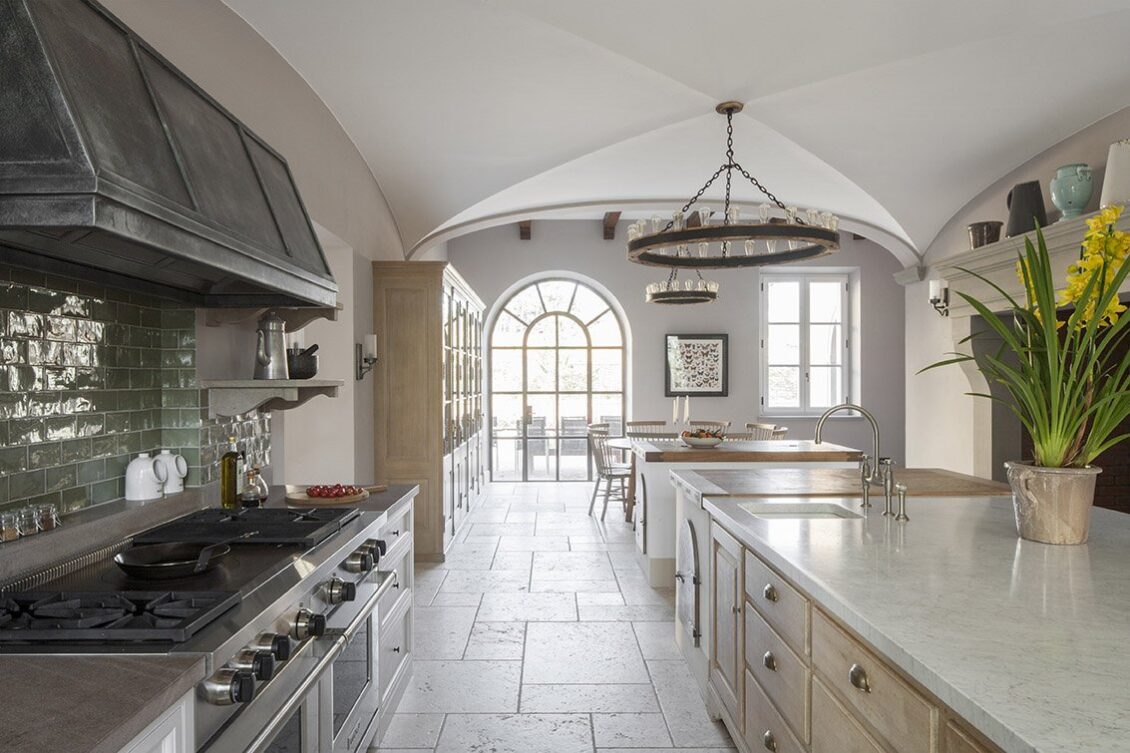 Above anything else, a Tuscan-inspired kitchen should be focused around the idea of gathering; creating a relaxed a social hub where family and guests can congregate for any occasion.
Central islands provide the perfect space for chatting to guests while serving up drinks or finishing off your cooking, as well as providing a space to lay canapes in easy reach of hungry mouths.
Design features like the understated open shelving and rustic glass cabinetry we see in Artichoke's modern Tuscan kitchen add a feel of airiness and informality, inviting guests to help themselves to a glass or even pitch in with the cooking!
A big family table is a requirement of any Italian kitchen. Where else would you catch up with your nearest and dearest while enjoying some delicious home cooking? Top tip: circular tables are more sociable than their rectangular kin, as everyone can see and chat with each other.
Decorative Touches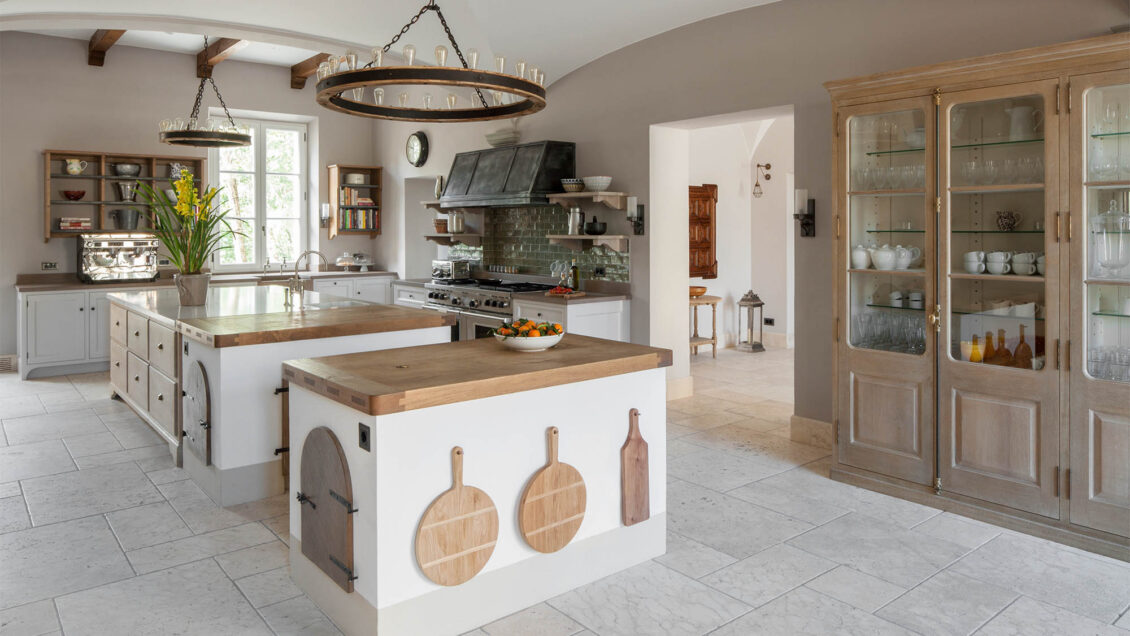 Finally, great design is all about the little, well-considered details. This is ultimately what will bring your Tuscan-inspired kitchen together!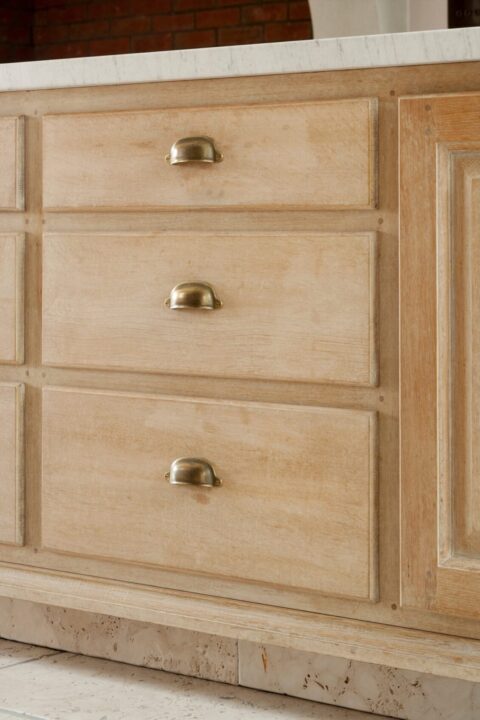 Don't be afraid to mix your eras when looking for decorative features. Far from being a flaw, varying styles like those used by Artichoke give the feel of an organic, timeless space.
Salvaged or custom ironmongery can make for beautiful design accompaniment – in Artichoke's modern Tuscan kitchen, bespoke ironwork is used throughout the space to add a rustic, authentic charm.
Exposed light bulbs form unique chandeliers, adding a contemporary feel which complements the rustic materials used throughout.
Finally, rustic splash back tiles are a great opportunity to add a little more colour or pattern to your space. Have fun with your palette and, in true Italian style, don't be afraid to show some personality with something a little more bold!
If you would like to find out more about how you could transform your kitchen into your own personal paradise, contact Artichoke.